Meet the Men of Magic Mike Live!
Image: L-R Ned Zaina, Kit Clark, Nick Phillips, Brian Siregar, and Charlie Bartley.
Sophia Dickinson chats with cast members from Magic Mike Live ahead of the Melbourne opening on June 8.
Just before Melbourne went into lockdown (again), I had the privilege of meeting five cast members from the Australian production of Magic Mike Live – Brian Siregar, Charles (Charlie) Bartley, Kitwana (Kit) Clark, Ned Zaina and Nicholas (Nick) Phillips. They're charming, talented and buff to boot. On a typically grey and windy Melbourne day, we caught up near Birrarung Marr on the Yarra River where the show's custom-made venue, the Arcadia Spiegeltent, is being constructed.
For dance captain Charlie Bartley and castmates Ned Zaina and Nick Phillips, it's a homecoming as they're all originally from Melbourne, but have danced all over the world. Kit Clark and Brian Siregar hail from the United States, and Brian appeared in the London production of Magic Mike Live before joining the Australian cast. Between the five of them, they have worked with an array of superstars including Kylie Minogue, Rita Ora, Charli XCX, Cody Simpson, Timomatic, Guy Sebastian, Nicki Minaj, Dwayne 'The Rock' Johnson, MC Hammer, the Jonas Brothers, Jennifer Lopez, Jessica Mauboy, Havana Brown, Brian McFadden, Sophie Ellis-Bextor, Red Foo, Britney Spears and Cher.
It's been a long journey for this production. In December 2019, the cast travelled to Melbourne with Channing Tatum to launch the Australian production, then started rehearsals in Belgium where the spiegeltent was built. But everything was put on hold in 2020 due to COVID. The wait has only fuelled their passion and excitement for the show. It's a unique opportunity for them to showcase their talent and see Australia.
"Usually as a dancer you perform behind the artist, but in this show we are the artists. It's definitely different from commercial hip-hop world in some ways; it's a residency but also a tour. Usually it's one or the other," Kit says.
"There are four Magic Mike shows around the world, but Australia is the only one that travels around the country," Brian adds.
It's an experience the performers love as much as the audience, and the cast can't wait to finally bring it to Melbourne audiences.
"As a performer, you want to make audience feel something. Magic Mike is the epitome of getting a reaction from somebody – we get the best responses that you don't get that often!" says Brian.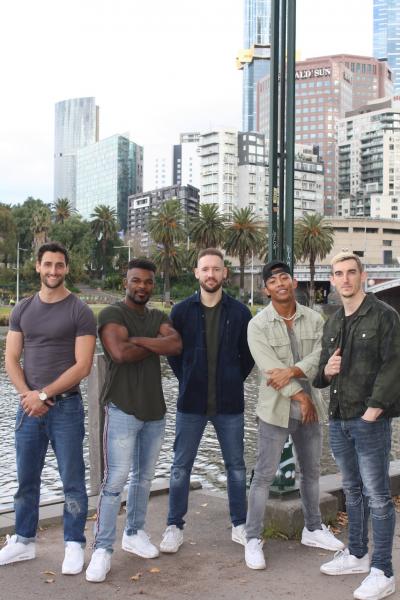 Image: Nick Zaina, Kit Clark, Nick Phillips, Brian Siregar and Charlie Bartley.
Co-Director and Choreographer Alison Faulk and her team have created a challenging and rewarding show for the cast. You'll see Nick and Ned performing aerial stunts, and the dolphin dive, where the whole cast jumps high into the air before going into floor work, always has jaws dropping. The show is a passion project for Channing Tatum, who conceived and directed the show, including the show's custom-build venue, the Arcadia Spiegeltent, which is just as impressive as the performers themselves.
"The Arcadia is a whole Magic Mike world. Once you enter, you're no longer in a tent or even Melbourne, you're immersed in what feels like a huge venue," Kit explains.
"Expect the unexpected; it's not what you think – we've got a variety of talent and specialty acts. It tailors for every audience member," says Ned.
In fact, the Australian cast members' parents have come to see their sons perform.
"It's not a strip show - the cast are dancers," Ned emphasises.
Nick Phillips is from a family of dancers; his parents Therese Power and Craig Phillips were in the Australian Ballet and were proud to see Nick in Magic Mike Live.
"There's lots of cabaret and comedy - my parents knew that. My mum saw the show four times when we were in Sydney and my dad loved it," adds Nick.
"It's strictly a dance show - we just take our shirts off," Charlie says.
"My mum was nervous to see it, but when she got there she realised it was much classier than she thought. Now's she's booked 20 tickets for all her friends and even grandma!" Charlie adds.
Fear not Melbourne, the show has confirmed it will open on 8 June unless there is further advice from the Government. It's also set to travel to Brisbane from November 2 and Perth, with dates to be confirmed (you can join the waitlist here).
Photos by Sophia Dickinson and Samantha Put