Meeting Sondheim, Schwartz and Prince
From flipping burgers in Newcastle to meeting Broadway royalty. Tyran Parke - the new head of Musical Theatre at the VCA - describes his dream trip to New York. In January he met composers Stephen Sondheim, Stephen Schwartz, and legendary director Hal Prince - just six few months before he passed away.
Newcastle in the 1980's was not exactly famous for its cultural activity. There was the youth theatre company where we would perform pantomimes and moody self-devised pieces, but I'd never seen a Shakespeare till I was an adult and Arthur Miller was just a guy who had a famous wife. But, what we DID have were cast recordings…
I coveted Broadway cast recordings and going to "Rice's Second-Hand Book and Record Store" was always a huge treat. My boss at McDonalds (impressed at my burger flipping) told me I had "a great future" in that company. If I entertained that idea with false appreciation, I'd get the 'Sunday shift' at penalty rates, which lead to a modest bag of treasures from my fortnightly trip to the record store.
The double album original cast recordings from Broadway or London, with fold out images and booklets with librettos and essays, were my education in musical theatre. They introduced me to my heroes. Chief among them was Stephen Schwartz (I had two copies of the Australian cast of Pippin starring John Farnham in case one scratched), Stephen Sondheim (Sweeney Todd changed my life) and the guy who seemed to stretch himself across so many of them, a guy called Hal Prince. (I had little concept of what a director did but I saw his name often in bold, so I figured he had an important hand in the creation of these shows.)
Fast forward thirty-five years to January 2019 and I had just been made head of Musical Theatre at the Victorian College of the Arts (VCA). My first project was taking our third-year students on the first of an annual 'Global Atelier' (a fancy University term for school excursion!).
For any aspiring Music Theatre student, New York, the home of so many of those cast recordings, is undoubtedly the mecca.
The highlights included masterclasses with legendary Broadway directors, amazing teachers, actors, daily dance tuition at 'Broadway Dance' and a remarkable day at the Michael Chekov school in Hudson. We were pushed, challenged, supported and engaged for two weeks during the day and while students spent their evenings in Broadway theatres, I went on my own journey…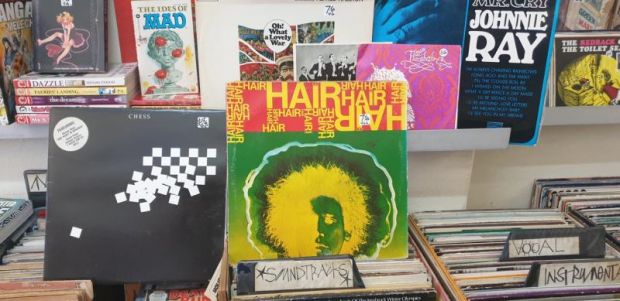 Rewind a few years. I was working on a project (Compositions) that required an array of songs, each written by different composers to capture an image, taken by my older brother, photographer Trent Parke. One of those artists was Stephen Schwartz.
It still blows my mind that this man, responsible for so many of the musicals I'd loved as a child (not to mention recently that lil' old bizzillion dollar juggernaut, Wicked) would be so generous as to write ME a song. I pitched the idea to him in New York in 2012.
In his living room, surrounded by his Tonys, Grammys and Academy Awards I told him that each image would have a different composition that I would sing. So apparently this kid from Newcastle had grown up and was now suggesting a collaboration with Stephen Schwartz!
When he accepted, my face must have revealed my surprise. "Tyran I'm a writer, all I need is a good idea and a deadline."
This cut down all the perceived walls between me and him. This stayed with me always. All I needed was a deadline and a good idea.
In early 2019, Stephen was juggling the film of Wicked with new projects and ongoing care of the existing ones. He was mid-way through a workshop with Trevor Nunn, which I assumed meant we would not meet, but he told me that, as a Tony judge, he was required to see everything. So, despite being tired, it was his "job" to go to the theatre. He had two free tickets to anything. And he asked me to take my pick.
Seeing Bryan Cranston in Network was an experience I will never forget. On the way home for drinks, we ran into Ed Grey on the Street. Ed had been Boq in the last Australian tour of Wicked and Stephen proved again how he never seems to forget anyone.
Through Stephen I had been lucky enough to meet his son, director Scott Schwartz. I had a lunch date with Scott at 1pm the following Monday, scheduled to allow me plenty of time after an important morning meeting with a new and somewhat intimidating acquaintance…
Monday arrived. I entered the Rockefeller Centre with trepidation. I underwent security checks, provided ID, signed in and was issued an identity sticker detailing whom I was there to see. I was thirty years older than that kid in Newcastle and over that time I had been educated as to why the name deserved bold. On my sticker it read, "Tyran Parke, guest of Hal Prince".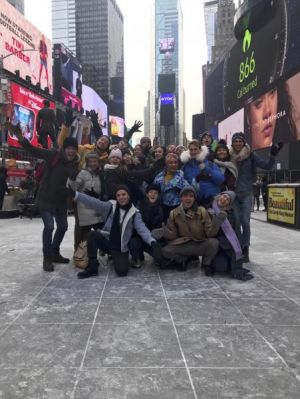 How did this possibly happen? Well, it appears if you know (composer / performer) John Bucchino, you know everyone. A year earlier he casually mentioned he was staying with "Hal and Judy". Wow! I wrote to him saying how lucky he was.
News of his hosts gave permission for me to spew forth 'the Prince of Broadway' speech, mostly given to students about the importance of Hal Prince and his immediate effect on the theatre, and my life.
About three minutes later, I got a message, "When are you in town? And for how long?"
John was reading my messages aloud to "Judy" in the kitchen. She had responded with, "Hal has to meet this man."
As it came to pass, that year, despite an invite to his office, Hal had to cancel that appointment due to illness. But I was determined not to be the 'guy who almost met Hal Prince'.
A year later I was sitting in his waiting room looking at the posters that adorned his office. This was the man who was a key player in everything from Fiddler on the Roof, West Side Story, Sweeney Todd to The Phantom of the Opera. I was wondering how on earth I ended up there?
What followed was one of the most delightful days I've ever experienced. I talked to Hal (he refused to let me call him Mr Prince) about theatre and design and all the people he remembered so fondly in Australia… "So what's Nancye up to?" "I haven't heard from Reg Livermore for a while." "That John O'May, now there's an actor"….
The man was more than double my age but was still so sharp. I almost forgot about Scott Schwartz and our ever-approaching meeting. When I caught glimpse of Hal's daily diary the whole day was taken in bold letters, 'Tyran Parke'. Well, I've never had a better reason to postpone lunch with Scott Schwartz.
What stayed with me from our day together, was that Hal said that everyone is trying to write musicals based on musicals they have already seen. They say, this is the moment like in Wicked and Phantom.
Whereas he always created moments and musicals out of something that was not an obvious idea.
He was working on a musical about a silent autistic child. What a great idea for a musical!
People think that the musicalCabaret is so obvious and clear but at the time it was a new way into music theatre.
It made me reflect on what efforts I am undertaking to develop new work in Australia.
As we neared the end of our conversation, Hal said casually, "Are you seeing Steve while you're here?" I blushed. Oh please.
About a week later, I nervously rang the doorbell to the rather regular looking brownstone on the upper east side.
I was ushered in, given instructions on where to sit and a glass of wine and soon the voice of Stephen Sondheim called down from upstairs … "won't be a minute."
"Take your time," I squawked, my inner nine-year-old self-combusting inside me.
I have read every book on Stephen Sondheim and was very familiar with his lack of patience for small talk but what could I possibly say … "Hey, I know Maria sounds too educated through the rhyming patterns in 'I Feel Pretty', but man, let it go - it's a great song" or "I'm really sorry about Merrily - those critics just didn't understand you."
I needed to focus, or I'd sound like the nine year old fan from Newcastle.
"Mr Sondheim, I want to thank you."
I wanted to thank him for giving intelligence and heart and craft and for capturing what it is to be human, complex and nuanced inside of an art form he made me love and therefore devote my life too.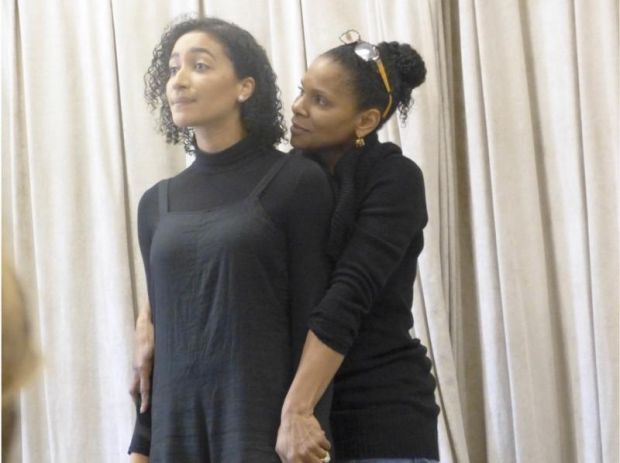 Sondheim has often been misunderstood. His musicals have rarely made money or even been reviewed well. Only over time have our ears caught up with what he was doing.
I thanked him for his musical Sunday in the Park with George, which not many people understood when it was on Broadway. But in 1984 I saw grown people crying at a production in western Sydney.
He got it. He replied, "that's the power of communication."
It may not happen immediately, but it can happen over time. He created works ahead of their time, which people later caught up with.
Communicating something from his younger self across the world and across time was very fulfilling for him.
And then we got down to conversation. About history and photography and theatre and my desire to direct every one of his works. (To which he was thrilled and thanked ME!)
I did my best for the international theatre community to encourage him to write one more musical. I mean just even a one act, if he's tired. He sighed heavily and explained that it was over. "Ageing is a continual act of letting go".
I suggested that maybe ageing is the right theme for a show. He laughed and conceded it might well be. There's hope yet.
Later, I escorted him to 41st Street – he was off to see a revival of his work. We arranged to meet again. I heard myself hoping openly that it happens. Goodbye Sondheim. As I left him I realised for the first time how the thirty-five years since I had heard Sweeney Todd had registered in his body. He was almost eighty-nine and was starting to wear it.
With a start, I realised the time, 7.15pm! If I grabbed a quick bite, I might just make Waitress, so I raced helplessly to the that international saviour of fast food and downed a meal of sorts … a cheeseburger.
My nine-year-old self would be happy. Hopefully so is my future eighty-nine-year-old. These days I occasionally get my own name in bold at the bottom of a program and my large record collection (known as the 'Ty-brary') has come full circle, progressing through CDs and returning to records again.
Lots has shifted and moved on just as these men, and myself will one day. Because everything changes. Except one thing. "Rice's Book and Second-Hand Record Store - the last dinosaur holding on for dear life in the age of technology in Hunter St Newcastle. I can only wish every other nine-year-old, or VCA student or skinny asthmatic has the pleasure of this journey, regardless of the outcome. And, that the experience of meeting their heroes leaves them feeling as though their own name deserves to be in bold, if only for a moment.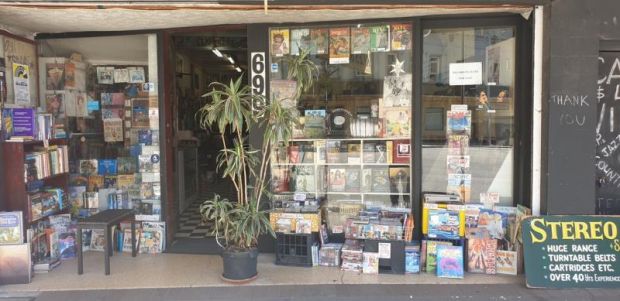 Images: Hal Prince and Tyran Parke, Cast Recordings at Rice's Book and Second-Hand Record Store, VCA Musical Theatre Students in Times Square, VCA student Jasmine Vaughns with Audra McDonald and Rice's Book and Second-Hand Record Store.