Melbourne Circus Festival
National Institute of Circus Arts, Prahran, from September 26 to October 2, 2011.
To celebrate ten years as Australia's leading professional training institution for circus artists, NICA, the National Institute of Circus Arts, has gathered together circus talent from across Australia and the stages of London, Rome, New York, Moscow and Paris, for the first ever Melbourne Circus Festival. Reflecting NICA's significant contribution to the development of circus across Melbourne, Australia and the world over the last ten years, the inaugural festival will be held at NICA's National Circus Centre in Prahran from 26 September to 2 October 2011.
With over 60 circus performances throughout the week, the festival will entertain circus lovers of all ages with circus cabarets, shows for all the family and a circus after dark program for night owls. A series of workshops and events specially designed for children coincide with the school holidays.
Throughout the day, festival-goers can choose from an exciting array of new circus works and also attend screenings of classic circus films and footage from NICA performances over the last ten years. Forums and masterclasses for circus buffs and industry professionals will also be on offer.
Each night of the Melbourne Circus Festival, a variety show style Circus Cabaret will showcase an eclectic line up of world-class acts that will keep you on the edge of your seat. The evening's program will feature performers whose careers NICA has helped launch over the last decade. Further details on each night's program will be revealed on the NICA website closer to the event.
One of the highlights will be international hoola-hooping sensation and NICA graduate Marawa Ibrahim with her brand new show, Exotica. Marawa's signature hooping style is loved the world over. Described by The New York Post as a "phenomenal talent", she has wowed audiences at the Edinburgh Festival, Glastonbury, Lovebox, Le Baron Paris, as well as the Melbourne, Sydney, and Dublin Festivals. She spins, twirls, and shakes her way through each explosive performance, culminating in the big finale where she spins up to 70 hoops.
Says Ibrahim of returning to Melbourne to perform at the Melbourne Circus Festival, "I am super excited about performing at home! I feel really lucky and privileged to be part of the first one!"
Another highlight to look forward to will be ThisSideUp Acrobats presenting their show Controlled Falling Project, a tightly formed creative experiment bursting at the seams with physical skill, visual delight and unconventional vitality.
There will also be plenty on offer for children with shows running twice daily during the holidays. The program includes Magic! The Family Show featuring Cath Jamison and Harry & Me, a hip show for cool kids featuring swinging live music, circus skills and hilarious physical comedy. Created by NICA especially for the Festival, Big Tops for Little Tots is a new circus work for 3 to 8 year olds with songs, stories and unbridled fun. All tickets for the children's shows will be at the special price of $15.00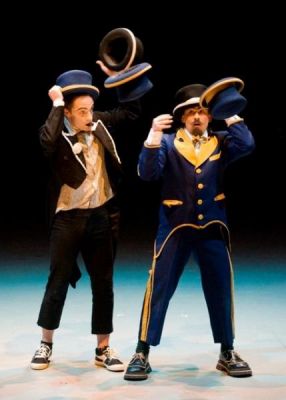 From Monday 26 September until Friday 30 September, the A Day at the Circus program will offer primary school aged children (5-12 years of age) the chance to experience all the fun of being at the circus from 9am to 5pm each weekday. Participants will attend workshops and performances and experience fun circus games and classic circus films.
Says NICA Director Pamela Creed of the inaugural Festival program, "The Festival offers something for circus lovers of all ages with a range of family shows, children's workshops, extraordinary Circus Cabarets and something a little edgier for those who stay out late."
The Melbourne Circus Festival will take place at the National Institute of Circus Arts on the Prahran Campus of Swinburne University, utilising NICA's custom-built performance facilities and the David Williamson Theatre at Swinburne University.
NICA is Australia's Centre of Excellence for training in contemporary circus acts. It is one of seven national arts training institutes and offers Australia's only Bachelor of Circus Arts. Graduates of NICA have gone on to pursue exciting careers both locally and internationally, as well as contributing to the development of Melbourne's vibrant circus arts industry. The course is accredited by Swinburne University of Technology.
26 September to 2 October 2011
NICA National Circus Centre 41 Green Street, Prahran
Tickets: $15-$28 $15 for children and adults for children's shows $60 for A Day at the Circus per day, per child
Images: (Top two) Marawa Ibrahim on trapeze and hoops; Cabaret Vertigo (Photographer: David Wyatt); Controlled Falling Project and Apple Cart / Wild Beasts at Field Day.
To keep up with the latest news and reviews at Stage Whispers, click here to like us on Facebook, or follow us on Twitter.
Win Tickets to Circus Cabaret
Competition Closed. We have our two winners
Win a pair of tickets to the performance of Circus Cabaret on Wednesday September 28 at 7.30pm at The Tin Top, Green Street, Prahran (2 pairs available).
The Challenge (in 10 words or les):
If you joined the crcus, what would your act be?
or
Tell us about favourite favourite circus experience.
To enter, visit our contact form http://www.stagewhispers.com.au/contact and type Circus Cabaret in the subject field. Then type your answer as a message. Our favourite entries win.
Entries close: 7pm, September 22, 2011.
More about Circus Cabaret - link
To keep up with the latest news and reviews at Stage Whispers, click here to like us on Facebook, or follow us on Twitter.