Melbourne Juggling Convention 2011
Jugglers all across Australia and the world are poised for the 2011 Melbourne Juggling Convention.
In its 5th year of juggling innovation and experimentation, the Melbourne Juggling Convention (MJC) is set to involve hundreds of people from all over Australia and the world in this event focusing on the art of juggling and object manipulation!
The 2011 MJC revolves around International Inspiration: bringing in fresh talent to inspire participants in their art form, this year showcasing modern, innovative and contemporary styles directly out of Sweden. Headline guest this year, Patrik Elmnert, is passionate about juggling in a way that pushes boundaries. His current research includes extended clubrolls, waterballs and acrobatic juggling. Patrik started performing at the age of 10 and has since played shows for audiences all over the world. His drive to take audiences to new realms never seen before keeps him on a constant search for the new and unexpected.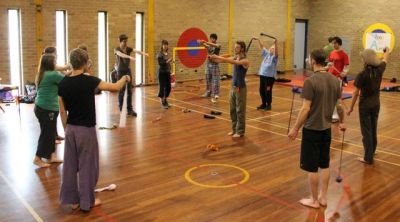 World-renowned American juggler Kit Summers has remained a cornerstone of the juggling world since 1975, performing and teaching at conventions throughout the States, Europe and Japan. Kit states "I am incredibly excited about my visit to the Melbourne Juggling Convention. My special guest attendance at the event gives me an opportunity to teach skills I have gained over many years, and run specific workshops tailored specifically for jugglers. While a terrible accident and 37 day coma left me unable to juggle as I used to, my mind remains sharp to help others advance their skills. Teaching juggling and performance skills is a great passion of mine, and it is my first visit to Australia!"
Over 70 hours of workshops (beginner to advanced) will be scheduled across a broad spectrum of skills such as juggling, diabolo, hula hoop, acro-balance, and unicycle. Set in the heart of Melbourne at Collingwood College's impressive gym-theatre complex, MJC will be also host to four shows, including a professional gala performance: 'The Big Show', held on Saturday 24th September at 2pm and 7.30pm.
MELBOURNE JUGGLING CONVENTION 2011
23-26 September, 2011
Collingwood College, Melbourne
Website: www.mjc.juggling.net.au
E-mail: mjcinfo@gmail.com
Early-bird 4-day passes:
On sale now, until 31st July.
Cost: $90 (+ bf).
Price increases on 1st August.
The BIG Show:
Date: Saturday 24th September
Times: 2pm & 7.30pm.
Cost: $20 (+ bf)
Juggling Games:
Date: Monday 26th September
Time: 11am-1pm.
Cost: Free event
To keep up with the latest news and reviews, visit Stage Whispers on Facebook and click like, or follow us on Twitter.