Metro Arts Opens New Arts Hub in Brisbane's West End
Beth Keehn reports.
In our current challenging times, it was exhilarating to attend the opening of a brand new arts venue in the heart of Brisbane. Metro Arts did not stop working during the lockdown. The artist-led home of independent theatre and art commissioned new visual artworks and, while not fully 'open for business', the group was busy packing up and moving to its shiny new premises in West End. The opening is not just wonderfully positive post-lockdown news, it is also the first live theatre venue in the West End area for 25 years. The opening coincides with the Brisbane Festival and also the launch of a book celebrating Metro Arts' 40-year history.
At the venue's official opened on 2 September, 2020, it was artists who were very much at the forefront. After a warm Welcome to Country by Shannon Ruska and speeches by Board Director, Fiona Hawthorne and local member for South Brisbane, Jackie Trad MP, it was over to Metro's CEO and Creative Director, Jo Thomas:
"It's not every day a brand new cultural precinct opens – and especially one that caters to our independent artists. We are starting a new era of art making and presenting here in this accessible community precinct."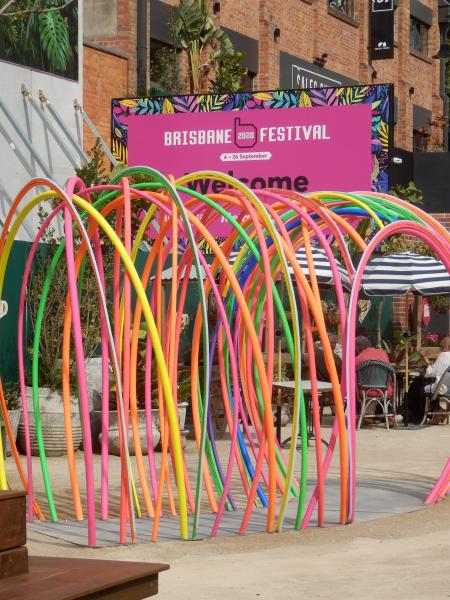 Jo said the Metro Arts vision is backed by a new business model, "with vital partnerships from the private sector to enhance our already strong partnership with the Queensland Government, Australian Council of the Arts and also Brisbane City Council. But we remain Metro Arts. We are fiercely autonomous, allowing our artists the freedom to experiment, to push the boundaries of art-making and presenting.
"Metro Arts is an incredible organisation with a startling and surprising history over and over again showcasing our passion, the ingenuity, the cheekiness and also the strength of all involved. I believe our future is secure here at West Village and also with our Metro Arts Future Fund. We all know 2020 has been a difficult year, so we trust that Metro Arts facility and this opening can be a beacon of hope to our industry. This new hub is going to become the place to experience the work of emerging artists, established artists, experimental artists and contemporary artists. From tomorrow art starts here at West Village with Brisbane Festival."
Jo then handed over to the group of artists – including Dale Harding, Leah Shelton and Lisa Fa'alafi, Maddie Little and Hiromi Tango – to cut the blue ribbon to officially open the venue to the creative community.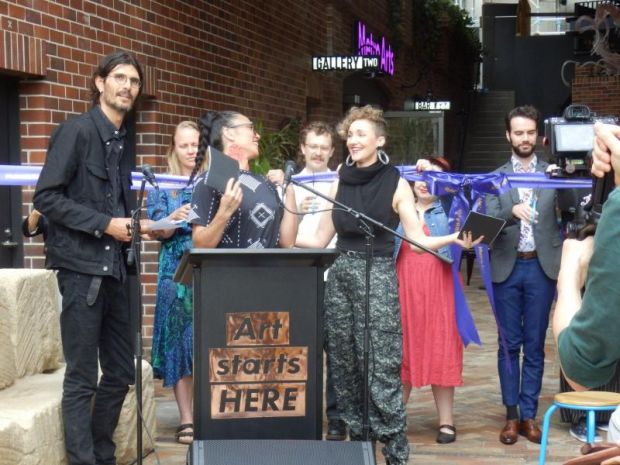 The sale of their former heritage-listed building at 109 Edward Street in the City has unlocked around $10 million – valuable funding that, along with sponsor, supporters and partners, will allow the group to continue their mission to support emerging artists and invest in new works to develop creative artists, including strong links with First Nations creators and performers, and build a diverse theatre audience. In the early stages of the lockdown, which challenged the livelihoods of so many local artists, Metro Arts donated funds to the Actors' and Entertainers' Benevolent Fund (Queensland) and commissioned the vibrant new pieces that you'll see in the new gallery spaces at the venue – including a window gallery and 'dark room' with fabulous colourful pieces by Hiromi Tango.
The new underground theatre is waiting for its new seats to ship from London. It will fit about as many audience members as the old Sue Benner Theatre (around 115). Meanwhile, to comply with COVID-19 social distancing, a set of tables allows for an audience capacity of around 50 people. As well as the theatre, the area incorporates two visual art galleries, rehearsal rooms, a bar, offices and an outdoor event space. In an unusual move for Brisbane property development, as well as residential and retail space, the site will also include new car parking spaces! This is welcome news indeed. (In my fond memories of the old Metro Arts space, I recall that the once-spare allotment opposite – we are talking the late 1980s – was where I often parked when I zipped in to the City to meet friends).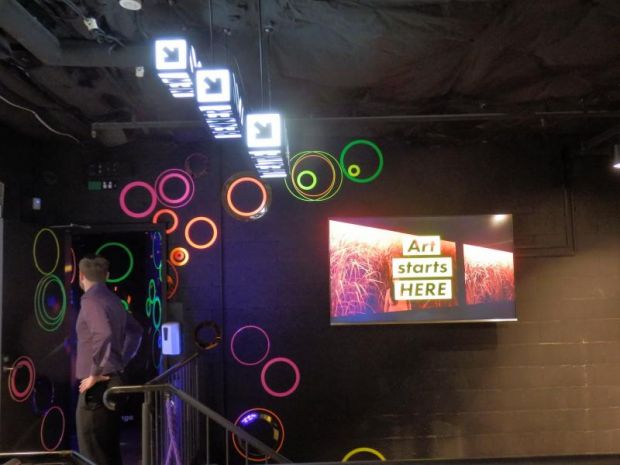 The old Metro Arts space had a warehouse feel that transported the imagination to New York's Lower East Side. The new creative hub on Factory Lane, West End swaps one iconic heritage Brisbane location for another – the West Village development is located between the old Peter's Ice Cream Factory and the adjacent Cone Factory! It is part New York, part London's West End – but completely and uniquely Brisbane. Surrounded by West End's established and thriving café and restaurant scene, the arts hub is just what the City's satellite suburb needs – it's just a short walk from our other creative hub at South Bank. And, after chatting to the artists and seeing their new works, I am inspired to get out and reconnect with our local artistic community. I think Brisbane audiences will feel the same too; the timing of the Brisbane Festival could not be better to encourage people to start to get out and about and discover the creative forces in our neighbourhoods and on our doorstep.
Check out the new Metro Arts programme: https://metroarts.com.au/whats-on/
Find Metro Arts performances and exhibitions as part of the Brisbane Festival: