Is Musical Theatre Art?
The first Australian Musical Theatre Festival was held in Launceston in May, and organisers immediately showed they had a sense of humour by lining up some sharp shooting comedians to poke fun at it. Is Musical Theatre Art? was the subject of a Great Debate. Read on to find out who won.
THE NO TEAM: Ned Townsend
Musicals are made of singing, dancing and light. All of these on their own can be considered artforms. But when they are cherry picked and stacked on top of each other, you are so distracted you cannot focus on anything else.
This allows musicals to mask things like poor writing, bad character development, boring and trivial events. All of those can be blotted out by a bit of music and distraction.
When you come to see a musical, you accept certain things such as everyone bursting into song spontaneously. We blindly accept this most unrealistic feature.
The singing is either internal or external. The song happening externally is the least believable one. How can an entire town of people be dancing and singing at the same time? Everyone knows the choreography, everyone knows how to rhyme and where the hell is the music coming from?
For songs that are internal … what happens to your body in the real world? Are you just sitting there on the couch drooling while the pasta boils on the stove? Again, where the hell is the music coming from?
If you don't like musical theatre you are not here. I love musical theatre but I don't consider it art. I like bananas but I don't consider it art. If you are involved in musical theatre you know how much it takes to get it along from the script to opening night.
Late night on choreography, learning lines, hitting notes, remembering cues, putting your whole life on hold. If you have gone to that extent you would bloody well expect it to be art by the time it gets up.
But you can't argue it is art because it is ephemeral. It is a live performance, performed again and again. It can't help but change a little bit. If musicals could ever be considered art, it would only be for a very short time when they first start. They are put into the world and established, eventually done in big theatres with glitzy opening nights.
Then they go to smaller and smaller theatres with different casts and directors. Eventually moving to the regional theatre circuit before eventually being butchered by high school drama classes. From then, they are re-runs, reinterpreted and covers of the originals. Music Theatre is not an artform. It is small versions of four artforms stacked up on top of each other in a long coat wearing a hat and a fake moustache to try and sit at the grown-up table.
Art is how we decorate space. Music is how we decorate time. In the case of music theatre it is not the decoration on your wall of what a priceless painting would be. It is more of a Coles brand scented candle that you use to cover up the dog turd under the couch that you couldn't get out before the guests arrived.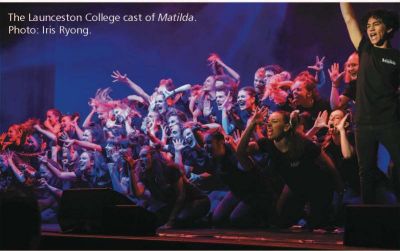 THE YES TEAM: Cheyne Mitchell
Composers and lyricists don't just write musicals for the hell of it. They've written them because the modern musical is most effective means for the dissemination of art we have.
There are the catchy tunes and the promise of a tap number. Showing the audience the world through other people's eyes. Teaching them really useful information, such as how many minutes there are in a year.
Hamilton is very intentionally an immigrant story. The diversity of the story of Americans then, told by Americans now.
Dear Evan Hanson is a look at teen suicide and the consequences of white lies in a world fuelled by twitter.
Next to Normal is a heart-breaking look at a mother's battle with depression and struggle to hold her family together.
Rent, based on La Boehme, is about what life was like in the shadow of impending death.
Les Mis – the ultimate the musical of musicals - teaches us about suffering of others. You learn lessons about love and honour and how student rebellions can get you killed.
Musicals combine the art of acting, the beauty of dance, the music, the costume design, painting with light and the sets. Of course music theatre is art. If it has taught you anything. If it has made you feel, or let you stand in someone else's shoes, then music theatre has to be art.
THE NO TEAM: Belinda King.
The attitude that I hate musical theatre is not an uncommon sentiment among actors. When you put music and theatre together, some want to gouge their eyes out and plunge daggers in their ears.
I used to think musical theatre the theatrical equivalent of Las Vegas. A shallow and glitzy spectacle that appeals to gay men and the elderly. When I arrived in Launceston I discovered I was wrong. Lesbians also enjoy musical theatre.
Musical Theatre has been described as one of the few American indigenous artforms along with jazz and gun violence.
If the musical is art, let's look at some of the components. Let's start with the lyrics. In the musical Catch Me If You Can one of the first lines is "I have a story I want to tell you." (How obvious is that?)
Another example is the songs. In the musical Sister Act (a fantastic movie they turned it into a musical) they couldn't get the rights to the songs, so they banged out a cheesy score.
Good acting is supposed to be invisible. You should be seeing real flawed human beings. But in musical theatre genuine emotions are subservient to cold efficient technical requirements and over the top scripts.
For absolute proof look no further than our Government. When I set up Encore Theatre in Launceston, I looked for Government funding. In small writing it stated funding does not apply to musical theatre, especially amateur theatre.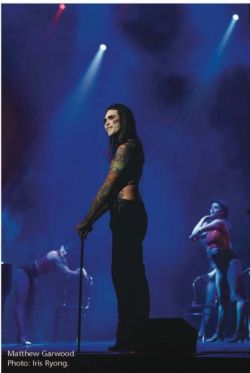 THE YES TEAM: Dan Taylor
Sure music theatre can be naff and boring, giving plebs and commoners the pips. But imagine joining The Ten Tenors creating a theatre company?
The Webster Dictionary describes art as creativity and expression of human imagination.
Music Theatre combines three core ingredients of creativity - singing, dancing and the ability to act. Well I don't have that talent, but I am about to crack some facts. The brain responds to music the same way it responds to sex. Dancing reduces stress and tension to the mind and body. Acting touches nerves that you have no control over.
What is art without the artist? (Matthew Garwood "the tattooed tenor" entered the stage singing the following Phantom spoof)
I am dark and handsome.
Sick tattoos up my sleeve.
My voice unique and profound.
Makes Ricki Martin turn round.
Swipe me right on Tinder.
I'll snap chat gracious news.
On my space am till pm.
Let me slide into your D ms.
Say you'll share some skype time.
Let me stalk your Mum on Instagram.
And hashtag the tenor with tattoo.
THE NO TEAM: BRADLEY McCAW
The Collins Dictionary defines art as an activity that is concerned with creating objects, works or performances that are beautiful or have serious meaning. Ladies and Gentlemen, one of the most famous musicals gave us a man without a brain, another without heart, a lion without courage and a wizard who was a middle-aged nerd with a green screen in his living room.
If musical theatre were a country, its national symbol would be the jazz hand. Its tools are a hot glue gun and a roll of sequins. It is so over the top that even high-five say guys, you really have to tone it down.
Look at Russell Crowe as Javert, Madonna as Evita, Pierce Brosnan in Mamma Mia! and the entire song book of Grease 2 – no such form could be art.
Music theatre is, however, magic. A passion so consuming that it makes you stay up all night. It is a religion - you think about it and refer to it like the bible of your life. It is something you fund while tending a bar in your thirties, whilst living with your mother.
Not that there is anything wrong with living with your mother. But it is difficult to take someone back to your apartment. Ladies don't particularly like posters of Stephen Sondheim. It is really hard to make a romantic move while listening to an Assassins soundtrack. So, if it is not an artwork, it is raw, it is ugly, perverse, simple, and angst ridden, but not an artform - just bloody awesome.
THE YES TEAM: Kerri Gay
I went to the library and looked through volumes of 'goo'. I found a girl who knits scarves from her (private parts). I am not saying the scarf was made of fallopian tube. She puts the wool in her (hallway) then sits and knits…the scarf.
That is in a museum/art gallery and they call it art. She is a very young sweet thing. At my age you could fit the shearer the spinning wheel and silk. I would be the art installation.
Musical theatre is art for the masses. It is a participation sport.
Let's start at the very beginning. When you read you begin with (audience responded with) ABC.
When you sing you begin with (audience responded with) Doh Rae Me.
If it wasn't a piece of art, you wouldn't know the words! Musical theatre is an artform because it is popular and it is good.
The debate was won by the affirmative on a show of voices.