An Officer and a Gentleman: Views from the Ensemble.
During the technical rehearsals for the World Premiere production of the musical An Officer and a Gentleman at Sydney's Lyric Theatre, Neil Litchfield spoke to ensemble members in the Green Room about their experiences, during rehearsals for the show.
During a break in tech rehearsals, a few days out from the first preview for An Officer and A Gentleman, I had the opportunity to chat in the Green Room with a number of the show's ensemble members.
First up, I spoke to Elise Brennan, whose involvement in the show stretches back to the earliest Melbourne workshop, where she played Lynette. She now covers that role, and the role of Paula, as well as one of the female cadets. She told me, of An Officer and a Gentleman:
"It's a really special show. It's come a long way since its beginnings, and obviously through the last workshop they did before we began the larger scale production. It's really evolved, so it's really exciting to see where it's at now."
How was the experience of being in on that first workshop?
It was great. It was really amazing to put something together for the first time. It's rare in this country that we get an opportunity to do something from scratch. We're always replicating something from another country, so creating roles, and designing them yourself is really special.
Can you see things you created in that workshop that you feel have hung in there in the show?
"I feel like the shape of the characters continued to go on the same path, which is nice – it must have meant that we were on the right track. I think just giving it a shape, and lifting the script from paper to life has helped it become something where they can develop greater ideas."
Tell me about your experiences rehearsing for the show.
"Well it's been a really interesting process for me, not having done a new musical before – the way that it is still, even now, constantly evolving. You kind of don't really know where you'll finish at the end of the day. You may think you're going to be standing over here, and you're saying this, then something changes while moving it from a rehearsal room onto a large set and into a theatre. The magnitude of everything you're doing fits in, and it's maybe we need to make that a little bit better there, or a little sharper. Doing something in a rehearsal room is a completely different thing to putting it on a stage, so our teching process has been really lengthy. There's a lot of complicated little pieces of scenery that move around in the show, so making sure that everyone is in the right spot, so you don't get run over, is pretty important."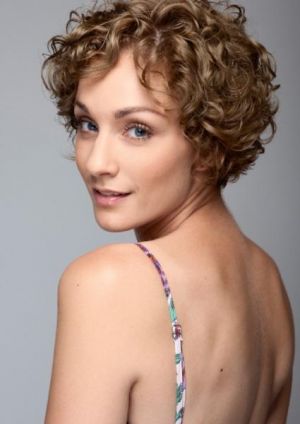 Have you had any near misses?
"Yes. The other day we got on for the opening number. We have a revolve in the show, and a staircase which moves with that, and if you're in just the wrong spot, you'll get clipped on the edge of the ankle if you're not looking where you're going. So you've got to have your eyes and ears open at all times. "
Do you have a favourite moment or memory from rehearsals?
"We've learnt about the Navy, and how they do their silent rifle drills, and how to manoeuvre the guns for the show. There's a beautiful number towards the graduation, where the cadets do a silent drill with their firearms. Getting someone in who was trained with the US Navy to teach us how it all goes, and the terminology. was like learning a new language. That's been really amazing, and really regimented, so it was great for us to get a feeling of what it would be like to be in those circumstances."
So were you involved in the boot camp aspect of preparations?
"Yes, it was obligatory for us all to do. When we were rehearsing at the ABC studios, we would jog, as a group, down to the theatre here at The Star, and then do our drill and our boot camp with the guns and everything, then we'd have to run back and continue with our rehearsals – and that was twice a week.
"We also have a scene in the show where the cadets have to climb a nine foot wall with just a rope, so we had a wall set up where we had to practice that. Every day we would come in early and do some training for that, and climb the wall. So it's been a lot more physically demanding than my experience in any other musical, in skills that you're not used to using so much."
Did you find that a challenge?
"Definitely – climbing that wall initially was a very hard thing to do, but it's about getting into the swing of things, as it normally is."
But you're on top of it now?
"Yeah, getting there. I won't say I'm a pro. There are some pros in the cast, who make it look very simple, but I'm getting there."
And how does that achievement of pushing through and finding that new territory feel?
"It's wonderful. You sort of never really know until you try it, and then learning about what works for you, and what doesn't – it feels like a whole new skill set that we're learning in this show – particularly using the prop guns that we're using for the show, and doing all the physical exertion – there are just non-stop push-ups in this show – it's exciting that we're not just sitting there, we're working really hard."
So the military side of the show is going to be really convincing?
"I think it's going to be really good. It looks fantastic – it looks clean and sharp. We're following the rules down to a tee, and then kind of manoeuvring that to dynamically look good on stage. It's not like anything I've seen before, so I'm hoping it will be nice for people to see something different."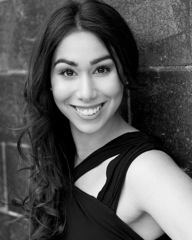 Next, I spoke to Bianca Baykara who is an on-stage swing. I asked her to explain her role as a swing in this production.
"Elise and I are the female swings, and we also have our own plots on stage as well, because we're on-stage swings. If someone steps up to a principal role, or if Elise or I are covering a principal role, we simply abandon our plot, because our plots are designed so that they're easily taken out – we're always on the edges of the dances, or in a position where it's OK if we're missing.
"It's been kind of hard to try and write down things as we've been going during the rehearsal period, because the people we're understudying have still been working out which entry they make, so it's been even harder for us to work out as we've been moving into the theatre."
So you've been trying to get your own plot together, and how many others at the same time?
"I'm covering three ensemble plots, and one lead character. Often, too, when we're in that ensemble number together, we have to act as well, so it's hard to keep an eye on everyone else, when you're in the moment and in the scene. So that's been a challenge. It's my first show as well, so I've been thrown in the deep end."
So it's difficult, but are you enjoying it?
"Loving it! It means there's so much more for us to do. I never get bored in rehearsals. Never! And it means that we get some fun things as well. Both Elise and I get to work in the factory, as well understudying the candidates, so we have to do all the physical stuff that they do, like climbing the wall, and the push-ups and the sit-ups. It's keeping us on our toes."
So you've done the boot camp as well. How was that for you?
"I've loved it. I'm a real gym bunny, so auditioning, I had a sort of excitement and an inkling that I would fit well with this sort of show.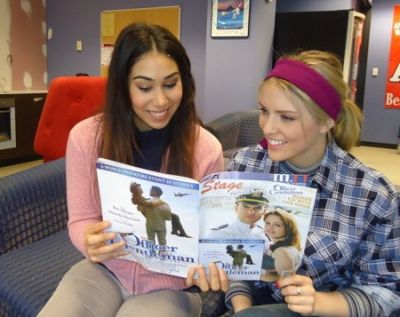 "So when I was cast, I was over the moon. I started going to the gym and really practicing things that I thought we might have to do, like the push-ups and sit-ups. But I found it really difficult because we had to run as well from our rehearsals at the ABC to the theatre to practice our rifle training, and we would run rain, hail or shine. So that was very interesting, and very different to other shows from what I've heard. But I really enjoyed it, and everyone in our company, I think, really thrives on that physical part.
"I'm having a blast, and it's a dream come true."
Have there been highlights moving from rehearsal room to theatre for you?
"I think the first time we saw the opening of Act 1, and they showed us the scene change, with the lights and the set coming in, and we all just applauded. It was so magnificent. It was so exciting to finally see it live on stage. I think people are really going to be blown away by the set design, and when it all comes together."
Next I was joined in the Green Room by Kirby Burgess, an ensemble member, who also understudies the roles of Paula and Lynette. I asked what has stood out for her in the lead-up to the show.
"I think the best part of this experience is that there's no reference to what we're doing. Most shows that are coming out at the moment, you can Google it, or YouTube it, and have an idea what you're in for before you get there. Whereas with this one I think we all turned up on the first day going, what have we signed up for? We're not really sure yet. We knew the movie and the story, but not how it was going to be transformed. So that's been my favourite part, and the highlight of this whole experience is you don't really know what's going to come next. But it's all been a good surprise for us.
"The movie, and the love story, stands the test of time, so I had an idea of what I expected the vibe of the musical to be, and I've had some surprises, for the better.
"I turned up to auditions and when we got the original material, which has been adapted now, it was great and really fun to audition with, so I thought, well if it's going to get better than that, it must be good."
And what were those good surprises?
"Just surprises in how they represent the different societies in the musical – our townies, the factory and the officers. They've adapted the story, and delved a little bit deeper than the film does, so it's nice to see those characters unravel a little bit more."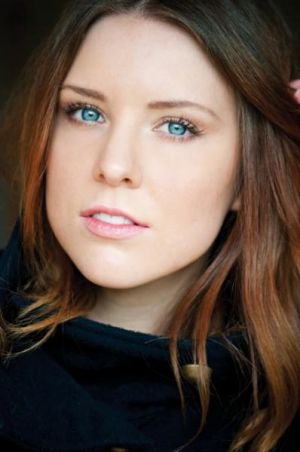 How has the rehearsal period been for you?
"It's been good. I'm someone who likes to be challenged, and it's been a challenge in that they don't know what it's going to be like until they put it on its feet. They can try something, and you learn it and spend a whole day on it, but that doesn't mean that's what is going to be out on stage on opening night.
"So there's been a challenge in just being open to the workshop environment, but then it's stimulating as well, because you do get to develop so much in a scene. It's not just, here, it's come to you in a box, this is what the person did in the West End or on Broadway. You get to create your own ensemble plot, which is fun and exciting. You get to make up your own character, and try and push Simon to get you a line in the scene (she laughs), or something, which unfortunately hasn't happened for me. But you never know, it's not open yet."
Is there something you've created for your character that you're particularly proud of?
"I get a little featured dance spot in the opening of the second number, which has developed a lot. It's with Guiterrez, who is played by Josh Piterman, and that dance piece has now developed a little relationship. We've figured out that we first meet at the base social, and we've got our own little story, so I guess I have my own little recognisable character there."
And Boot Camp?
"I'm a very physical person, so I loved that kind of challenge. I had great fun training on the climbing wall during the rehearsal period. I don't actually get to do it in the show, because I don't play a candidate, but I still got to learn how to do it, and all the rifle drill, and everything. The rifles are surprisingly heavy – three and a half kilos – which doesn't sound like a lot, but when you're holding it for a few hours trying to learn routines, that's boot camp in itself."
Finally I spoke to Patrick Williams, who is an ensemble member and first cover to the role of Drill Sergeant Foley, asking how he came to be involved in the show?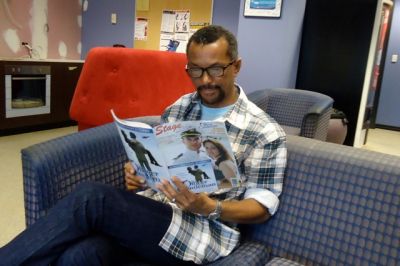 "Funnily Ben Mingay (who is playing Zac in the show) and I worked together seven or eight years ago. He rang me out of the blue and said they were looking for an actor to play the role of Foley, the Drill Sergeant in the show, so my agent did some investigating, and to cut a long story short, after some negotiating I joined the company as an ensemble player, but as first cover for the role of Foley, played by Bert LaBonte.
"I've actually been a leading actor for about ten years, so it's a bit of a step back, but once it was explained to me that Simon Phillip was directing, and that it was a Gordon Frost production and a World Premiere musical, that certainly whet my whistle enough to want to be involved.
How have you found the experience of working on the show?
"It's really interesting. Having not been an ensemble player for quite some time, I felt a little bit like a fish out of water to begin with, and especially as the nature of the show is that it has been made up as we go along to a certain extent. There's nothing concrete, so just when you think you've got a vague idea of what your plot is as an ensemble member, it changes. They pull out things, and put in other things, and so it's certainly been a colourful experience, with never a dull moment."
What have been the highlights for you?
"Just overall, watching the show come together, the extraordinary breadth of talent amongst all the heads of department, and having the input of someone like Doug Day Stewart, who originated the story, and upon whom it's been loosely based. It's been fascinating to be a part of the process of creating a new musical. My first foray into musical theatre was a similar experience, but not on this scale, and certainly not with the kind of technical difficulty which this show has as part of it.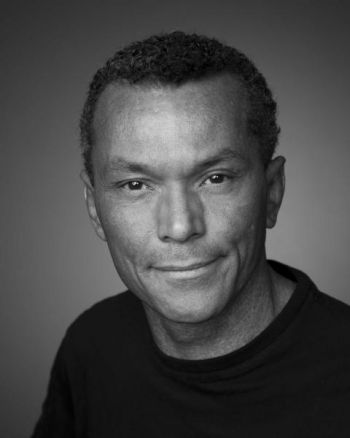 "The demise of the character of Sid Worley is something that's particularly close to my heart. I suffered the loss of a family member many, many, many years ago under similar circumstances, and I'm very surprised in a way at how emotionally connected I feel to that scene and that moment in which Sid Worley decides to take his life. "Overall there are some extraordinarily powerful moments in the show, that are reflective of real life, and I think that's all a part of what makes a great musical.
"What I'm most excited about is getting my hands on the role of Foley. Mercifully myself and another actor, Peter Hardy, haven't been involved in a lot of the boot camp stuff because we're playing Petty Officers to Foley's character. We get to do a lot of screaming, and yelling, and bullying of the candidates all on our own. Certainly not to the extent that Foley does, but enough to have a little bit of fun, and to get a sense of flexing one's military muscle, I guess you'd say."
And does any of that carry backstage?
"You mean like a reversal of fortune? No, absolutely not. It's a lovely, co-operative kind of ensemble, and I think we're all very invested in giving this 150% and seeing it through to its outcome. If anything there's a lot of ribbing, there's a warm and very present sense of humour from everyone from Simon Phillips down. It takes a village to make a show, and I think that any moment you start to take yourself too seriously on or off the stage.
"So while it's a kind of hard and arduous task that we're in the process of, it is balanced with a great deal of humour, warmth and care for each other as professionals and actors."
An Officer and a Gentleman begins previews - www.stagewhispers.com.au/news/officer-and-gentleman-previews-commence
Free Sampler CD from An Officer and a Gentleman with our current print edition - www.stagewhispers.com.au/news/our-amazing-print-and-first-ever-e-edition