Opera Star David Hobson Turns Key to Musicals
Better known as an opera star, lyric tenor David Hobson is making the crossover to music theatre with the Australian production of Chitty Chitty Bang Bang at Sydney's Capitol Theatre.
"It's a big departure," Hobson told Stage Whispers, "but musicals have been looming large in the background for the last few years now. This is the one that came along at the right time, and the right situation."
Hobson's big break came when he played Rodolfo in Baz Luhrman's now famous 1990 production of La bohème, subsequently recorded for television and released on DVD.
"It was a very successful production," Hobson said, "and it had wide implications back then, particularly when we filmed it. It became very well known all around the world. It was a good show back then, and a different way of approaching opera.
"In many respects I never intended on being an opera singer, so it was curious that it worked so well.
"I was thrown into opera. I was basically immersed in learning everything about it. There were languages and roles to learn. It's such an amazing amalgam of all the art forms.
"I wasn't focused on a career. I've never been the kind of singer or performer who says, 'I've got to singOtello by the time I'm 40.' Doors have kind of opened for me without me knocking on them, then I threw myself into opportunities once they arose."
Thrown into opera sums it up to perfection. In the early to mid 1980s, David Hobson was far more interested in composing.
"I'd written a music theatre version of Macbeth. I was hawking around a tape and the backers became the Victorian State Opera and the Victorian Arts Centre. Ken McKenzie-Forbes, who was the General Manager of Victoria State Opera, heard my voice, because I sang all the roles on the demo tape. He convinced me to sing for the opera while putting on my production. The first thing I did was The Pirates of Penzance. He got me to cover the role of Frederick in a summer season of the Broadway version (1986). I wasn't interested in being a performer back then, but he said it would be good for my writing and to find out more about theatre.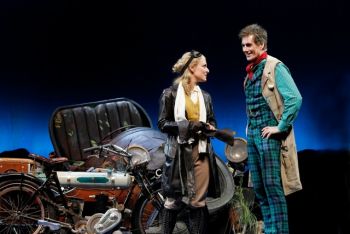 "It kind of snowballed from there. I went on as Frederick, and all off a sudden he's got me doing opera roles, Mozart and Puccini, and suddenly I'm an opera singer.
"Even then, I thought I was only performing for money to supplement my composing."
Chitty Chitty Bang Bangrepresents yet another door that has opened without David Hobson knocking.
"I've always loved musicals. I've just been so immersed in opera and all my other projects that it's never been the right time, or the right role. So here we are, in Chitty Chitty Bang Bang.
"It was a happen-chance meeting with Roger Hodgman that got me into this in a way. I'd known Roger for a long time, but we'd never worked together before. I was saying to Roger that I was keen to go into another form, maybe drama, and Roger said, 'there's this show I'm doing. Maybe you'd be interested in doing it.' It's not exactly drama, but it's different. I love doing opera and classical music, but I just wanted to branch out and do something different."
While Chitty Chitty Bang Bang isn't David Hobson's first musical, he's followed many musical paths before returning to the genre.
"I did a couple of musicals when I was a kid, growing up in Ballarat. My very first show, which I did with my dad, was Oliver! I was The Dodger and he was Fagin. He was a very good singer and that's what he should have done.
"But when the hormones kicked in, I thought that music theatre was daggy, so Led Zeppelin, Black Sabbath, Deep Purple and heavy rock became my genre, then I got more into Jazz.
"I was always writing music to a degree, even though I studied Commerce and Law at University. I'd stay up late writing songs, and I was in a band at the time as well, then I had a fixation with Macbeth, and thought that I could write a stage adaptation of it. This is before I found out that Verdi had written one. So the first opera I saw was Opera Australia doing Macbeth in the Princess Theatre, Melbourne (1983)."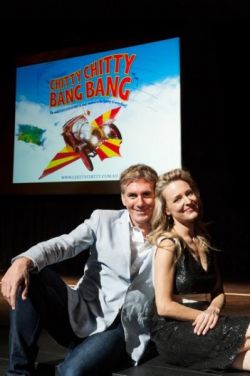 Early in rehearsals it was probably too soon to ask about the varying challenges of singing opera and performing in music theatre, but David offered a few thoughts.
"For the moment the obvious difference is we don't use microphones in opera, and if we do, we use them subtly, like in operettas, where there's dialogue. Also, we don't do eight shows a week. Maybe there's a slightly different vocal production. However, having said that, I'm pretty sure it's not going to be that much different when I get out on stage and start doing it.
"They're two different demands, but equally taxing, and they require their own sorts of technical proficiencies. I think with a musical, oftentimes, and I could be wrong, the performance comes out of acting more so than it does in opera, where there's more of a focus on the tone. In musical theatre, tone is a consequence of the action beforehand."
Speaking again just prior to opening night, David had broadened that perspective.
"The physical demands doing of music theatre, thus far, are greater than anything I had to do in opera. Except, maybe, being strung up three metres above the stage in a crucifix-type position in Orphée (Gluck), where the platform where my feet were meant to sit broke one night and I literally had to hang on for dear life singing this inordinately high aria.
"The physical demands of this musical; the dancing aspect and the physical aspect which is required of your body to tell the story, is different than an opera, where your body is virtually a conduit for the vocal. The physical demands of singing opera are just as great as those of doing physical musical theatre like this, where I have to dance things like 'Me Ol' Bam-Boo' and the rag doll, and the amount of dialogue, and having to ramp up your dialogue over sound effects, and doing that eight shows a week, is quite a demand.
"I guess the difference is I also have to keep the voice pure in 'Hushabye Mountain', and another couple of moments where I'd like to think the character has a purity of tone. It's not quite operatic – I'm not tuning on as much body in the sound as I would in opera – but I definitely have to try and maintain a purity of tone to get across the meaning of the song. I'm finding that quite demanding, but a lovely challenge all the same. I'm just hoping that I can maintain that eight shows a week."
Is Chitty Chitty Bang Bang likely to represent a change of career path, or just a diversification?
"I have no idea. Literally two months ago I did Offenbach's Orpheus in the Underworld (pictured below -credit: Photografeo Pty Ltd), and I did Schumann's beautiful song cycle Dichterliebe. Now I'm doing Chitty Chitty Bang Bang, and I've got a Celtic recording coming out next month as well. I'm pretty diverse aren't I?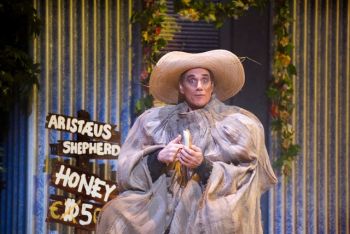 "If there were roles in musicals, and the time was right, and people wanted me, I'd love to do another one. I'm really enjoying it thus far. This is a fantastic cast. We've got Rachel Beck, who is a great music theatre star; then there's Peter Carroll who's a bit of a hero of mine with that beautiful mellifluous sound of his, and he's a great actor; Alan Brough, a very funny man from a totally different discipline, although he has done musicals; George Kapiniaris, a great comedian, and Jenny Vuletic, who although she's done musicals, has a different edge to her. It's a really interesting mix of people, in this kind of wacky show. You don't usually get that type of mixture in opera."
While he has a flying car in the show, David Hobson's own cars have been fairly conventional.
"The kids in this show are the same age as my kids, and they're a girl and a boy. I have a girl, 14, and a boy, 11, and I've just bought a new Audi, so I'm going from one parallel universe into the other."
"I had an old Passat before that, an old Honda, and before that an old Celica, a Torana – I've had many cars."
Is he good at the mechanical and repair side of things?
"Hopeless! Hopeless! My technical acumen is with musical equipment – computers and musical programs – my man shed is really my computer and my piano and guitar, and all my synthesizers, but when it comes to cars, and tools, and hammering nails, forget it."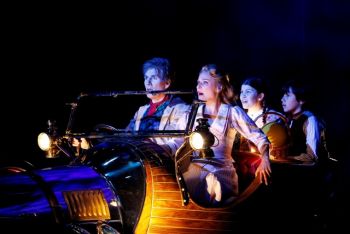 And have any of his cars flown?
"Maybe my last car looked like I'd tried to fly it, or put it through water, because it was pretty bashed around. My kids tend to despair of my driving a bit."
Being a composer himself, what is David's take on what makes the songs in Chitty Chitty Bang Bang so enduring?
"In the title song itself they have captured the essence of what a motor does; the rhythmic aspect and the alliteration of the words is really clever. To write something simple is more difficult than to write something complex, and for some reasons those guys have achieved that in most of their works, whether it's Mary Poppins, The Jungle Book or Chitty Chitty Bang Bang. I'm not sure how they've arrived at that kind of writing and wordplay, but there's a simplicity and a superstructure which is hard to achieve.
"There's something about knowing how to write for a voice that speaks to the common man, and you can purportedly do it eight times a week. Some of the modern musicals that I've heard, albeit they're very good, are going to tax a voice beyond what it's meant to do.
Does David relate to his character, Caractacus Potts?
"He's very focused about his work. To the outside world there's an eccentricity because he is so focused on what he does. He's a widower and I'm assuming that his wife has died about 18 months previously. He has a father who is quite eccentric and he has inherited that eccentricity. He's always trying to find the next new invention, and it's not about how he can become the next great thing, or feed the children, but it's more about enjoying trying to work out the problem and get to the solution.
"But his number one priority is to look after and to love his kids. Ostensibly he's a family man. He tries to work out how to feed the family through his inventions, and when that doesn't work out he tries to get by on his invention and his wit.
"He's a nice character. He lacks the social norms and graces, so it's a bit of a hero's journey, where he learns how to take control towards the end of the show, whereas beforehand he's so engrossed in his own world that he doesn't know how to relate to the rest of the world. But then eventually there's a little bit of a transformation.
"And it's a love story as well. I'm still finding him."
When we asked about a favourite song, David indicated a couple. Early in rehearsals, in the process of learning 'Me Ol' Bam-Boo', David told Stage Whispers, "I'm not a dancer at all, so I'm enjoying that immensely because I'm surrounded by these absolute gun dancers. I got a bit of a head start because I've been doing a lot of preparation for it, but I must admit the thing that's frightening me the most is the dancing. I did Dancing with the Stars because I'm not a dancer. There's a kind of abandon I'm trying to find within his movements."
As opening night approached David told us, "I still find that demanding. The character of Potts has to start off not doing it very well, then gets wound up into this maelstrom of Morris Dance, to get away from someone who he has duped with a hair-cutting machine. Then he has to end up dancing as well … well nearly as well … as these inordinately talented dancers. I worked very hard to get that into my body before starting. That's probably been my biggest challenge thus far, but I really enjoyed it, and the dancers are so supportive.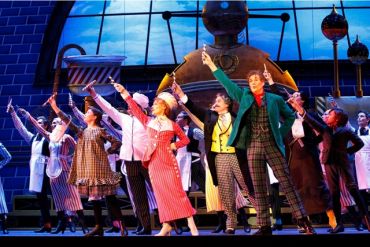 "And Dana Jolly, the choreographer, has been very generous with her time and support to get me up to whatever level I'm going to get to. I don't think I'm a dancer."
"Musically my favourite number would be 'Hushabye Mountain', which is a lovely lullaby which he sings to the kids. At the moment I'm trying to discover the best way to do it in this setting, because you don't want to over-sing it, and try to keep it intimate. It's a beautiful, haunting melody, so you don't want to make it to melancholic. It's a really interesting song, and I find it rather curious because I find it's almost like a reflection of his departed wife as well.
"I enjoy listening to 'Truly Scrumptious', and purely from a more adult, mature point of view, the "Lovely Lonely Man" song, which almost sounds like a cross between Sondheim and Lionel Bart – this lovely, English melodic vocal line and Sondheim-esque underscoring, which is perfect when it comes in, and Rachel sings it beautifully."
In Chitty Chitty Bang Bang David plays an inventor, but if David Hobson himself was an inventor, what would he invent?
"I would invent a coach who could get Melbourne Football Club to win a premiership before I die."
Chitty Chitty Bang Bang production images by Jeff Busby.
Chitty Chitty Bang Bang has its Australian Premiere at Sydney's Capitol Theatre on November 17, 2012 with a Melbourne season at Her Majesty's Theatre from January 30, 2013.