Paradise Lost
Award winning writer Sue Smith spoke with Peter Pinne over coffee about her new play Hydra, which explores the love affair between Australian literary icons George Johnston and Charmian Clift.
In the 1950's, the Greek Island of Hydra became a paradise for Australian writers George Johnston and Charmian Clift. Until Johnston's novel My Brother Jack became a success, the couple eked out a living there with other literary figures. This remarkable time has inspired a new play, Hydra, a co-production by the Queensland Theatre Company and State Theatre Company of South Australia.
Peter Pinne: What made you decide to write a play about George Johnston and Charmian Clift? Was it My Brother Jack?
Sue Smith: Yes. When John (Alsop) and I were adapting the book for the 10 Network TV miniseries, I naturally researched everything George had written and I found that it was mostly autobiographical. And as Charmian had co-written some books, I read all of her work too and I realised there was a story there – a story that hadn't been written. I was amazed no one had done it before. They're like Australia's Scott (Fitzgerald) and Zelda."
Peter Pinne: That's a good analogy. Was it hard to find the books? I think most of them except My Brother Jack are out-of-print.
Sue Smith: You can find them in collections, but Charmian's two Greek memoirs are no longer in print. Thank heaven there are still second-hand book shops around.
Peter Pinne: So what's the play about?
Sue Smith: It's a re-imaging of their love story, their rejection of Western consumerism and their dream of creating a life on Hydra as real novelists.
Peter Pinne: What period does it cover?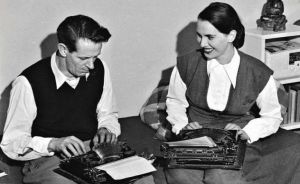 Sue Smith: 1954-1964 - basically the Hydra years and a little bit in Australia after they return. They went to live on the island from London, where George had been a successful journalist, and didn't leave until the success of My Brother Jack.
Hydra was a haven for expatriates in those days and they became the King and Queen of them. You could live a bohemian lifestyle there and exist on practically nothing. The weather was warm and there was freedom from outside distractions. They could write all day, which they did, working very hard from 7am until lunchtime and then spending the afternoon eating and drinking cheap local wine. Retsina. It was their daily ritual. They were dirt poor because none of the books they wrote made any money. And they always owed money to the shopkeepers. Whenever a cheque came in they would pay off what debt they could but it was a hand to mouth existence.
Peter Pinne: Their marriage fractured. What do you think were the reasons?
Sue Smith: Their drunken alcoholic fights and George contracting TB didn't help, nor did Charmian's infidelity. She had a French lover.
Peter Pinne: Is he in the play?
Sue Smith: Yes.
Peter Pinne: Are any other famous Hydra residents represented? I know Leonard Cohen lived there for a while.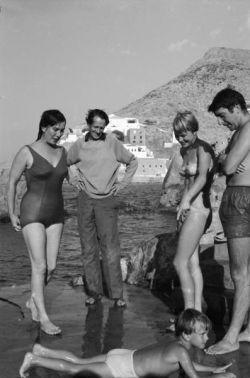 Sue Smith: He did, and Sidney Nolan and his wife used to visit and stay for months on end. There's a character called Vic who's an amalgam of all these people.
Peter Pinne: Is the play based on any book?
Sue Smith: No. There's lots of research about them in public domain but the drama is drawn from their own work. I've used lots of their material - slabs of it in fact.
Peter Pinne: Are their children in the play?
Sue Smith: Only the eldest child, Martin, and I use him as a narrator when he's an adult. He brings us into the play. It was a life of poverty until My Brother Jack's success. The advance on the book paid off their debts in Hydra and George's publisher paid for his air fare back home. Charmian and the kids returned as 10-pound migrants.
Peter Pinne: How long have you been working on the project?
Sue Smith: The first draft was completed in May 2016 and since then we've done two workshops.
Peter Pinne: You've written for all mediums – film, television and stage. Which do you prefer?
Sue Smith: Definitely stage. You have more control over your script. In TV and film you're locked out and basically have no say.
Peter Pinne: Are you ever consulted on casting?
Sue Smith: Only on Bastard Boys (ABC mini-series) and Hydra. I was there for the auditions of Hydra. I must say what a thrill it was to hear Bryan Probets read George. He was an actor I didn't know because he mainly works in Queensland but his reading was spot-on. He immediately locked into the character. I know Anna McGahan's work from television and she'll be great as Charmian, and so will Nathan O'Keefe as Martin. I wasn't in Adelaide for the auditions, but I do know him as an actor and he's perfect. It's a joy to be working with Sam Strong. We've known each other for a few years but this is the first time we've ever worked together. He's very talented. He's pulled together a terrific cast.
Peter Pinne: You must be one of the most awarded Australian female screenwriters, with an amazing list of credits: a BFI (British Film Institute) Outstanding Newcomer for British Feature Film Writing for Disney's Saving Mr Banks, Mabo, Brides of Christ, and the recipient of the 2018 Australian Writers' Guild Lifetime Achievement Award. How does that make you feel?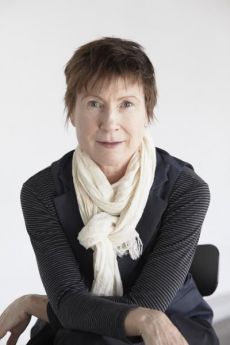 Sue Smith: Very, very chuffed and honoured. I was very nervous having to stand up in front of my peers and give an acceptance speech, especially with my mother in the audience. It was a bit nerve wracking.
Peter Pinne: Last year you also received the Sydney Theatre Company Patrick White Playhouse Fellowship for 2018. Did it come with cash? I ask this because Stephen Sondheim once said "the only awards that have significant value are the ones that come with cash."
Sue Smith: (laughing) It came with $25,000, but $15,000 of that was a commission for a new play and to mentor budding playwrights.
Peter Pinne: Have you written it yet?
Sue Smith: I've just delivered the first draft.
Peter Pinne: What's it about?
Sue Smith: Australian aid work in the developing world. It's set in East Africa and called Mzungu. It means, roughly, white person or foreigner. Did you know there are more Australian mining companies there than anywhere else?
Peter Pinne: No I didn't know that. It's not the first time you've written about the mining industry is it?
Sue Smith: My first play, Strange Attractor, was set in a mining camp and my last play, Kryptonite, had a glancing reference to mining.
Peter Pinne: East Africa is a long way from the Greek islands. But I suppose concept-wise it's not so very far. You're still writing about expatriates in a foreign culture. What is it about the expat experience that provides such good drama?
Sue Smith: It's about people searching for identity and a place to belong. Who they are and where they fit.
Hydra opened on 9 March 2019 at the Bille Brown Theatre, West End, Brisbane, followed by a season at the State Theatre Company of South Australia, Adelaide, at the Dunstan Playhouse from 1-19 May.
Images: Hydra production image by Jeff Busby; Charmian Clift and George Johnston; Charmian Clift, George Johnston, Marianne Ihlen, Leonard Cohen, and Jason Johnston (foreground), at Spilia Beach, Hydra, September 1960 (Photographer: James Burke); and Sue Smith.