The Past Is Never Dead: Joanna Murray-Smith's Berlin
Image from Berlin at Melbourne Theatre Company. Photographer: Jeff Busby.
The past is never dead. In fact, it's not even past. William Faulkner
Playwright Joanna Murray-Smith explains to Michael Brindley how a visit to Berlin and her own family history inspired her new play Berlin. Will this internationally themed play, currently premiering at the MTC, have the same resonance as her previous hits and take it to the West End and Broadway?
'I didn't want to dramatize the past through the people who lived it,' playwright Joanna Murray-Smith tells me about her new play Berlin. 'I wanted to dramatize it through the experience of young people today and ask, 'do they inherit the past?' Her two 20-something characters, Jewish Australian Tom (Michael Wahr) and German Charlotte (Grace Cummings), meet in Berlin and fall passionately in love, but both carry the burden of their forebears' history.
Murray-Smith's generation – or her part of it – had the good fortune to avoid the traumas of history. (She was born in 1962.) But she is acutely aware – and was made the more so in Berlin itself - of how recent that past is. Her mother Nita was a Jewish refugee, arriving in Australia aged 11 in 1938. Despite her becoming the complete Anglophile – and atheist Communist - her Jewish heritage remained. Nita's father Israel was a Tzadik (a righteous man) who was important at the schul. There were the annual Passover celebrations at which some guests, survivors, had their death camp tattoos. Murray-Smith's originally Anglican father, editor, critic, and author Stephen Murray-Smith, connected with his wife's heritage and was intensely respectful of it. So, the past, that past, has always irrevocably been there for Joanna Murray-Smith – even if she, like the late Jonathan Miller, is more Jew-ish than Jewish.
Visiting Berlin today, for anyone with even the scantiest knowledge of 20th century history, it is almost impossible to ignore the Holocaust in Germany's past. Murray-Smith told me she was struck by matter-of-fact signs in the U-Bahn (underground) stating plainly that this or that station was a departure point for transports to the death camps. But there are other reminders all around you in Berlin.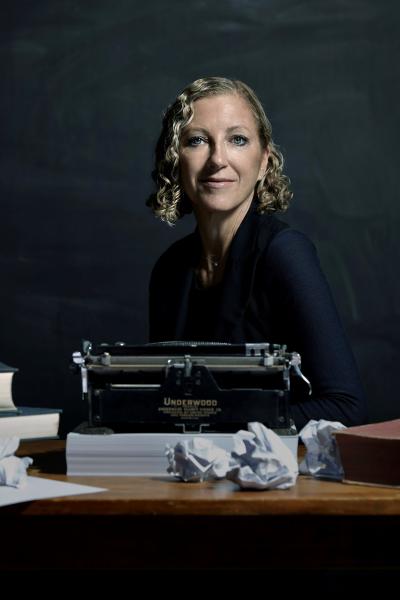 Image: Joanna Murray-Smith
There is Daniel Lebeskind's vast Jewish Museum which covers the history of the Jews in Germany from the Middle Ages to the present. Its exhibits insist that the Holocaust is an indelible part of that history. The Holocaust Memorial (or The Memorial to the Murdered Jews of Europe), with its 2,711 irregular grey concrete slabs, is at the very centre of Berlin, near the Brandenburg Gate. A permanent, comprehensive photographic exhibition, Topography of Terror, 1933-1945, on the site of what was Gestapo headquarters, documents the Nazi era in pictures and documents – and the accompanying text repeatedly, inescapably reminds the visitor that the policies and atrocities of the Nazis had the enthusiastic support of the majority of the German people.
And there are the stolpersteine (the so-called 'stumble stones'), tiny brass plaques embedded in the pavement, particularly in Mitte, for instance, an old Jewish quarter of Berlin, outside what were the addresses of Jewish families. The plaques name the people who lived there, and continue, 'murdered in Auschwitz [or Bergen-Belsen or Treblinka or…] in 1942'. Or 1943 or 1944. These stumble stones make the statistics specific and intimate. They are in cities and towns across Germany – as are other public memorials.
Such things are the nub of Murray-Smith's play – the past that weighs on her characters - so, I list the signs here because apparently, it's necessary nowadays to remind people - or even to tell younger people - what occurred. Germany acknowledges her past (unlike most other countries) partly because it is so horrific and every sane person over forty knows it, and partly because acknowledgement is a reminder and a promise that 'This must never happen again.' And Germany today is the most progressive and prosperous nation in the EU.
On a family holiday, six years ago, with her three children (then 20, 14 and 10), Murray-Smith was firstly surprised and impressed by how cosmopolitan Berlin is today with its vitality, artistic communities, café culture, orchestras, theatres, and galleries. But there was also for Murray-Smith a reminder of her Jewish heritage and the ineluctable past – with the signs all over the city. Penance? Maybe. Guilt? Certainly, for the direct perhaps descendants of the proven war criminals. But for Germans seventy years on?
Murray-Smith expected her children to lose interest quickly in the museums and monuments that acknowledge the Holocaust. On the contrary, they were fascinated by those reminders of the past – the weight of history, so to speak – and they wondered how people today lived with that ever-present past. And so, the seed of Berlin, the play, was planted.
Image: Three Little Words. Melbourne Theatre Company. Photographer: Jeff Busby
It didn't lie dormant, because that is not how writers' minds work, but in between there have been four other plays – American Song, Three Little Words, a revision of the 2013 Fury, and L'appartement.
Even while Berlin was in rehearsal, so also was Honour - her most performed and most translated play, from 1995. It's being staged at Sydney's Ensemble Theatre (23 April to 5 June). Murray-Smith attended the rehearsals - somewhat unnecessarily, she told me, but invited and able to cast an objective and more confident eye over the play and see how it might be 'fixed' twenty-six years after it was written. She also had a short piece in Red Stitch Actors' Theatre collection of short pieces, Tenderness, in Alma Park, East St Kilda at the end of March.
No spoilers here, but clearly Murray-Smith's young lovers in present day Berlin, Charlotte and Tom, carry the burdens of the past, even if they want to 'move on', or think they had. (I've heard of young Germans at the Berlinale Film Festival calling out when a movie depicted the Nazi era or its aftermath, 'Oh, no, not this again.')
But isn't there a similar rejection of any guilt in Australia too? Are there Germans who want to diminish the significance of the Nazi era and reject it as a 'black armband' version of history? So, a play about two young people in today's Germany could have more resonance than is immediately obvious.
'I didn't want to write a polemic,' Murray-Smith says, 'but I do want to explore how different pasts – or different perceptions or memories of the past – can be reconciled – or not.' She wants to see and dramatize how the past intersects with the present, how it feels to be a young German today – and a young Jew, neither 'responsible' for the past, for the actions or the sufferings of their ancestors. How do you judge the past when you weren't there – and the people who were, are dead and can't defend themselves?
Berlin is bound to disturb and polarise audiences. I ask Murray-Smith about how she's been, firstly and notably, criticised (as have others) for writing 'middle-class characters'. She agrees but adds that it's curious: this is a problem she has only encountered in Australia. The attacks come, she says, from privileged middle-class people. She wonders if it's bourgeois guilt – but she goes on, 'These are the people I know. Those are the voices I hear in my head. I'm interested in showing their aspirations and their concern for appearances – as a way of exposing human frailty.'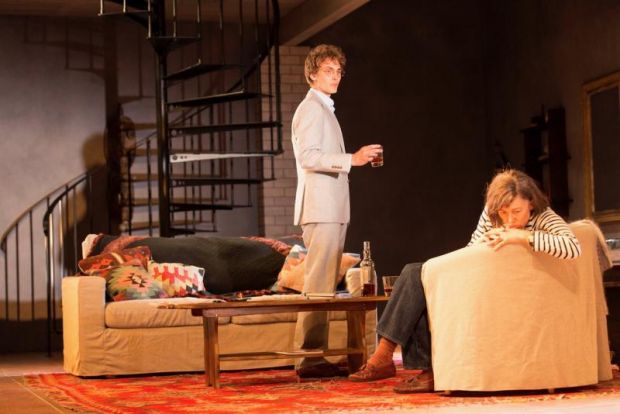 Image: Switzerland. Melbourne Theatre Company. Photographer: Jeff Busby
After all, Murray-Smith grew up in a household of fierce debate and contention, with the literary and intellectual luminaries frequent guests. Her mother and father quit the Communist Party in 1958, after the Soviet invasion of Hungary. But Stephen Murray-Smith still had to rescue Overland, the magazine he'd started with his friend Ian Turner, from the Communist Party. He said he wanted to 'avoid the humourlessness and dogmatism of the fully convinced.' So, Joanna Murray-Smith took in the clash of ideas, ideologies, and emotions – and the avoidance of humourlessness and dogmatism - from the start. An ideal background for a playwright.
Looking over her previous and very varied work, there is a marked tendency to upset the apple cart and to challenge accepted norms. She does that, of course, through her characters; she has a pronounced ability to put a character before us and make us think yes, we've got 'em, we know them, only to find, half or two-thirds of the way through, that we were wrong. The strong turn out to be vulnerable, the shallow to have depths, the courageous to be wrong-headed, the dogmatic to have doubts. I put that to her, and she says, as if a little surprised by the question, 'Of course - my characters are human beings.' In her beautiful obituary for her mother, Murray-Smith writes that for her mother, 'Art had to allow for human complexity to be truthful.'
Re-reading her 2014 play Switzerland, I was struck by a speech from (Murray-Smith's version of) novelist Patricia Highsmith:
Writers are exceptional because we don't care about your moral compass… It's not my job to pass judgement – it's my job to persuade. The reader [or the theatre audience] takes sides. I sit there, right in the middle.
I asked Murray-Smith, is that your credo? She agreed to the word 'persuade' – yes, she seeks to persuade. But we can be sure that in this new play Berlin there is not a solution or a resolution or an ending anything less than 'open'. That's not her way. As Chekhov (surely a precursor of Murray-Smith's) said, it's not the artist's job to provide answers, but to ask the right questions.
BUY THE SCRIPT NOW AT STAGE WHISPERS BOOKS.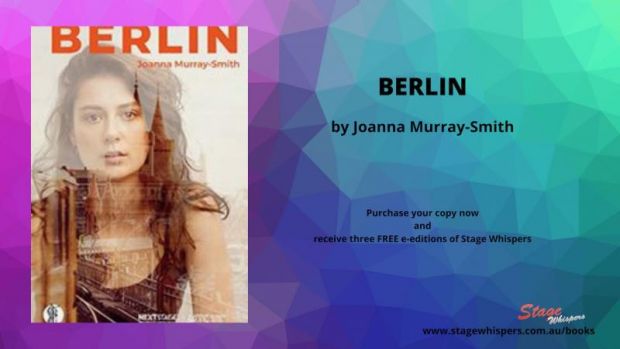 Joanna Murray-Smith's International Productions
Honour – Colombia University NY 1995; Belasco Theatre, NY, 1998; Royal National Theatre, London, 1998; Wyndham's Theatre, London West End, 2006; Park Theatre, London 2018. (Overall, Honour has been produced in more than 36 countries.)
Honour, Nightfall, Rapture, Ninety, Fury, Day One, a Hotel, Evening – all had staged readings or productions at NY Stage & Film Festival, Vassar College.
Scenes from a Marriage (commissioned, adapted from the 1973 Bergman film) – Belgrade Theatre, Coventry, 2008; St James Theatre, London, 2013.
The Female of the Species – Vaudeville Theatre, London West End, 2008; Geffen Playhouse, Los Angeles, 2010.
Switzerland – Geffen Theatre, Los Angeles, 2015; Theatre Royal, Bath, 2018; Ambassadors Theatre, London West End, 2018; 59E59 Theatres, NY, 2019. (Also produced in Germany, Denmark and Switzerland.)
American Song – Milwaukee Rep, Wisconsin, 2016 (commissioned)
Songs for Nobodies – Milwaukee Rep, Wisconsin, 2018; Ambassadors Theatre, London West End, 2019.
Purchase scripts by Joanna Murray-Smith at Stage Whispers Books