Performing Arts WA 2023 Awards Ceremony
The 2023 Performing Arts WA Awards Ceremony, held on Monday 30 October in the Heath Ledger Theatre, celebrated achievement in Western Australian professional live performance in 2022, covering both mainstage and independent performances.
Independent dance show Petrushka (Game, Set, Match) by Scott Elstermann was the biggest winner for the night, taking home five of the six awards for which it was nominated, including Outstanding New Work, Outstanding Choreography and Best Independent Production.
Zealous Productions' The Addams Family was also a popular production, picking up four awards.
Black Swan State Theatre Company of WA and WA Opera were the most awarded companies, taking home five awards each. Black Swan State Theatre Company of WA took home gongs for three productions: City of Gold, Barracking for the Umpire and The Glass Menagerie; WA Opera was recognised for La Traviata, Our Little Inventor and Tosca.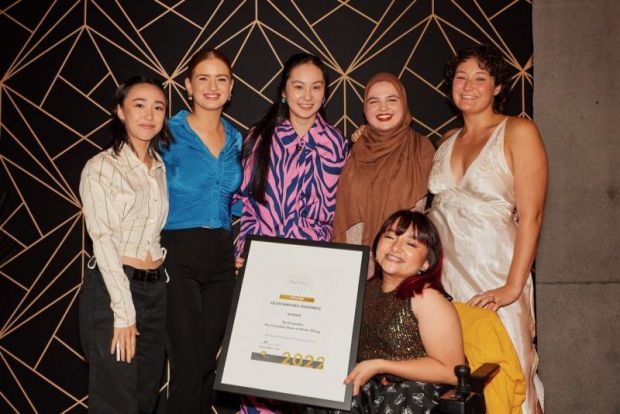 The Lifetime Achievement Award went to two recipients this year: Sue Peacock and David King, each honoured for their long illustrious careers and dedication to teaching at WA Academy of Performing Arts.
With new presentation funding, support from DLGSCI and Arts & Culture Trust meant the awards moved from the foyer space to the Heath Ledger Theatre at State Theatre Centre. This welcome capacity increase allowed for a greater scale event and increased audience members- something essential with the expansion of the awards themselves. With a 20-year history of recognising professional theatre, the Awards now also include dance, musicals, opera and cabaret across WA.
The Awards celebrate the professional live performing arts in Western Australia. They are hosted each year by Artist Relief Fund WA, a charity which supports arts workers experiencing hardship.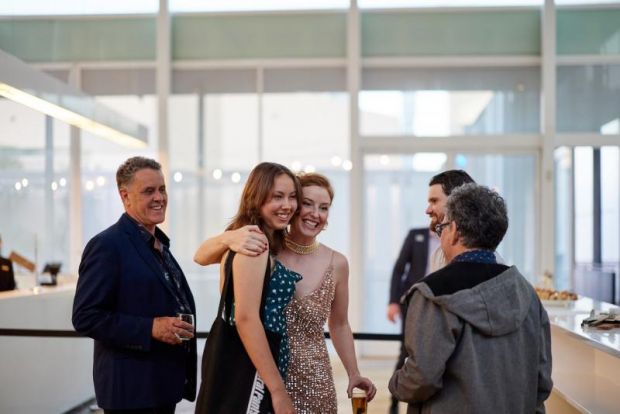 WA Opera's Our Little Inventor received the most nominations, featuring in twelve categories. Other big nominees included Black Swan State Theatre Company of WA's hit footy family comedy Barracking for the Umpire with eight nominations; Yirra Yaakin's new musical Panawathi Girl with nine nominations; and local independent contemporary dance show Petrushka (Game, Set, Match) with six nominations.
The event was supported by project partners: DLGSCI and Arts & Culture Trust WA, Mindaroo Foundation, Sandy Anghie, CircuitWest, Media Entertainment & Arts Alliance, Artist Management Australia, Moore Creative Artists, Harlequin Floors and Media Super.
More information: www.performingartswaawards.com
Photographer: Jessica Wyld
Full list of winners:
| | | | | |
| --- | --- | --- | --- | --- |
| Name | Production | Company | Genre | Category |
| Dayana Hardy Acuña | Swan Lake | West Australian Ballet | Dance | Outstanding Performer |
| David Mack | Petrushka (Game, Set, Match) | Scott Elstermann | Dance | Outstanding Performer |
| Tyrone Earl Lraé Robinson | Petrushka (Game, Set, Match) | Scott Elstermann | Dance | Outstanding Performer |
| Julio Blanes | Goldberg Variations | West Australian Ballet | Dance | Outstanding Performer |
| Scott Elstermann | Petrushka (Game, Set, Match) | Scott Elstermann | Dance | Outstanding Choreography |
| Petrushka (Game, Set, Match) | Petrushka (Game, Set, Match) | Scott Elstermann | Dance | Outstanding New Work |
| GLORIA | GLORIA | Co3 Contemporary Dance | Dance | Best Mainstage Production |
| Bethany Reece | And The Earth Will Swallow Them Whole | Rachel Arianne Ogle for Perth Festival | Dance | Outstanding Newcomer |
| Petrushka (Game, Set, Match) | Petrushka (Game, Set, Match) | Scott Elstermann | Dance | Best Independent Production |
| The Ensemble | Goldberg Variations | West Australian Ballet | Dance | Outstanding Duet or Ensemble |
| Joe Louis Robinson & Joshua James Webb | CHICAGO - A Musical Vaudeville | Drew Anthony Creative | Musicals & Opera | Outstanding Musical Direction or Conducting |
| Paul O'Neill | Tosca | West Australian Opera | Musicals & Opera | Outstanding Performer in a Leading Role |
| Brendan Hanson | The Addams Family | Zealous Productions | Musicals & Opera | Outstanding Performer in a Leading Role |
| La Traviata | La Traviata | West Australian Opera, Opera Queensland & State Opera South Australia | Musicals & Opera | Best Production |
| The Addams Family | The Addams Family | Zealous Productions | Musicals & Opera | Best Production |
| Michael McCall | The Addams Family | Zealous Productions | Musicals & Opera | Outstanding Direction, Movement Direction or Choreography |
| David Milroy | Panawathi Girl | Yirra Yaakin Theatre Company for Perth Festival | Musicals & Opera | Outstanding New Work |
| Emma Jayakumar | Our Little Inventor | West Australian Opera in association with AWESOME Festival, West Australian Young Voices and Western Australian Youth Orchestra | Overall | Outstanding Composition or Arranging |
| Samantha Clarke | La Traviata | West Australian Opera, Opera Queensland & State Opera South Australia | Musicals & Opera | Outstanding Newcomer |
| Rachelle Durkin | Our Little Inventor | West Australian Opera in association with AWESOME Festival, West Australian Young Voices and Western Australian Youth Orchestra | Musicals & Opera | Outstanding Performer in a Supporting Role |
| Rachel Monamy | The Addams Family | Zealous Productions | Musicals & Opera | Outstanding Performer in a Supporting Role |
| The Ensemble | Panawathi Girl | Yirra Yaakin Theatre Company for Perth Festival | Musicals & Opera | Outstanding Ensemble |
| Georgia King | Mama Stitch - Mandurah | Whiskey & Boots | Theatre | Outstanding Performer in a Leading Role |
| Izzy McDonald | SIT! (Or I'll Make You Sit) | The Blue Room Theatre & Morgan Owen | Theatre | Outstanding Direction of an Independent Production |
| Telephone | Telephone | The Last Great Hunt | Overall | Outstanding Contemporary or Experimental Performance |
| Tim Collins | Cicada | Barking Gecko Theatre | Overall | Outstanding Sound Design |
| Bruce McKinven & Amalia Lambert | Mary Stuart | Performing Lines WA in association with Fremantle Theatre Company for Perth Festival | Overall | Outstanding Stage Design |
| Bruce McKinven & Amalia Lambert | Mary Stuart | Performing Lines WA in association with Fremantle Theatre Company for Perth Festival | Overall | Outstanding Costume Design |
| Lucy Birkinshaw | The Glass Menagerie | Black Swan State Theatre Company of WA | Overall | Outstanding Lighting Design |
| The Smallest Stage | The Smallest Stage | Bunbury Regional Entertainment Centre for Perth Festival | Theatre | Best Mainstage Production |
| Melissa Cantwell | Mary Stuart | Performing Lines WA in association with Fremantle Theatre Company for Perth Festival | Theatre | Outstanding Direction of a Mainstage Production |
| Andrea Gibbs | Barracking for the Umpire | Black Swan State Theatre Company of WA | Theatre | Outstanding New Work |
| Meyne Wyatt | City of Gold | Black Swan State Theatre Company of WA & Sydney Theatre Company for Perth Festival | Theatre | Outstanding Performer in a Leading Role |
| Tinashe Mangwana | Blue/Orange by Joe Penhall | THEATRE 180 | Theatre | Outstanding Newcomer |
| Alicia Osyka | SIT! (Or I'll Make You Sit) | The Blue Room Theatre & Morgan Owen | Theatre | Outstanding Performer in a Supporting Role |
| Joel Jackson | Barracking for the Umpire | Black Swan State Theatre Company of WA | Theatre | Outstanding Performer in a Supporting Role |
| Takatāpui | Takatāpui | The Blue Room Theatre Summer Nights & Daley Rangi | Theatre | Best Independent Production |
| The Ensemble | The Complete Show of Water Skiing | The Blue Room Theatre & Samantha Hortin | Theatre | Outstanding Ensemble |
| Sue Peacock | Lifetime Achievement Award | | | |
| David King | Lifetime Achievement Award | | | |
| Cadence McNamara | The Artist Relief Fund's Student Endowments - Supported by Minderoo Foundation | | | |
| Riley Warner | The Artist Relief Fund's Student Endowments - Supported by Minderoo Foundation | | | |
| Ruby Brazzalotto | The Artist Relief Fund's Student Endowments - Supported by Minderoo Foundation | | | |
| Jake Binns | The Artist Relief Fund's Student Endowments - Supported by Minderoo Foundation | | | |
| Marie-Eve Cigna | The Artist Relief Fund's Student Endowments - Supported by Minderoo Foundation | | | |
| Verity Wyllie | The Artist Relief Fund's Student Endowments - Supported by Minderoo Foundation | | | |
| Shari Sebbens | City of Gold | Black Swan State Theatre Company of WA & Sydney Theatre Company for Perth Festival | | Outstanding Achievement by an Interstate Artist |