QPAC Re-Opens.
The soggy Queensland Performing Arts Centre re-opened Tuesday January 25 with a matinee of Wicked as the opening performance.
QPAC Chief Executive John Kotzas said he is delighted the Centre is able to welcome patrons into its Lyric Theatre after almost a fortnight of enforced closure due to the recent floods.
"This has been an extremely challenging time for our state and we hope that presenting this internationally acclaimed production in our theatre, will bring some fun and magic to our audience's hearts."
"Despite external appearances, QPAC sustained significant damage during the floods to our low-lying facilities including our basement storerooms and critically, the power supply. This rendered some of our vital services inoperable including air flow, fire and safety systems, lifts, car parking and waste management."
"After the floodwaters receded, a large and dedicated team of staff, Queensland Government partners , emergency services, volunteers and contractors worked tirelessly on the difficult job of clearing, assessing and repairing our below ground facilities and equipment."
"At 8am on Monday 24 January, the Queensland Government through Arts Queensland handed the building back to QPAC management. This followed assessment and assurance that parts of the building open to public, staff, casts and crew were safe to inhabit."
"This means we can now proceed with bringing the Centre back into operation in a staggered reopening of the Cremorne Theatre, the Playhouse and the Concert Hall. All these venues will open after we have gained certification to ensure safety for staff and the general public. Safety and security are our priorities at this time."
"As QPAC recovers from the damage caused by the devastating Queensland floods, and endeavors to regain some normality of operations, we would like to thank our government partners, customers, staff and the many contractors and emergency services volunteers for their hard work, support and patience through this difficult time."
Last week In a statement, Wicked Producer John Frost said: "It is heartening to see Brisbane literally lifting itself out of the mud with strength and compassion and getting back on its feet. It's an extraordinary city. Wicked is working with QPAC to ensure that we rise as well."
It is understood one option includes adding extra performances to make up for those which have been cancelled.
Last week water flooded into lower level carparks and ground stores of the Queensland Performing Arts Centre, affecting plant activity such as electricity, air-conditioning and cold rooms, rendering much of the massive complex powerless and unsafe to operate.
Our exclusive picture above shows QPAC when the water was at its highest.
Meantime the Queensland Theatre Company has estimate its damage bill at more than $200,000.
In a statement sent to supporters the QTC said the company "was inundated to about 1.2 metres at the peak of the flood on Wednesday and Thursday. Our performance studio, seating bank, artist and bar facilities were extensively damaged, and extensive damage to costumes, props and furniture."
"Over the weekend, a small army of local artists, loyal patrons and new friends volunteered to help us clear our building of mud and debris, and dispose of ruined property. We owe these people an enormous debt of gratitude."
"Five days after the flood event, we are still not yet able to return staff to the building for a number of safety reasons. But as they say, the show must go on. Our administration and ticketing staff have relocated temporarily to Brisbane Festival's office. Our set builders are operating under generator power, and the wardrobe department has taken temporary refuge at Queensland Ballet to continue their preparations. Gardens Theatre at QUT has provided rehearsal space so our cast can take to the stage without postponing performances. It's going to be a significant challenge to get our first show for 2011 on stage, so we ask for your patience and understanding as we catch up."
Elsewhere in Brisbane, the Arts Community is mourning the loss of the Drift Restaurant. Dramatic footage of it breaking from its barge is on the front page of http://www.stagewhispers.com.au now.
Naomi Truloff told our facebook page.
"Drfit, a much loved cabaret venue, has broken away from its moorings and is currently sailing downstream."
"We are all completely devastated. We have so few venues as it is, and now the ones we do have are being destroyed."
"Of course this is nothing compared to the thousands of people losing their homes and our hearts go out to them."
In other parts of Queensland, theatres have escaped the worst.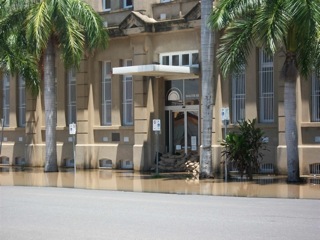 In Rockhampton, the Walter Reid Theatre was secured by sandbags (See picture). A spokesman for Rockhampton Venue and Events says the theatre was the backdrop to most evening news bulletins as it was right on the edge of the rising waterway.
The basement of the town's main venue was also flooded, which caused damage to costumes and equipment.
The spokesman said the frustrating thing was that the water has been very slow to subside - hampering the clean up operation.
In Toowoomba, where the inland Tsunami tore through the town, the main theatre has had a lucky escape. The magnificent Empire Theatre was subject only to minor flooding.
A spokeswoman said "We are quite lucky not to be on the main street where the water came through. We are open today and have a summer school concert this Friday Night."
**
StageDoor Dinner Theatre in the Brisbane suburb of Bowen Hills informs us that it has been shut down and all performances of Aladdin and His Really Cool Lamp have been cancelled. Some water damage has occured and power has been cut off for safety reasons. All patrons with tickets will be contacted by box office staff.
**
And the Clean-Up
Harvest Rain Theatre Company has launched the Brisbane Arts Community Flood Clean Up, an initiative designed to unite the artistic community of Brisbane in an effort to provide much-needed support and clean-up personnel to the artistic venues and cultural precincts impacted by flooding.
Harvest Rain has been inundated with calls and emails from supporters of the arts wanting to know how they can specifically help those affected in the Brisbane arts community to clean up when the waters recede.
The company is collecting details of volunteers wanting to donate time and services to help cleanup Arts venues and Cultural precincts.
Passionate supporters of the arts scene in Brisbane who want to be notified specifically of how they can help the affected arts organisations can add their name and details to the volunteer register at http://www.harvestrain.com.au
**
Fundraisers
The Flood Light benefit performance at Slide in Sydney's Oxford Street on Sunday Januray 23 raised in excess of $20,000. Congratulation to producer Catherine Alcorn on organising this great night, which attracted entertainers including Bobby Fox (Jersey Boys) and Deni Hines.
Meantime, audiences are donating generously in theatre foyers across Australia.
More than $22,000 was raised from audience members from just two performances at The Boy From Oz in Melbourne. Donations from the audience are being matched by the Pratt foundation.
If you have any more information or photos, please contact Stage Whispers