Queensland Theatre Company Season 2014
Queensland Theatre Company (QTC) has unveiled its Season 2014. Artistic Director Wesley Enoch announced seven mainstage productions including a world premiere and two Australian premieres and a cast lineup including an internationally acclaimed Director, a world famous writer and a season of stories starring Australia's greatest actors.
The seven productions in the season are Australia Day, The Mountaintop, Macbeth, The Effect, Gloria, Black Diggers, Gasp!, A Tribute of Sorts andThe Magic Hour
Enoch said QTC's Season 2014 would be a year of important story-telling; of productions that would move and motivate audiences.
"There is a very real focus on Australian work in 2014 with 75% of the season Australian plays, and for good reason – Australian stories and storytellers are amongst the very best in the world," he said. "We will see a tripling of works being commissioned, we have two productions in association with local groups and four co-productions – this is exciting for us and for our audiences," he said.
"Season 2014 is one that audiences will thoroughly enjoy – it is laced with humour, emotion, conflict, questions and adventure. It is also a season that nurtures our stars – we are very proud to present four works by female playwrights, and welcome two female directors, as well as celebrating a 45% increase in the number of actors across the season compared to this year."
Arts Minister Ian Walker announced that Queensland Theatre Company had been successful in its application for the Newman Government's Super Star Fund. The funding will go towards Shakespeare's Macbeth, to be directed by internationally renowned theatre director Michael Attenborough CBE.
"Michael Attenborough creates high-impact, contemporary Shakespeare that really thrills audiences," he said. "This Queensland exclusive will be a unique experience for our audiences. It will deliver the benefits of cultural tourism to the south east of the state, undoubtedly attracting many theatre lovers from interstate. There will also be rewards for Queensland artists with workshops and a mentorship and the development of an education show by Grin & Tonic, I am Macbeth, to be toured to Queensland schools and regionally in 2014."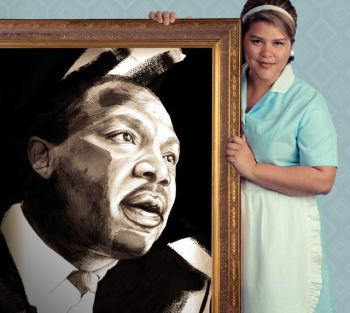 The Season 2014 story opens in January at the Playhouse with a comedy questioning the national identity in Australia Day by Jonathan Biggins, from the team behind Sydney Theatre Company's satirical institution The Wharf Revue. Andrea Moor (Venus in Fur) directs, and for actor Paul Bishop, who plays the Mayor, this material is comfortably close to home – when he's offstage, he is a Redlands City Councillor on Brisbane's bayside.
The Mountaintop looks back at the life of one of the most inspirational men to walk the Earth in Dr Martin Luther King Jr – but far from putting him on a pedestal, it's a warts-and-all portrait of a human being, culminating in a blistering recap of decades of civil rights history, right up to the present day.
Penned by young Memphis playwright Katori Hall, it was a West End and Broadway sell-out and an Olivier Award-winner. Making his Queensland Theatre Company debut, Pacharo Mzembe plays King with actress, activist and hip-hop Candy Bowers as Camae.
In March, QTC presents Macbeth - the original Game of Thrones - directed by Britain's Michael Attenborough, in association with Brisbane theatre troupe Grin & Tonic and starring a cast of 15 superb actors. Jason Klarwein and Veronica Neave star as the royal couple with blood on their hands, heading a local cast featuring Tama Matheson, Andrew Buchanan, Thomas Larkin, Kevin Spink, Steven Rooke, Lucas Stibbard, Tim Dashwood and Christopher Beckey.
In July, QTC leaves the Playhouse until September, making its home in the Bille Brown Studio (BBS).
The Effect is the story of a struggle for dominance between the clinical order of science, and the roiling chaos of the human heart. A co-production with Sydney Theatre Company, it was written by young British playwright Lucy Prebble, author of West End and Broadway hit ENRON and TV's Secret Diary of a Call Girl. The Effect stars Queenslander Anna McGahan, recently seen on the small screen in House Husbands, Miss Fisher's Murder Mysteries and Underbelly: Razor.
A new Australian work, commissioned by QTC, by Brisbane playwright Elaine Acworth is the next story to be told. Gloria is a play about grace and grandchildren, about memory – and for anyone who's ever stumbled over putting a face to a name, or called an object a 'thingummy'. It's a play where music takes centre stage, weaving together Gloria's rapidly fraying memories and brings together an all-Brisbane cast led by Christen O'Leary (End of the Rainbow, Bombshells) as Gloria.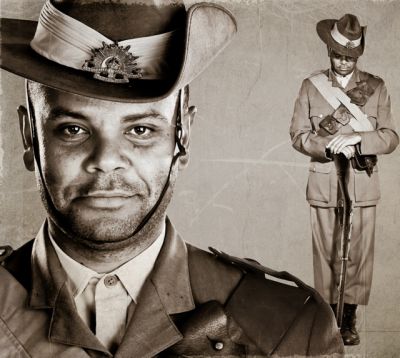 Marking the return to the Playhouse in September is Australian work Black Diggers.
One hundred years ago, about a thousand Indigenous Australians took up arms to fight in World War I. For them, battle on a Gallipoli beach was an escape from the shackles of racism at home. Black Diggers draws from interviews with families of men who heard the call – men who now step from the blank pages of history to share their stories. Directed by Wesley Enoch and written by Tom Wright, Black Diggers presented in association with Sydney Festival and Brisbane Festival; the cast is headed by Luke Carroll, last seen playing a soldier in a very different war in QTC's Mother Courage.
The finale for the mainstage Season is Ben Elton's Gasp! - a satire on the heartlessness of big business. Continuing QTC's collaboration with Western Australia's Black Swan State Theatre Company, Gasp! draws cast members from Brisbane and Perth. First performed in London in 1990, starring Hugh Laurie, Gasp! was the playwriting debut for stand-up comic Elton (The Young Ones and Blackadder).
Supporting the mainstage Season are two productions that tell stories in the BBS. May sees two productions - A Tribute of Sorts which is a celebration of the art of theatre itself, and The Magic Hour, where actor and singer Ursula Yovich breathes new life into the fables collected by the Brothers Grimm.
queenslandtheatre.com.au/ 1800 355 528.
Images: Australia Day - image of Paul Bishop, photo by Aaron Tait; The Mountaintop - image of Candy Bowers, photo by Aaron Tait - illustration by Lauren Marriott & Black Diggers, image of Luke Carroll - photo by Aaron Tait.