Razzle Dazzle 'Em!
In August 2019, just before Chicago began its Australian tour, Tom Burlinson, who plays Billy Flynn, took time out from rehearsals to talk to Coral Drouyn.
We measure our lives by milestones, and it's hard for those of us who are Music Theatre Tragics to believe that Chicago first hit our stages back in 1981, some six years after it premiered on Broadway. That's way back before many of our current crop of performers were even born. The two stars, Nancye Hayes and Geraldine Turner, were at the height of their performing prowess, and the foil between them was Terry Donovan (whom we had all watched and loved on the telly in Division 4) as the opportunistic and hustling lawyer, Billy Flynn. It was a revelation for all of us as a show and it is regularly revived to great acclaim. You just can't keep a good show down.
That might all seem like musical trivia, if it weren't for the "six degrees of separation" rule. Fast forward to 2019 (a different millennium): Chicago has returned to our stages and, in a first, Jason Donovan is returning from London to play the role his father originated in Australia for the Melbourne season. Jason was barely into his teens when the Sydney Theatre Company production started its tour, but he was already a seasoned actor, particularly on television. Brought up by Terry, it seemed inevitable that he would also turn to acting, but it's hard to imagine that he would ever have contemplated following so literally in his father's footsteps as to play the same role in the same show thirty-eight years later.
But the synchronicity doesn't end there. Just prior to Chicago, Terry Donovan was appearing regularly on our screens in Cop Shop, and so was a young actor called Tom Burlinson, who had just signed a major movie contract to star in the title role of The Man from Snowy River – a role which made him an international star. Tom had appeared with Terry in Cop Shop, having made his mark as Mickey Pratt in The Restless Years. The Man from Snowy River was Australia's biggest film production ever, and although Kirk Douglas was the obligatory overseas star, it was Tom and that famous downhill ride that took the world by storm. And who had a supporting role in The Man from Snowy River? You've guessed it, Terry Donovan, AKA Billy Flynn.
"It's quite extraordinary how things evolve," Tom told me. "I don't know if it's the six degrees thing, or the planets aligning, or just fate, but it certainly seems something more than just coincidence."
Of course, Australia has a small pool of actors compared to the U.S or Britain, but many of them never cross paths or share roles, let alone have their careers intertwined.
"The fact that Jason and I are sharing the role, each playing in different states, and that Jason's Dad, with whom I had worked, and the two of us are now tied together by the same role is just a little bit spooky," he explains.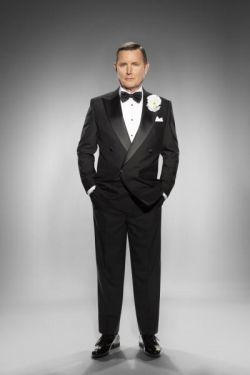 Tom is no stranger to Musical Theatre. His very first role on stage was as Colonel Pickering In My Fair Lady at Mosman Primary School.
"I loved it," he says with enthusiasm, "and I was absolutely hooked. It was the mid-sixties and I really wasn't into the whole Beatles/Rolling Stones thing. I was obsessed with music from the forties and fifties - swing, musicals, crooners. We're all influenced by our parents' likes and dislikes, but I just gravitated to that music. I never thought all three would be so much a part of my life."
After years of singing along with Sinatra records, Burlinson discovered in his teens that he sounded like his idol, but he didn't have the confidence to make his voice public. Tom concedes he might have tried musical theatre as his platform for performing, but a friend had applied to NIDA to do drama and Tom auditioned with him. The next thing he knew he was an actor, graduating in 1976.
"I was lucky," he says modestly. "I had the right look for the time, young with baby-faced innocence, and I was in fact in my twenties when the fame and fortune (such as it was) hit me. Two Snowy River films and Phar Lap were responsible for my love of horses and riding, which is right up there with music, and allowed me to make a name internationally. Yes, I was lucky and had fantastic opportunities, both here and overseas. I made some good films, and some fairly ordinary ones, but if you choose this life there are always going to be times when the work dries up and you think to yourself, 'Now what?' You come down to earth with a thud."
Such a time came for Tom in 1990, when he suddenly found himself without a job in sight. It's hard for anyone to go from living the high life to wondering where the rent is coming from, but Tom stayed positive through it.
"It was listening to my records, largely Sinatra and Swing Bands, that got me through the uncertainty," he confesses, "and I actually wrote a song, a tribute to Frank, called "The Man in the Hat" because I loved Sinatra's look as well as his voice. It was strange in a way because I had been singing with Frank all my life, yet I had reached my thirties before I ever sang in public."
That appearance was on The Ray Martin Show and, in Show Biz parlance, the rest is history. Tom Burlinson, actor, was now also Tom Burlinson, singer.
"That opened so many new doors for me," Tom admits, "not least being the voice of Frank in Nancy Sinatra's mini-series tribute to her father. Can you imagine actually becoming the voice of someone you have idolised over the years? And so Frank became a part of my professional life as well as my personal one. I've been lucky to create some shows incorporating Frank's repertoire and the 'Swing' standards I've always loved. There's only one rule in that; music, if it doesn't make you click your fingers, it doesn't swing."
The music also opened another door for Tom, and he started auditioning for musicals, finally getting the lead in How to Succeed in Business Without Really Trying in 1993, nearly thirty years after that primary school debut in My Fair Lady.
"I just loved it," Tom says. "It was a combination of everything I loved - great songs, a live band of terrific musicians, acting, really talented performers to bounce off. Wow, what's not to love about Musical Theatre. It's the only medium where you get a bit of everything. I owe so much to John Frost for trusting me with that."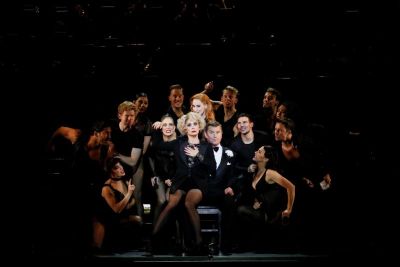 Other musicals followed, including a long run in Mel Brooks' The Producers, with Tom completing 500 performances. He might have been content from then on to tour with his own show Frank – A Life in Song, but the chance to join Chicago was irresistible.
"Let's face it – I get to sing 'Razzle Dazzle 'Em' surrounded by beautiful women, and I'm not Richard Gere but I even get to tap dance – not my strong suit but I get by. And the cast, well the cast is unbelievable."
This is a reworking of the 1996 multi award-winning production that really made Chicago one of the biggest shows of all time. Ann Reinking, so long a part of Bob Fosse's life, won a Tony Award for re-imagining Fosse's original choreography, and it's being used in this production, some twenty three years later, while the show is now Broadway's longest running American musical of all time, and the current second-longest running musical on Broadway behind The Phantom of the Opera. You can't improve on perfection.
"My first day in the rehearsal room nearly blew my mind," Tom confides. "The dancers had been working for about a week and they are just unbelievable. And Alinta and Natalie are a revelation. The audience better be prepared to get out of their seats more than once when applauding."
Though Natalie Bassingthwaighte is best known to most of us as a TV actress and singer, she started her career in such musicals asGrease, Rent, Footloose and even in the ensemble in Chicago, so it's not surprising she is relishing playing Roxie Hart. As Velma Kelly, the delightful Alinta Chidzey is bound to please her fans (I am certainly one), just as she has done in shows as diverse as Showboat, Singing in the Rain and Chess. Not only a great triple threat, Alinta is also a much-lauded jazz singer and musician. And with Casey Donovan as Mama Morton, the show is heavily weighted with superb talent.
"The thing about Chicago is that it's not lightweight," Tom explains. "It may be set in the Jazz Age of the 1920's, but it has murder, treachery, betrayal, corruption and all the other issues we're facing right here and now in the world today. It's still relevant."
And it has the great songs of Kander and Ebb and All that Jazz - what more could you possibly want?
Brisbane: Lyric Theatre QPAC from 2 November, 2019.
Melbourne: State Theatre, Arts Centre Melbourne from 14 December.
Production images by Jeff Busby. Portrait image of Tom Burlinson as Billy Flynn by Peter Brew-Bevan.