RED STITCH ACTORS THEATRE 2014 SEASON
New Artistic Director of Red Stitch Theatre, Ella Caldwell has announced her inaugural season for 2014 revealing eight plays including two world premieres (Out Of The Water and The Mesh), two Australian premieres (Belleville and The Flick) and four plays never before seen in Victoria (This Year's Ashes, Grounded, Glory Dazed and Eurydice).
Run by actors for actors for the last 13 years, Red Stitchis often the first to introduce Melbourne audiences to exciting international playwrights from their intimate space in St Kilda.
"In curating Season 2014 I celebrate our core principles as an artist driven company that nurtures the craft of acting and great writing, meanwhile embarking on new ventures that embrace the evolution of Red Stitch and our audience. In the coming year we offer a number of world and local premieres and developments with Australian writers, whilst working with some of the best directors in the country," said Ella Caldwell.
2014 sees the return of film and theatre director Nadia Tass to direct two productions including the world premiere of award winning US playwright Brooke Berman's Out Of The Water (image above) and the Australian premiere of Annie Baker's The Flick. The Flicksees Red Stitch collaborating with the Melbourne International Film Festival for the very first time. This partnership will offer a unique theatre experience in a surprise venue in the heart of the city.
In another first, Red Stitch is working with ARTHUR (Cut Snake, The Sea Project) on a project involving five Australian writers to present the world premiere The Mesh. ARTHUR director Paige Rattray and writers Jason De Santis, Amelia Evans, Duncan Graham, Dan Giovannoni and Elise Hearst work with Red Stitch ensemble actors to create a multi-voiced, highly physical devised work that promises to upend and entertain in equal measure.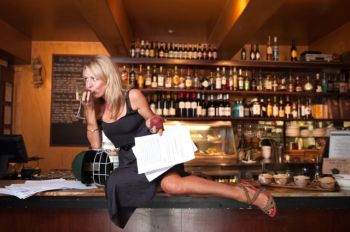 Four Victorian premieres make up part of the 2104 season starting with This Year's Ashes (image right) by Australian playwright Jane Bodie, a romantic comedy about love and loss. This Year's Ashes is directed by Tim Roseman, Artistic Director of Playwriting Australia. Next up is the critically acclaimed Grounded by multi award winning US playwright George Brant. Directed by Tanya Dickson,Groundedis a one-woman show about a fighter pilot whose unexpected pregnancy puts her career on hold. Glory Dazed by UK playwright Cat Jones, directed by Greg Carroll, is a darkly humorous and confronting exploration of the impact of returning soldiers from Afghanistan. And Eurydice by Sarah Ruhl is a contemporary re-imagining of the myth of Orpheus from the perspective of Eurydice, his wife (image below).
Amy Herzog, writer of 4000 Miles from the company's 2012 season, brings her talents back to Red Stitch with Belleville, a chilling interrogation of deception and dependency set in a Parisian suburb. Denny Lawrence returns to Melbourne to direct.
A hit in 2012, Tom Wells' production The Kitchen Sink will hit the road and tour regional Victoria from February whilst March provides a mini-festival with Playlist. For one night only, Red Stich will present 12 bite-sized plays by a selection of writers. Each writer creates a play inspired by their favourite song that is only as long as the song itself. Accompanied by live music and performed by Red Stitch actors, the party takes place in underground hub Donkey Wheel House.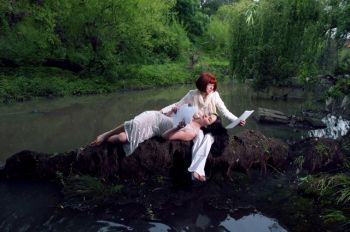 "I'm delighted to offer Season 2014 to Melbourne audiences. In addition to premiering exceptional writing from around the world, brought to you by the Red Stitch Actors ensemble, I hope our new collaborations and partnerships will heighten your theatre experience, " said Caldwell.
After revealing eight plays Red Stitch have decided to keep a little something up their sleeves for the final play for the season. This production will be revealed in 2014, hot off the press.
Continuing with the highly successful Red Stitch Writers program, Red Stitch welcomes newest writers Nicki Bloom and Elise Heart in 2014. Launched in 2007, the program invites playwrights to develop work in-residence with the Red Stitch actors and dramaturge over an 18-24 month period through script workshops, progressive readings and feedback sessions. The Red Stitch Writers program has fostered new work by Australian playwrights including Tom Holloway (Red Sky Morning) Melissa Bubnic (Stop. Rewind), andAdam Cass (Roam).
RED STITCH 2014 SEASON
5 February – 8 March
OUT OF THE WATER
By Brooke Berman (USA)
WORLD PREMIERE
Directed by Nadia Tass
Polly and Graham knew each other once. Or rather, they didn't know each other, once. Now Graham has embarked on an odyssey, and Polly isn't scared of anyone.
A searing excavation of love and family, Out of the Water delves to the depths of personal loneliness and questions our primal hunger for intimacy.
19 March – 19 April
THIS YEAR'S ASHES
By Jane Bodie (AUS)
Directed by Tim Roseman
VICTORIAN PREMIERE
Ellen's moved from Melbourne to a shiny new life in glitzy glam Sydney.
She works hard in a job she hates, has no friends and doesn't see her Mum. Ellen prefers the company of strangers - drinking with them, sleeping with them and never seeing them again. That is, until Adam turns up in her bed. Again. And he's asking all the wrong questions…
This Year's Ashes is a hilarious, touching, bittersweet comedy about relationships, loss and… the cricket.
30 April – 31 May
BELLEVILLE
By Amy Herzog (USA, 4000 Miles)
Directed by Denny Lawrence
AUSTRALIAN PREMIERE
Paris. Christmas. In their new bohemian neighbourhood, Abby and Zack are discovering shards of each other they never suspected.
A young couple living away from their friends and family, fears and secrets simmer until they are balancing dangerously close to a precipice that will change everything. What are the limits of trust and truth, and who will break them?
Belleville is a chilling interrogation of deception and dependency.
11 June – 12 July
GROUNDED
By George Brant (USA)
Directed by Tanya Dickson
VICTORIAN PREMIERE
She's an F16 fighter pilot; a rock star of the great big blue above. She loves the sky. And suddenly she is pregnant.
Now: Pakistan hunting the enemy by day. Las Vegas by night. Maybe it's safer this way; maybe it's better? She can come home to her husband and child.
From the heights of lyricism to the shallows of workday existence, Grounded is a visceral, gripping story that flies through one woman's internal war and her external battle.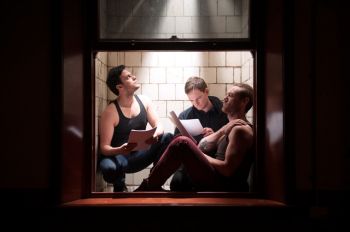 23July – 23 August
GLORY DAZED
By Cat Jones (UK)
Directed by Greg Carroll
VICTORIAN PREMIERE
Ray isn't adjusting to civilian life after serving in Afghanistan and Iraq. Ray is on the run. In a bold attempt to win back his ex-wife, he enforces a dangerous lock-in at his local pub. What will he do to convince Carla that their family is worth fighting for?
Glory Dazed is a blistering response to the over representation of ex-servicemen in UK prisons. From workshops conducted with real prisoners, Cat Jones has created an unflinching revelation of a man teetering on the brink.
3 September – 4 October
EURYDICE
By Sarah Ruhl (USA)
VICTORIAN PREMIERE
Eurydice and Orpheus are in love; life is as beautiful as nature dreamt it. But there is a nasty Interesting man who has been watching Eurydice. And he has something she wants.
A magical and surprising retelling of the ancient myth, Eurydice is the story of Orpheus' wife.
Eurydice is a fable about love, loss, longing and the pleasures and pains of memory.
1 August. Strictly limited season
THE FLICK
By Annie Baker (USA, The Aliens)
Directed by Nadia Tass
AUSTRALIAN PREMIERE
Presented in association with the Melbourne International Film Festival
Sam, Rose and Avery are the underpaid employees of one of the last remaining film projector cinemas in Massachusetts. They bicker, laugh and dream their way through shifts in the empty aisles. New kid Avery has an encyclopaedic obsession with film, and Sam has an unrequited obsession with Rose. Rose does what Rose wants to do.
With keen insight and a finely tuned comic eye, Annie Baker examines hidden corners of our existence, revealing the gems of truth that reside therein.
15 October – 8 November
THE MESH
By ARTHUR and RED STITCH (AUS)
Directed by Paige Rattray
WORLD PREMIERE
"Do you hear the echo through the country? From all the wild things of the deserts and the bush? From the mountains we climbed – the seas we swam, the spirits we drank and the devils we killed? We weep for you. But you are lost in the dark and cannot hear me."
In this multi-writer devised work, we team up with peddlers of the surreal ARTHUR (Cut Snake, The Sea Project) on a wild slide into the Australian dreamscape.
A strangely upended, lyrical and haunting encounter, this trip will pick you up and hurtle you along a dangerous and sometimes ridiculous quest for magic, knowledge and the bar at the end of the world.
SURPRISE ME
19 November – 20 December