Reg Livermore – Up Close and Personal
Two stage legends and self described 'Drama Queens,' Reg Livermore and Nancye Hayes, are taking Australians down memory lane in a new production called TURNS. While Dirty Dancing it ain't, Reg Livermore told Peter Pinne he'll take audiences on an unpredictable journey – as he reflected on 50 years of show business.
Peter Pinne: Your new show is called TURNS. What exactly is it about?
Reg Livermore: TURNS is a reflection on identity, family, dependency and completely losing your marbles. Marjory Joy, an ex-stage star living almost exclusively in the past, is 95 years old. She is on her last legs, suffering what I like to categorize 'an entertaining kind of dementia'.
As her time begins running out, the romantic and theatrical highlights of her life and career flash before her eyes in quick succession and in a sometimes-jumbled order.
Her long suffering son Alistair, who sees to her needs, is careful not to make waves or rock Marjory's unstable boat, but when Marjory goes to a higher place he is free to face the truth at last. Alistair struggles to understand the woman who was his mother, all women – and the one in particular he must now come to terms with.
The scenario is hardly a new one; think of those in real life who are wondering how best to care for aged parents. But the theatre gifts us the opportunity to present it in new and exciting ways. I prefer that the audience comes into the theatre knowing little more than that they are embarking on a journey I've planned for them. They should trust me. I'll take them by the hand and we'll step out. The road may be unpredictable, even bumpy along the way, but I will deliver them safely at the other end.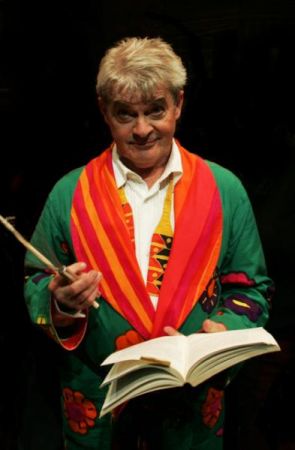 PP: How did the idea come about?
RL: Nancye and I believe that throughout our long careers we have worked together much too rarely. Recently we were both in the Opera Australia production of My Fair Lady. During the season discussions began as to the possibility of creating a performance piece that showcased our talents and highlighted our theatrical predelictions. In writing something for the pair of us, the prime consideration has to be "what is it we like doing on stage'? And 'what do we think we do best'? Well we like to sing and dance – that's part of it. We like our comedy – there's plenty of that; and we like our drama, we're a couple of drama queens the pair of us. More than that we're both the fruits of times and traditions in the theatre that have pretty much gone away; what we've done in the theatre for fifty years and more informs the nature and essence of our performances.
PP: I heard there will be a few songs in the piece. Are these original or well-known?
RL: Nothing has been written especially. We are mostly using songs from the 1930's and 40's, popular and obscure.
PP: Nancye is well-known for her dancing talent. Can we expect some flashy routines?
RL: Not too flashy I hope. Nancye is playing a 95-year-old woman. Our show owes nothing to dirty dancing – of any kind.
PP: TURNS is sub-titled "A Pantomime with a Twist." What is it about pantomime that interests you so much and keeps you returning to the format?
RL: Pantomime is one of the many theatrical genres we reference. Considering the impact they had on me as a youngster I'm not surprised I've championed the style. For me the Panto is a form of Morality Play, broadly enacted by a set of archetypal characters struggling with the forces of good and evil, right and wrong, trusting that things will always come out right in the end.
A Panto was a great way to capture the attention of spellbound children in a darkened theatre. The kids could participate, they could boo the Demon King and cheer the Fairy Queen, there was singing and dancing, even a dancing cow sometimes. Plus those broad strokes of knockabout and slapstick physical humour; who could resist such a show? It was an honest and very direct form of entertainment. It certainly got a stage-struck kid ready for the idea of Musical Comedy. Not to forget Gilbert and Sullivan.
PP: Were Pantos your first experience of theatre?
RL: I guess they were; the red-letter day I always looked forward to was Boxing Day. Rather than just being the day after Christmas, Boxing Day for me always marked the beginning of the Panto season at the Tivoli. I had a couple of generous and quite mindful aunts who recognized early on what my passionate interest was and made sure it was nourished.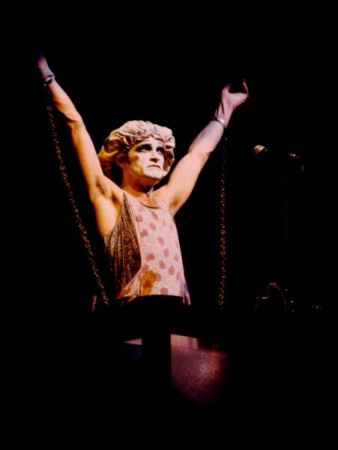 PP: Throughout your career you've generated much of your own work, never waiting around for the phone to ring. Is this what you recommend for young performers today? Should they create their own shows?
RL: What works for one doesn't necessarily work for another does it? I've been lucky that there was usually a special someone to help me, to facilitate the things I've written and wanted to perform. Thank God I can, and very fortunately that (the Producer) Christine Dunstan has made it possible. She is one of my Angels. Not every young performer is a writer, but those who can should; my observation is that young people these days are managing to get their shows on somewhere, somehow. Keep at it, practice makes perfect. Above all we need 'originals'.
PP: You and Nancye are like theatrical royalty in Australia – legends. What responsibilities come with this tag?
RL: I cannot speak for Nancye, even so I believe we must be more or less the respected senior citizens of our age, occupation and territory. You know very well that Australians don't particularly like to acknowledge Royalty unless it's Majesty Herself, and the theatre I believe is Republican through and through. Be aware there are tall poppy loppers everywhere. Being called a legend is something you earn. It doesn't come to everyone, it's not even about longevity, it's about what you've offered, and delivered I suppose. Whether it's really touched or changed people, more perhaps than the efforts of others. Often the legends have become that way without knowing why.
PP: You've done just about every type of theatre in your career – plays, musical comedy, revue, rock musicals, rock operas, but no one can forget your legendary one-man shows. Are we likely to see Reg Livermore in a new one-man show or have you said goodbye to this form of theatre?
RL: I seriously doubt it. I'm trying to act my age, one of the toughest assignments so far. But wise folk caution – 'never say never'.
PP: Your groundbreaking Betty Blokk Buster Follies has just been reissued on CD and DVD for a whole new generation of theatergoers to enjoy. Are we likely to see any more reissues of your one-man shows? Were any of the others filmed?
RL: I certainly hope so. The CD's of them will be released over time, and, yes, they were filmed; as for their general release I'm not so sure.
PP: You've done TV shows in the past but seemed to be at home most in the medium when you did Our House on Channel 9 with Don Burke. Was this because you were working in a field (gardening) that you were passionate about?
RL: I did work on Burke's Backyard for a couple of years, after that Our House for Nine. Mr. Burke wasn't involved in that one at all but yes he gave me the opportunity to be on Lifestyle Television initially. Yes it was because I had an interesting well known garden in the Blue Mountains that people came to see. Actually I was visiting my friend Jenny Kee the day Burke was filming her garden; it was she who suggested I might be good on his program. He took her advice. Thanks Jenny.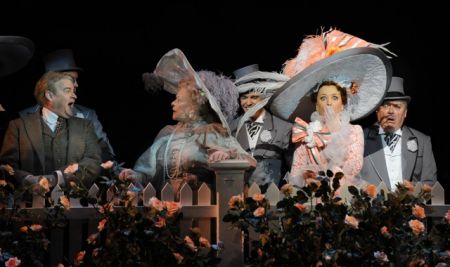 PP: When you lived in the Blue Mountains your garden was a showpiece. Do you miss it or have you created another one in the Southern Highlands?
RL: No I don't miss it one bit. It became too much of a burden: too much land, too much effort required and not enough energy or money to adequately attend to it. Yes my partner Rob McMicking and I have embarked on another garden here in the Southern Highlands, and surprise! surprise! it's already looking like a huge burden; but if you love creating these things how best to advise yourself?
PP: One of you other passions is cooking. At one time you owned a restaurant in the Blue Mountains. Are we likely to see you popping up in a cooking program on TV in the future? Will Reg Livermore be challenging Gordon Ramsay?
RL: I called the restaurant at Leura in the Blue Mountains La Sala.
It's now called (has been for many years) Silks. I don't want to revisit that part of my life. Nor do I think television will come my way again.
Television isn't particularly interested in old faces these days. Look at Channel Nine (where I spent a good eleven years). It now reminds me of a slightly grotesque version of 'kindergarten of the air'. I'm certainly no threat to the foul-mouthed Gordon Ramsay by the way. I can swear just as well as he does, we look almost the same age, but I don't have the prime time shock-jock quotient.
PP: Playing TURNS for 165 performances over 34 venues is a big ask. You've rarely done these back-breaking tours in the past. Why now?
RL:'Cause I want to, 'cause things change, 'cause I'm a trouper, 'cause I need to earn a living.
PP: Musical theatre has changed dramatically in the last decade or more. Do you enjoy the music theatre of today (Wicked etc).
RL: I liked Jersey Boys.
PP: You were brought up on musical comedy. Do you miss it?
RL: Well of course I do. I will try to keep my foot in, toe, sock anything really. But I do have to accept that everything is tailored to the young now. Even the senior roles are being played by youngsters.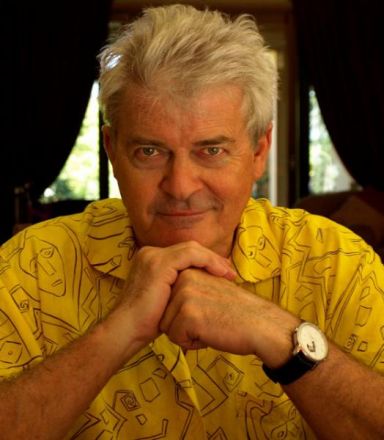 PP: Like three-act plays, have we reached the stage where musical-comedy is a dinosaur?
RL: Well they're often quite as lumbering.
PP: For that matter plays have also changed a lot - they're shorter and they're more explicit. Is this a good thing?
RL: Well you know what they say – 'a short show's a good show'. These days I do think audiences appreciate that they don't have be trapped inside a theatre for the rest of their lives on any given night. Everything associated with going to the theatre contrives to make it a very real effort for people. We need to attract their patronage. If you can get them in and they know there's no interval and that they'll be out in about an hour and half it probably jollies the mood all round. Actors like it too. The bars don't like it very much, you'd appreciate. TURNS is that length by the way, and no interval. The bars won't like it.
PP: When you were starting out in the 50s the opportunities for local playwrights to have their work performed were limited. Today everyone seems to be able to get a grant for almost anything. Is this a good thing? What are your thoughts on going down the government subsidy track as opposed to a commercial venture?
RL:A few (and far between) of our local plays made it to the stage I remember. A good example was Rusty Bugles. Doris Fitton produced it at her Independent Theatre because playwright Sumner Locke Elliot was a friend and gifted author. It was a huge success. Later there was some kind of assistance I suppose. That strange organization The Australian Elizabethan Theatre Trust pretended to make a difference to our sense of national theatre but really Australians were not actually Elizabethans any more were we?
I've never thought about grants. I've been a part of the commercial theatre for as long as I can remember. That the regional tour component of TURNS is made possible by a grant from the Government's Playing Australia is a first for me, but I point out it's actually more about making a show available to sometimes isolated Australians than it is about personal assistance for Reg. So it's a good thing in some circumstances. I would never rely on that kind of help however.
PP: Is it possible to be a successful playwright today without some government assistance?
RL: Surely if you want to write something you sit down and write it. I don't think the government gives a rat's arse.
PP: What is your favorite musical?
RL: I like bits of lots of them.
PP: You have written many musicals yourself. What is your favorite?
RL: I came to the conclusion I can't write musicals, not the slick hard-nosed American boom or bust style anyway. I've tried several times and all have more or less failed. But in line with a previous question I proudly acknowledge 'I've liked bits of all of them'.
PP: Now a couple of final questions. Are you really older than God? And did you work with Gladys Moncrieff?
RL: No I'm not older than God, and I didn't unfortunately get to work with Gladys. On the bright side, I'm not yet as old as Gladys was when she died, and I certainly expect I will be called to work with God at some time.
Images:
Top - Nancye Hayes and Reg Livermore in TURNS (Photographer: Lorrie Graham)
Reg Livermore in Thankyou Dinner at the Ensemble Theatre
Reg as Beryl at the Sink (Wonderwoman)
Reg Livermore and Nancye Hayes at the Ascot Races in Opera Australia's My Fair Lady. Photographer: Branco Gaica
To keep up with the latest news and reviews, like Stage Whispers on Facebook, or follow us on Twitter