Return to Toowoomba: How Steve Pirie's return to home turf inspired his new play
Image: Steve Pirie (Credit: Queensland Theatre).
Steve Pirie is a writer, actor and youth arts worker. After graduating from the theatre course at Toowoomba's University of Southern Queensland (USQ), he moved overseas and then to Brisbane. He wrote Escape From the Breakup Forest, and 3 O'Clock, Flagpole. To save up for his wedding to his wife Claire, Steve moved back home to Toowoomba and worked at a funeral home – a year that inspired his new work, which features himself and Claire as central characters. Beth Keehn meets the playwright to dig beneath the surface of the new play Return to the Dirt.
Beth Keehn (BK): Steve, I wanted to interview you because I am from Toowoomba too and we don't see a lot of plays set in Toowoomba, let alone by playwrights from Toowoomba – so congratulations!
Steve Pirie (SP): Thankyou, we were just talking in the rehearsal room about how every state has a Toowoomba – we all have a place that we go back to. There's such a universality to it, that I actually took out very specific Toowoomba references from the play – for example, jokes about local takeaway chain Super Rooster, and other things that have happened in the town. And, while most of my family have moved away from Toowoomba, it is still very much home. You know what it's like – you're always from there. You don't get away from it. But I think the idea of going back home is more than just about a specific place – and so it was natural to set the story in Toowoomba. So we now have one play about Toowoomba!
BK: That reminds me of the Bob Dylan quote: "I was born very far from where I'm supposed to be, and so I'm on my way home." Did you feel something similar when you were growing up in Toowoomba?
SP: I think so. I knew very early on that I wanted my world and my life to be bigger than one place. So I finished school and I immediately moved overseas. I lived in New York for a little while, then came back home and decided to study. I completed the Drama course in Toowoomba at USQ – a fantastic course – with a formidable alumni group. It was a nice place to just be a little bit more removed from the world and get ready and rejuvenated to go back out – which is exactly what I did.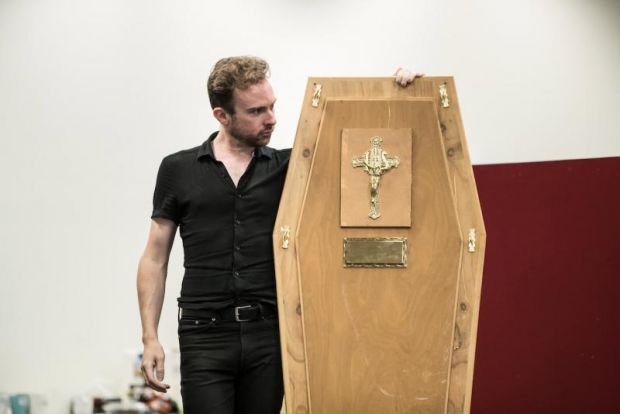 Image: Steve in rehearsals (Photo: David Kelly).
BK: And after your year back in Toowoomba, working at the funeral home, did you feel you then needed to get back to Brisbane to be removed and get some distance before you revisited your story?
SP: Oh sure, although I didn't really have any intention of writing anything about it – but I kept getting asked questions about what happens in a funeral home. And I kept going back to the reality of sitting in a room with a family and one of the biggest questions they ask is just 'What happens now?'. They don't mean it in an existential sense, it's actually just what are the logistics – the practicalities – what happens in the four days from when somebody dies to when they're put to rest? There's this grey area that we are all going to have to go through. A lot of families just get put on the conveyor belt and they just go through that machine and everything kind of happens around them.
You've got strangers in a room asking you all these questions – and then you're standing in a show room with coffins that cost thousands of dollars and you're being asked to sign invoices. I worked with some exceptional people, but it is an imperfect system. And I think that's why I felt compelled to drag it a bit more into a light so people can feel a bit more empowered about their choices too.
BK: Judging from the audience sitting near me, you certainly achieved that.
SP: It's been a really generous reaction. I love Queensland audiences to start with, but their generosity is incredible. They'll come and talk after the show – and particularly with this play – I'll either talk to someone who came from Toowoomba or someone who is going through the funeral home process. So it's been really heartening to know that this play is landing in the way that I wanted it to land. That's a really special feeling.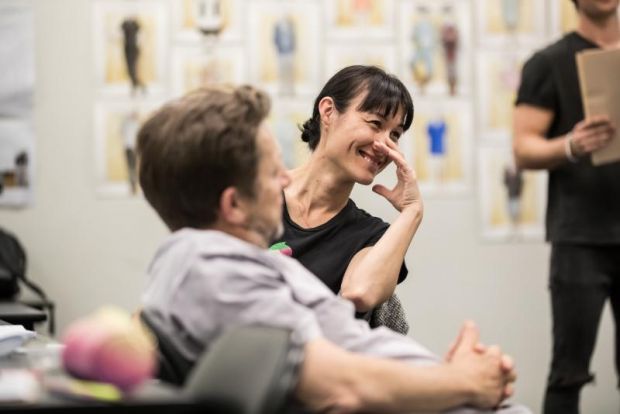 Image: In rehearsals with Miyuki Lotz and Chris Baz (Photo: David Kelly).
BK: You've been working on the play for along time: from 2017, when you took up a desk at Queensland Theatre (QT) and started to develop the work as an independent artist, through workshops and readings, working with dramaturg Paige Rattray, to 2020 when you won the Queensland Premier's Drama Award in June 2020 (from a field of more than 200 competitors). What was your favourite part of that process?
SP: I think the best part is just having so many hands on the play. Time is something that we really need in theatre, particularly with new work – because we don't know what a work is until it sits in front of an audience. And to have so many great artists working on the project, to give their time and to be generous with it – all in all I think we've had about 40 actors read for these roles and going through development and readings, closed showings and all those sorts of things that a play needs to get to where it should be. That's been a real joy.
Also to see it in front of audiences and see the reactions – it's the moment you chase as a playwright, where the room is sitting together in stillness and taking it all in. To see that in audiences from high-school age to folks who have seen a lot of theatre in their time and are still able to be moved by those moments. That's just gold. That's what you want.
There are essentially three plays happening at once: Sophie Cox – who plays my then-girlfriend Claire – she's not in a 'funeral' play at all. She's planning a wedding which is entirely different to everything else that's happening. And then there's me who is in a different play, and then there's the world of the play at the same time. And I'm really grateful that the development gave me the time to figure out those three things. It's a deceptively complex work.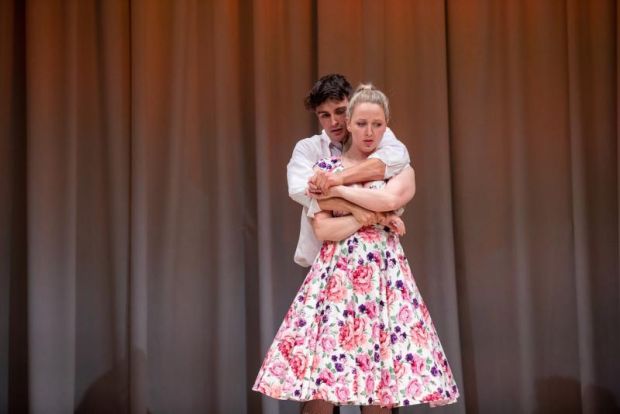 Image: Mitchell Bourke and Sophie Cox as Steve and Claire (Photo: David Kelly).
BK: How important was the Premier's Award?
SP: It's crucial! It's the only playwriting competition in the country that guarantees a production. So even with the uncertainty of Covid, we knew it was going to happen at some point. But I think beyond that, not only is there a more significant cash injection now – thanks to Griffith University, it's now a $30,000 prize – which is exceptional: that pays an artist's rent for a year. It gives you time to write, which is what we need. We don't get a lot of chances with new work in Australia – we don't have the resources to support it. I was still tweaking the script right up to rehearsals, and the final draft is probably the fourth or fifth. The award allows that process to be a little bit more nurturing. Yes, you are put on a year's deadline to come up with something but you also get the resources: you get the support of a State Theatre company, and the folks here at QT – particularly Shari Irwin, the producer of new work – have been exceptional with this project.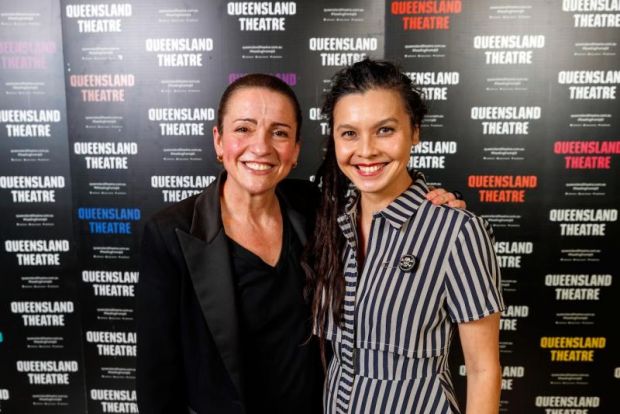 Image: Lee Lewis and Shari Irwin (Photo: Josh Woning).
BK: Did you always know that you wanted yourself to be a central character in the play?
SP: I don't know if I wanted to be – it just served the work. I think it was necessary for the depth of the subject matter that we jump in to, particularly with what happens to Steve. I thought it was really important – particularly for younger people – to show on stage that I am OK and moved past [the personal issues the character has]. So, to ensure that as a point of safety. But also to show the role of a funeral director – to be present, but never the focus, just always keeping the thing moving. That's what the role of 'The Playwright' does for the play.
Image: Lee Lewis and Steve (Photo: QT).
BK: Tell me about working with Lee Lewis.
SP: It's been fantastic. The Queensland Premier's Drama Awards process was at the very beginning of Lee's start at QT as Artistic Director. So, one of our first interactions was her telling me I'd won the award. And then we decided that she was the right person to direct the play. It's been an accelerated process for both of us to get to know each other, and it's been a real joy to trust Lee on this work. She lives and breathes theatre and she's a well of wisdom, so it was an easy choice to hand it over and have her guide it through.
BK: It was strange timing for you both, because when Lee started at QT it was the start of all the lockdowns. Did that ever call into question the themes of the play and whether it was the right play to end the season on?
SP: I think we need to trust our audience to understand the play. And I think it is a great time for the play's themes because all of our worlds have become smaller, and we've had to focus on what is important. So to have that align with what is happening collectively and culturally at the moment – as well as reassessing the things that we hold close – think it's lined up better than I thought. I think 'trust' has been the biggest learning curve for me: we need to trust that the audience can handle what we need to talk about in this play.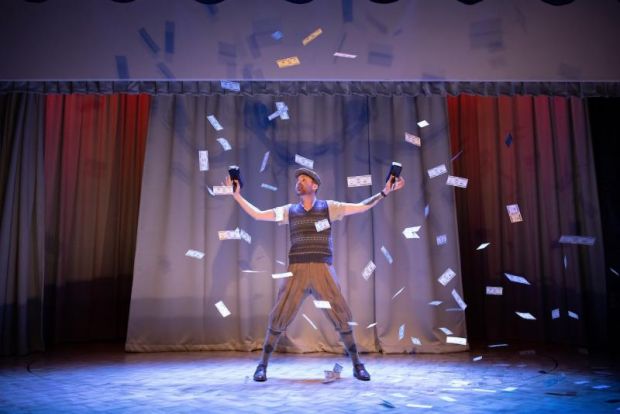 Image: Steve Pirie as The Playwright (Photo: David Kelly)
BK: I read that your original love was musical theatre ...
SP: Let's just say a love/hate relationship with musical theatre. I always wanted to do it but I never quite had the ability.
BK: So, if you could choose any role in musical theatre – New York or London tomorrow – what role would you star in?
SP: I've always been drawn to the newer musicals – so Next to Normal is an outstanding work – I saw previews when I was living in New York. But ultimately I think the MC in Cabaret – that's the musical I've responded to the most.
BK: There are a few parallels with your role in Return to the Dirt, so I can see you in that role. Absolutely. And what are you working on next?
SP: I have a few things on the go, but I'm moving from the world of funeral homes into the world of professional wrestling. I'm just finishing a draft of a new work about the world of women's professional wrestling.
BK: You are not going to go and work as a wrestler for a year?
SP: No, I'm not going to do that. But I'm fascinated by the parallels with what we do in theatre and I'm fascinated with things that are theatrical in nature but aren't ever placed in theatre. So the idea of putting a wrestling ring in here in the Bille Brown Theatre is quite an interesting one.
BK: And what's next for Return to the Dirt? Surely you are not always going to play 'The Playwright' – I assume that this will eventually tour? I mean there's no reason the play couldn't be performed in New York?
SP: Well, Lee and I have realised during the process that the story is much bigger than any of us – it actually could be performed anywhere. But I won't perform in it again – I will be sitting in the bar!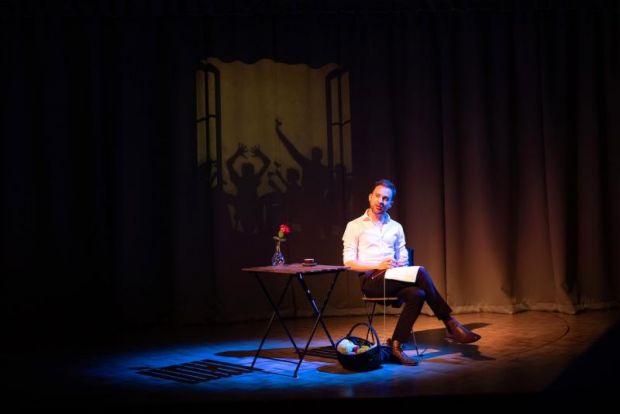 Image: Steve as The Playwright (Photo: David Kelly)
BK: It is a very intense performance that you give.
SP: But it's a joy too. And I think, it's not my story any more. It's supported by our cast, and by the audience; it's not just held by me. It was held by me for a really long time but that's not the way it's supposed to stay – it's just a story about going home to gather wisdom – and I think that's probably something we're all looking for.
BK: Steve, I was in Toowoomba recently and I found the James Joyce memorial park bench (it contains a brick from Joyce's home in Dublin) which is a place to sit and contemplate life. When you are a world-famous playwright, back in New York, what would your ideal memorial be in Toowoomba?
SP: Just put a little plaque outside Super Rooster – that would be great. People can sit there and have some award-winning chips – I'd be happy with that.
Return to the Dirt plays at QT until 6 November: https://queenslandtheatre.com.au/plays/return-to-the-dirt