Rolling Thunder Vietnam
Season postponed!
Concert drama Rolling Thunder Vietnam is returning for a national tour in 2020. The production mixes classic 1960s rock songs and video footage with a series of monologues based on actual letters sent by Australian soldiers. Tom Oliver has played the lead role since the show premiered in 2014. He told David Spicer that he has been inspired by the reaction of Vietnam Veterans to the production.
David Spicer: Tell us about your character?
Tom Oliver: Johnny is a young guy who works on a farm in Warwick (Queensland). He decides to go to Vietnam for a bit of a holiday. When he gets to Vietnam, he realises that it is not the holiday he thought he was in for. He goes through trials and tribulations, and stays connected (through letters) with his girlfriend.
David Spicer: Do you have any family connections to the Australian military?
Tom Oliver: My great grand dad was shot at Pozières during WWI and was captured by the Germans. He was released on Armistice Day. My aunty was a Go Go dancer who entertained the troops in Vietnam and my father was in the Navy from the age of 17.
David Spicer: Did your father see active service?
Tom Oliver: He started just after the Vietnam War finished. He grew up in this era of music and I heard these songs through him when I was growing up. Now I have been fully immersed in this era through the soundtrack of this show.
David Spicer: What is it about the sound of the show which appeals to your generation?
Tom Oliver: The distorted electric guitar - most folks from that era love that sound. They were the pioneers of that rock'n'roll sound. We also have some legendary musicians to play the songs.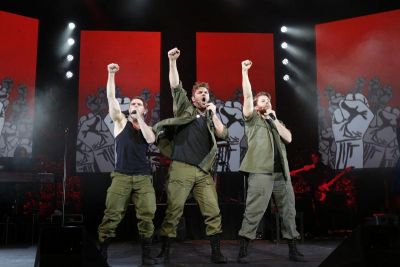 David Spicer: What sort of experiences have you had connecting with veterans?
Tom Oliver: It is unique to tell a story for an audience who have lived through the experience (on stage). They follow us around. We get standing ovations every night. The veterans are so honoured to hear their story from an Australian experience.
We've done signings after a performance. After hearing themselves represented on stage they often loosen up and tell us (things like) they were flying through the jungle on a chopper listening to Born to be Wild, which we play in the show.
One Veteran showed me his hip flask, which saved his hip. It still had the dint where a bullet hit.
David Spicer: Is there a sense of pride from the veterans which was not the case when they first returned?
Tom Oliver: Yes, it is a cathartic experience; they get to grieve and remember some horrible experiences but are really proud people are acknowledging that people sometimes died for their country. We need to learn from our mistakes that whilst it was not a war-zone that Australia should have been in, it was not the soldiers' fault and we need to celebrate their efforts.
Photographer: Jeff Busby
VENUES AND DATES - 2020
Geelong Arts Centre - March 13 and 14
QPAC Concert Hall - March 18 and 19
The Star Gold Coast – March 21
Hamer Hall, Arts Centre Melbourne – March 25
Canberra Theatre - March 27 and 28
State Theatre, Sydney - March 31
Coliseum Theatre, West HQ - April 3 and 4