Sam Strong and Australian Plays in the Making.
Sam Strong has only held the artistic reins at Sydney's Griffin Theatre Company since mid 2010, but after his first season commenced with impressive productions of contemporary Australian classic Speaking in Tongues, and the premiere of new Australian work Silent Disco, Stage Whispers Editor Neil Litchfield sought him out.
Griffin Theatre Company, founded in 1979, quickly developed into a creative hub for new Australian playwriting from 1982. Its home, the SBW Stables Theatre in Sydney's Darlinghurst, has been home to the premieres of landmark Australian plays including Michael Gow's Away, Andrew Bovell's Speaking in Tongues (which evolved into the film Lantana), Gordon Graham's The Boys (on which the film was based), Richard Barrett's Heartbreak Kid (which inspired the TV series Heartbreak High), along with many other significant local works.
The new Artistic Director seems set to add to the list of Australian classics which have been nurtured by the company.
His first season for the company, a vibrant season of Australian works, encompasses premieres, classics, and plays new to Sydney, while other new works are being actively developed for future seasons.
The position of Griffin Theatre Company's Artistic Director is a pretty natural fit, and a natural progression, for Sam Strong, whose focus has been predominantly developing new Australian works at the MTC, Red Stitch, Belvoir, and now at Griffin.
Sam started directing plays in his latter high school years, having done the usual drama things that kids do, "like act quite badly in various school productions, including the Odyssey – I played Homer, a bad narrator."
The first of several defining moments for Sam came when his school produced Arthur Miller's The Crucible.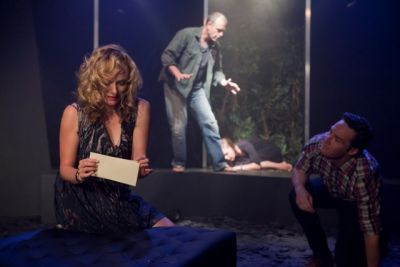 "I remember being absolutely floored by it – the first experience of seeing people I knew being transformed into other people. That play is full of such rich characters, and that experience. Also the plot of that piece, which for me is one of the most water-tight plots going around, and just being floored by reveal after reveal, and that kind of intensity and gravity of Miller and The Crucible."
Another defining moment, while still at high school, came while playing Kenny, the wife-beating character, in David Williamson's The Removalists.
"Through that I got the bug, not for continuing acting, but for producing, directing and making work. As a result of that, I was going through a bit of a Williamson faze, and directed my first play, a production of The Club that I actually set at Hawthorn. I changed clubs because of the way things tend to repeat themselves at football clubs.
"What attracted me to directing at that point was that sense of being present at something from the very inception, where you take a play off the shelf, through to the final moment"
Now of course, the play doesn't even get to the shelf.
"One of the great things about my job and my work before Griffin as a dramaturg, is that you can enter a work at any point of its development cycle. You can be involved at the absolute end of a text-based process, where it's essentially a micro-editing job of removing a word or two, or suggesting a change to a line, through to the complete other end of the spectrum, where a playwright might come to you with an idea and you'll be involved from the outset."
Sam Strong began his directing career on a fairly conventional trajectory. Studying English, with a focus on drama, as part of his undergraduate degree, he was involved in student productions, then directed on the Melbourne Fringe, where he continued to make work after completing the Directors course at VCA in 2004, while also working as a lawyer. Assistant directing at the STC and MTC also followed.
"Like most young directors, at that point in my 20s I wanted to direct classics. I directed a production of Death of A Salesman, one of the first larger things I did, then my graduation piece at VCA was Strindberg's Miss Julie, and straight out of VCA I did a Pinter, a Beckett and a Strindberg.
"Then I had a really fortunate career experience of working on what was the new writing limb of the Melbourne Theatre Company, with a director called Julian Meyrick, who became a great mentor of mine. From that moment on, my attention was diverted in that direction.
"I hadn't worked with new writers previously, or living playwrights, and I found the process of collaboratively creating something with a writer incredibly exciting. I also thought that the skills from my other life as a lawyer, weirdly enough, could transfer quite well to text-based dramaturgy. I realised that I wasn't a bad editor of other people's work. It's also harder working on new writing; there's a meaty degree of difficulty."
Several months in London, watching the strong new writing scene there was another influence – "that sense in which those writers who came through in that in-your-face tradition in the late nineties and early noughties in London who kind of made playwriting sexy again."
Even during his time in London Sam continued working as a lawyer, but on his return he resolved to focus all his energies on directing.
"When I was coming back to Australia, I got this incredibly useful piece of advice from an ex-pat Australian who was then literary manager of the Bush Theatre. That piece of advice was to make a job for yourself.
"I came back with this idea of creating a sort of dramaturg-in-residence role for myself, with a Melbourne company. Red Stitch sprang immediately to mind. They didn't have a new Australian output, so I approached the Artistic Director, David Whitely, about the idea of creating a writers residency. The idea behind that residency would be that I would act as dramaturg, then director on the eventual show. We agreed to do it unfunded, so originally I wasn't paid.
"The play we developed with Lachlan Philpott was Colder, which went elsewhere for production. But with Tom Holloway we developed Red Sky Morning, which went on in Melbourne originally in 2008, then later had a national tour, which was Helpmann nominated for Best Regional Touring Production in 2010.
"We chose to work on a piece that was very innovative in form – a piece that involved three simultaneous monologues, very tightly interwoven and intercut. In a way, it was a piece that had to be written by hearing it. Tom would write drafts, Tom and I would discuss them, and then we would bring those drafts back to the actors, who were equally involved in the building of the work. It was one of the most satisfying creative experiences, I think, of all our careers"
Before Red Sky Morning was staged, Neil Armfield approached Sam to take up a similar dramaturgy / literary associate role at Company B, and he moved to Sydney. For Sam there were two parts to that experience; working at the company, and being privy to Neil Armfield's process and mentoring.
"Being at Red Stitch was terrific, but to grow that experience into a major performing arts company, and to work with a range of writers, was a really exciting kind of evolution for me.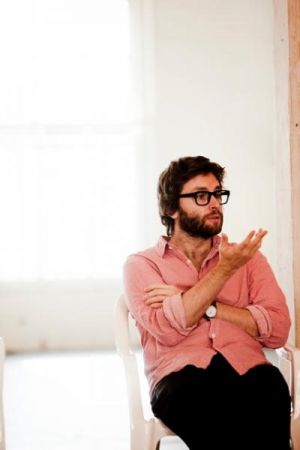 "There aren't all that many role models you can have in our industry, and I've been lucky enough to have a few role models and mentors, like Julian Meyrick, Chris Mead, and Neil as well. And to see how Neil was able to balance his directing with running a company, and the culture which infused into the rest of the company.
"To be around a director who values that sense of play, and theatre as a kind of joyous space, was a really beneficial influence for me.
"More specifically as well, inheriting the David Hare relationship. Neil had done a lot of work with David, and I was lucky enough to be entrusted with The Power of Yes at Belvoir, which was a very generous act of Neil's – to hand that relationship on. That was another big turning point in my career."
Sam was about to step into the Artistic Director role at Griffin. Did Belvoir influence the tone he wanted to establish there?
"I made no secret of the fact that I wanted to be an artistic director. There are some directors who are quite happy being entirely freelance directors, and the idea of being inside a company is of no interest to them whatsoever. But I've always wanted to be responsible for programming.
"Given that my background is new Australian work, and my first love is developing new Australian work, Griffin is the ideal home for me. Also, to be at a company which has such a magnificently rich history, and such a unique and beautiful space."
One of the underlying principles guiding Sam's approach to his first season, and his approach to the company as a whole, was to consolidate Griffin as the third mainstage player in the Sydney landscape.
"It's the position that we should occupy, but sometimes we're perceived as more like the top of the independent sector, rather than as a third alternative to the STC and Belvoir – that's obviously not in terms of scale, but in terms of quality.
"An important part of that was the idea of bringing great artists back to the company, as well as giving them their start. Griffin has had a great history of giving people their first shot, whether they're writers, like Michael Gow's Away, or actors like Cate Blanchett and David Wenham – often them their first professional gig. That's a very important industry function that the company has fulfilled and will continue to fulfill, but a key point of interest for me was to actually balance giving people their start, with getting people back. We have such a great alumni of artists and plays
"Speaking in Tongueswas the case in point; it was a case of bringing back not just an Australian classic, but a Griffin classic, back into the building as a statement of the quality of the work that we want to be making. I was quite to put that magnificent classic alongside three plays that hopefully will become classics, by newer writers in Tom Holloway, Lachlan Philpott and Jane Bodie, who are at the stage, in some cases, that Andrew Bovell was at when he wrote Speaking in Tongues.
"The idea of bringing great Griffin artists back was a very important touchstone. We wanted Griffin to be the place where you come to see the best up-close-and-personal acting in Sydney."
What key advice can Sam offer an aspiring Australian playwright submitting a new play?
One of the greatest pieces of advice, if I'm qualified to give advice to writers, is to know the context in which you write – both the classical context, in terms of the cannon of playwriting, from Aeschyluson, but then also the international context, those great contemporary international writers, and also the local context, so that that you're not writing another version of Martin Crimp or Sarah Kane for example. And also knowing what your peers are doing.
"I'd also add that writers should know directors and dramaturgs. Sometimes the most potent thing that you can find as a new writer is a sympathetic director who you click with. So, as a writer, seeing directors' work and going, do I like what you're doing? Can I imagine you doing my work? Then hunting them down and chatting to them."
What is it like having a live author in the room?
"It's incredibly useful. They can often answer the questions that you either can't answer, or have never dreamed of asking, so that's generally very helpful. Also in terms of pitching the tone of a production – things that you might get wrong without a writer's involvement
"In some cases, it puts an additional pressure on a director, when a writer comes in to see your work. When you're working on a classic, there's no arbiter other than yourself, but of course a writer's instincts and wants will trump a director's in a new writing context, though hopefully it never comes to that. So it can be a slightly daunting prospect, because in a way they can approve or not approve of what you're doing."
I asked Sam to share some favourite moments of interaction with playwrights on whose plays he has worked.
"Tom Holloway will refuse to answer something, not because he doesn't know the answer, but he'll just say 'it's up to you guys to work out.' That's sometimes liberating and sometimes frustrating. Actors, particularly, will be asking a writer what they think about certain things.
"One moment that was quite lovely for me was when Andrew Bovell came to see Speaking in Tongues, and was nicely complimentary about what we'd added to the work, particularly how we'd treated the start of it, and the transitions in the first act. To have a writer who has seen a lot of versions of their own play be positive about what you're doing with it is a very wonderful feeling as a director."
Images: Sam Strong, the cast of Speaking in Tongues and the cast of Red Sky Morning.
More Reading.
Griffin Theatre Company 2012 Season
To keep up with the latest news and reviews at Stage Whispers, click here to like us on Facebook, or follow us on Twitter.