Send for the Doctor
Anthony Warlow talked and sang to Frank Hatherley during rehearsals for Doctor Zhivago.
There's no doubting his excitement. The uncrowned 'King of Australian Musicals' is glowing with enthusiasm for his latest venture.
"It's time for a serious musical that challenges people," declares Anthony Warlow. "I was longing for a new musical with great lyrics and beautiful tunes that audiences come out and start going..." And he launches into a soaring 'la-la-de-dah' version of a love ballad from Doctor Zhivago, his latest star vehicle. Others in the greenroom turn to watch.
"When people came out of Phantom they were going... 'la-la-la-la-dee-dah'..." This time I definitely recognise 'All I Ask of You,' and so do the smiling onlookers. "That was a big part of the experience.
"We've just released two songs that Lucy Maunder [his co-star] and I recorded. We played them on the radio for the first time this morning and already we've had people saying 'Oh, I can't get that tune out of my head.' Yes, that's what we want!"
The musical gets what is described as the 'world premiere' at Sydney's Lyric Theatre in February, followed by an 'exclusive' eight-week run, then opens at Her Majesty's Theatre in Melbourne in April.
The 'exclusive' run is because other musicals are booked into Sydney's Lyric later in the year.
But, make no mistake, Doctor Zhivago is the real deal. It's an "epic show" with "lavish sets", a major international director (Canadian Des McAnuff) with award-winning form (Jersey Boys, Titanic, etc.), and a determined producer (John Frost) with large pockets, a track record (Priscilla, Wicked, Fame, etc.) and focussed Broadway aspirations.
The prime creative contributor however is New York songwriter Lucy Simon, who wrote the score for The Secret Garden, a Broadway hit in 1991, and a notable vehicle for Anthony Warlow in its 1995 Australian tour. It was that performance that ensured Warlow would get the Doctor Zhivago lead 15 years later.
Warlow explains. "Lucy said to me once, 'you know, I've witnessed my Secret Garden many times over the years and I've always thought that you were the only person who really embodied the spirit of the role'. I was very flattered by that."
Now 49, Anthony Warlow looks fit for the new challenge. His early-90s fight with Non-Hodgkin Lymphoma, a blood cancer, is far behind him. In smart black shirt and trousers, his proudly bald dome today showing a dusting of fair hair round the ears, he accompanies his comments with expressive gestures from surprisingly delicate hands.
"Yurii Zhivago is a tough role," he says, "but it's also incredibly poetic. He's the bollard, the observer around which all the other characters buzz. My challenge is to have the audience come and observe with me, understand why I do what I do.
"He's the lover, the poet, the little boy. He sees beauty in everything. And there's a great strength in him.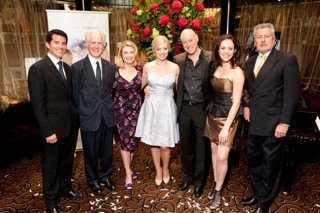 "He constantly challenges the moral perception of what he's doing. It's a time of gigantic civil upheaval and many wars, but the core element is the love story. Yurii does leave his wife and have an affair with Lara, but in the Russian ethic he's seen as a hero because he's following his destiny."
Has he been able to add his personal stamp to this new work? "We have collaborated beautifully," he says. "It's about the amalgamation of all the different styles that I can achieve vocally to paint a really interesting palate for this character.
"In New York I said to Lucy, I can do these certain things: I have my falsetto, I have what I call my — I don't like to use the word — but my 'pop idolly sound', and I have my baritone. Perhaps when I sing in the falsetto areas that is his poetic soul.
"I remember there was one moment in Yurii's soliloquy that just sounded like we needed a disco mirror ball, because it went – [disco beat] da-da-da da-da-da dah. I said to Lucy and Eric Stern [the Music Superviser in charge of arrangements], why don't I create the percussiveness with my voice and you give me a classical sweeping bed? You give me — [violins] diddle-diddle-diddle-diddle — and I will do the percussive lyrics — da-da-da da-da-da dah. Lucy said, that's great. So we updated it and made it my own."
When Warlow returned to his great early triumph, The Phantom of the Opera, for a two-year tour commencing in 2007, he had to cut the matinees from his schedule. "It's all about the vocal turnaround," he had said at the time. "It's just fatigue." So how is he approaching the 8 shows a week being advertised for Doctor Zhivago?
"I give a lot of soul to my roles," he says strongly, "and they take it out of me. Phantom was a different challenge last time round because I was older. He was a darker beast, a sexier beast. Zhivago is a different character. He's not tormented in that gothic-like manner.
"This has been written for me, for my musical abilities. I said 'let's pace this, let's do it in keys that work for me'. Obviously I'm going to have my 'money notes' which people like, but I'll be doing things which are in my range, and that's important for me. I will definitely be able to do this 8 times a week."
Anthony Warlow is used to big challenges. Perhaps the biggest one he has ever faced was in his early days as a performer in Community Theatre in the New South Wales town of Wollongong. See our article on Anthony Warlow's early amateur days.
To keep up with the latest news and reviews, like Stage Whispers on Facebook, or follow us on Twitter.
Other Links
Read our Q & A interview with producer John Frost.
Frank Hatherley's review of the Sydney opening.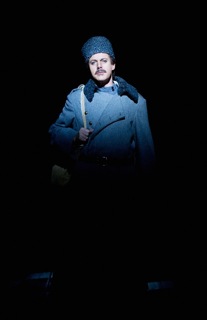 When is a 'World Premiere' not a world premiere?
In the January / February edition of Stage Whispers, Frank Hatherley also discussed whether or not Doctor Zhivago could really be considered 'NEW'. Here he updates his thoughts.
The Doctor Zhivago logo is clear enough — Lara's blue eyes, the show's title and the strap line 'A NEW MUSICAL'. Publicity from The Gordon Frost Organisation insists on the show's newness, as does just about every article you can read on the subject.
In early publicity, Anthony Warlow is quoted as saying — "I haven't been this excited about a show in a long time. It's all the more special because it's been written for me."
The NSW Government – via its Events and Tourism NSW committee — approved sponsorship of the production, proudly declaring that "the premiere of Doctor Zhivago introduces the world to a new musical in the grand tradition." NSW Tourism Minister, Jodi McKay, said Sydney would be hosting "the very first stage adaptation of the world's eighth-highest grossing film".
But is it 'NEW'? Is this really, as producer John Frost says in The Australian (15 Feb), "a world premiere of a brand new show"?
In this internet age of ours it's impossible to suppress all mention of a professional outing for a show such as this, especially in the States. So it's simple to discover, via Google, that a musical called Zhivago, written and directed by the same music/lyrics/book/director team as here, was staged at La Jolla Playhouse, San Diego, in May 2006.
So-so reviews can be read online, as can a July 2010 item from the Los Angeles Times that huffily wonders why this new Australian version is being sold as a 'world premiere'.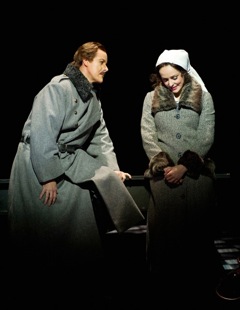 In a 16 Feb Sydney Morning Herald profile of director Des McAnuff, reporter Bryce Hallett writes that "in his final season as artistic director [of the La Jolla Playhouse] in 2006-07, McAnuff... premiered the composer Lucy Simon's Doctor Zhivago which has continued to evolve in leaps and bounds..."
Clearly, much work has indeed been done on Doctor Zhivago beside the title change. The script, the set, the orchestrations have been thoroughly reworked. Whole scenes have been added. Maybe it is truly a NEW show.
And maybe it's not a problem anyway. Broadway shows almost invariably get tryout runs in the regions. Several previous La Jolla shows have made it to the Great White Way — including Tommy, Thoroughly Modern Millie and Jersey Boys — and no doubt their New York openings were trumpeted as 'WORLD PREMIERES'.
Anthony Warlow himself told this reporter that the original San Diego production had been rushed against a deadline in order to retain the rights to the famous novel.
"Now we can get it right," he said.
POSTSCRIPT.
The arrival of Doctor Zhivago's official program (cost: $20!) puts an end to all discussion on the 'world premiere' question.
The title page clearly labels it the 'Australian Premiere', and states 'the musical Zhivago was originally produced by La Jolla Playhouse, San Diego, California'.
Overpage, the current (for the next few weeks, anyway) premier of New South Wales writes that she is proud 'my Government… has secured the Australian premiere season of Doctor Zhivago for Sydney'.
How does this square with all the statements and advance publicity from producer, Government and everyone involved? That's showbiz, I guess.
Images:
Anthony Warlow with Lucy Maunder (Lara) and Lucy Simon (Composer) during rehearsals.
Anthony Warlow and Lucy Maunder at the launch.
Principal cast of Dr Zhivago at the launch.
Anthony Warlow as Dr Zhivago.
Anthony Warlow and Lucy Maunder
Photographer: Kurt Sneddon/Blueprint Studios.
To keep up with the latest news and reviews, like Stage Whispers on Facebook, or follow us on Twitter.