Shakespeare in Love
As the eagerly anticipated Australian Premiere of Shakespeare in Love began rehearsals in Melbourne, Simon Parris ventured behind the scenes for a look at the army of arts professionals bringing the new production to life.
From The Producers to Tootsie, musical theatre adaptations of movies are all too common. Taking a different angle when bringing Academy Award-winning hit Shakespeare in Love to the stage, West End producers created a straight play, albeit one with a generous serving of music and with the lavish cast and staging of a musical.
Shakespeare in Love dominated the 1999 Academy Awards, winning seven statues, including Best Picture. Screen writers Tom Stoppard and Marc Norman won Best Original Screenplay for their amusing, romantic, imaginative work. Suffering writer's block, the young Will Shakespeare toils in vain on his latest comedy, Romeo and Ethel, the Pirate's Daughter. Will falls in love with Viola, a headstrong young woman in disguise on the all-male stage.
Director Simon Phillips has delivered a string of acclaimed productions of Shakespeare's works for Melbourne Theatre Company, from traditional joys such as last year's Twelfth Night to high concept works such as Richard III (2010) in the style of revered television series The West Wing.
Humbly aware that it might sound "a bit show-offy", Phillips described the pathway the play took to being produced by MTC: "I've done quite a lot of Tom Stoppard's plays, and [the international producers] wanted to get Shakespeare in Love on in Australia. Tom suggested that they contact me to see if I'd be interested in doing it, and so they sent the scripts to me and then I said to the MTC, 'well Disney want this production to happen in Australia and I'd be keen to do it' and so that's how it happened."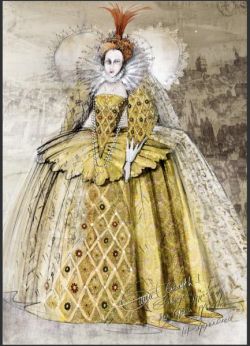 Shakespeare in Love played in London's West End for nine months, but eventually succumbed to economics.
"I think the dilemma they had was that they conceived it on the scale of a musical and there were 28 people in the cast. It was successful enough, but the box office they earned couldn't sustain it," said Phillips. "I'm the first to do it with 14 actors and one musician, so I'm the first person experimenting to see if the show can be done with half the number of actors it was originally done with."
Phillips is joined by long-time collaborator Gabriela Tylesova, who will recreate Elizabethan England with her unique talent for set and costume design.
Tylesova's intricate designs of 80 costumes are being crafted on site at MTC headquarters by 40 wardrobe staff, including two bespoke shoemakers, two wig makers, two art finishers and two milliners. A dedicated team will make 30 Elizabethan ruffs by hand, each taking more than a day to craft, including one for a special canine cast member, Daisy, playing the role of Spot.
Phillips said, "The very fabric of it is dependent upon us being in Elizabethan England. If you did anything different you'd just be going 'What's the point?'"
He explains that the key aspect of the design is finding a way to make the theatre audience come to feel that they are the audience for Romeo and Juliet in the story.
"I think one of the trickiest things that I remember from the film is how wonderfully the film's able to convey the effect of Romeo and Juliet as first delivered for an audience. It can just manipulate that so brilliantly. You can see all the audience crying and cheering and bravo-ing. We are dependent on having that effect on the theatre audience because we haven't got an audience [as part of the cast]."
In keeping with the traditional Elizabethan theme, music is extensively interwoven into the performance. The musical director is Andrew Kroenert, a vibrant young performer and experienced musical director often seen on the musical theatre stage. Following the recent Melbourne season of School of Rock, Kroenert toured with the musical to China, performing there for some four months.
Kroenert's name was put forward forShakespeare in Love by MTC Associate Director Dean Bryant.
"They were looking for a specific set of skills - to play guitar and lute in the show." Joining the show meant that the producers had to allow Kroenert to get out of his School of Rock Brisbane contract. He said, "They were all really excited for me and allowed it to happen."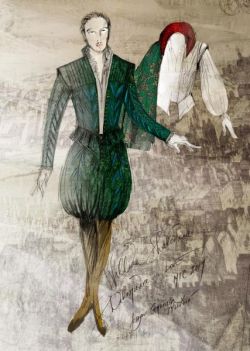 The play's score, by Paddy Cunneen, features an impressive array of instruments, such as the hurdy gurdy and the melodion. The music was recorded by the band from the West End season, and the backing tracks will be supported by Kroenert playing live on stage. Kroenert said, "I am basically on stage the whole show, and I'll be jumping into a couple of small roles."
Kroenert will be mainly playing a six-string lute, which MTC already had in their stocks. Kroenert said, "This is the first time I have played one. It tunes like a guitar." There is also a significant amount of choral music, which Kroenert describes as "really lovely. It has the beauty of a stand-alone piece of music."
There are the odd theatregoers here and there who are not necessarily aficionados of the plays of Shakespeare. Phillips addressed the broad interest of the play, saying "As per the film, there is such a gorgeous romantic story that if you don't know any Shakespeare, that's enough. And the story guides you through the actual Shakespeare that you hear. On the other hand, in the adaptation for the stage even more than the original film there are in-jokes for people who know a lot of Shakespeare. They are completely unnecessary to you understanding the story; they're just a little bit of a cherry. They're Easter eggs if your knowledge of Shakespeare is good."
Shakespeare in Love has been intelligently adapted for the stage by Lee Hall (Billy Elliot). Phillips described the way that Hall has woven three forms of language into the script.
"There is language that is as near to contemporary as possible. It's robust; it's English virtually as we speak it now. There's a kind of a middle language, which Stoppard, I think came up with, which is like a formalised version of contemporary speech when people are getting more formal or more romantic. There's a kind of a lovely bridge in the contemporary language where the language becomes poetical without being poetry, and it kind of helps you into the stuff where we're doing Shakespeare. So we're doing a scene from Romeo and Juliet and it's clearly in verse but we've been helped there a bit by the language of the play."
Leading the cast of Shakespeare in Love in the role of Will Shakespeare is Michael Wahr, a talented young actor who has toiled some 12 years for this chance to become an overnight success.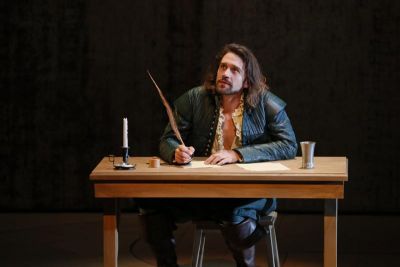 Having graduated from VCA in 2007, one of Wahr's key roles was in the 2012-2013 Australian tour of War Horse. That performance involved acquiring new skills: "Learning puppetry and being a puppeteer was amazing." Since then, Wahr said, "I've been touring a fair bit around the country and a little bit internationally."
Having done the Shakespeare that I'd gone through high school with, [which included] King Lear and Twelfth Night, I felt like I was missing it a bit. I got an opportunity with the Bell Shakespeare Company, and so I ended up doing their national tour of Hamlet (2015) playing Laertes and Guildenstern, and worked with Nigel Poulton who's the fight choreographer on this show as well. And then the year after that, I was in Othello, playing Michael Cassio, working with Pete Evans, the Artistic Director of Bell."
Wahr's lifelong affinity for the work of Shakespeare was enhanced with a recent visit to the Bard's hometown. He said, "Walking around Stratford or going on the River Avon - it just felt familiar. I love the stories and the imagery in the places where the stories come from."
Wahr was shooting a TV series in Indonesia when he heard MTC's 2019 season announcement.
"I was put up for Shakespeare, with a couple of the cornerstone scenes within the play to audition with. Everyone was auditioning in pairs - I think that Simon was looking at the dynamic between the actor and the language, as well as a chemistry between playing with that language and playing against each other, being able to own it and feel comfortable and find that dynamic."
Wahr's penchant for Shakespeare attracted him to this play. "But," he explained, "it's not to do with the film; it's to do with the texts that are referenced in the film. It's about creating Romeo and Juliet and that evolution there and in real life, the things that are happening with Will and Viola that get put into the relationship of the play and then lead into creating Twelfth Night and so forth. What jumps out at me in the text of Shakespeare in Love is that there are a lot of echoes or throwbacks or references or gags, subtle or not, that are often hugely complex. And ambiguous references to a poet like Thomas Decker that no one will get except for theologians of the 16th century!"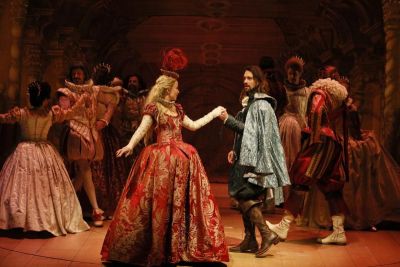 A Melbourne boy and long-time theatregoer himself, Wahr is thrilled to be playing this leading role. He said, "It feels nice to get a job in my hometown at a state theatre company that I've been coming to since I was like five or six when my dad and my mum were bringing me to theatre and seeing all these actors up on stage. It's cool that I'm here regardless of whatever role it is, whether it's spear carrier number three or whether it's William Shakespeare. I belong here."
Wahr will be joined by Claire van der Boom as Viola de Lesseps, the role that won Gwyneth Paltrow her Academy Award for Best Actress. MTC stalwart Deirdre Rubinstein will play Queen Elizabeth, for which Judi Dench won Best Supporting Actress. Further talent in the ensemble cast includes Adam Murphy (Aladdin) as Fennyman and Chris Ryan (Lazarus) as Ned Alleyn.
Popular choreographer Andrew Hallsworth, another regular creative partner of Phillips, will create Shakespeare in Love's choreography, which is sure to include a healthy dose of wit amidst the traditional Elizabethan stylings.
Shakespeare in Love plays at Arts Centre Melbourne, Playhouse 15 July – 14 August 2019, before touring to Canberra Theatre Centre 22 – 31 August 2019.
Production images by Jeff Busby
Costume designs by Gabriela Tylesova.