Short + Sweet 2016
One of the judges, David Spicer, shares his notes on this year's Sydney finals of the ten minute play festival.
There were thirteen plays in the final and almost all were entertaining and well put together.
One production was a stand-out and got my vote for best production, a majority of the other judges and also won the people's choice award.
Match of the Century portrayed an infamous chess match between Bobby Fisher and Boris Spasky in the shadow of the Cold War.
The all-conquering Broadway musical Hamilton was its inspiration.
Unless Chess, which covered similar subject matter with more traditional music theatre songs by the ABBA boys, this production channelled the rap songs of Hamilton. It was uber cool.
A dynamic band, a pulsating light show, and a sharp cast helped also earn the production the Best Director Award for Steven Tait and best script for Mark Longhurst.
Two other individuals shone in other productions.
Sam Anderson was Best Male Actor for Bi.Cycle (The Sammy Steel Spin Class Challenge). It was an hilarious piece of physical theatre about a fitness instructor who keeps getting distracted from teaching his class, to talk about his love life. The one man ten minute play was beautifully choreographed and his "one of a kind rock star approach" was truly "an inspirational meditative fitness experience."
The best female actor was just as triumphant. Ruth Pieloor wrote and starred in Baby Blues as both Mother and baby (through her hand puppet). The unhappy baby spoke out about her over protective mother and dissatisfaction with being over dressed and patronised. It was very funny.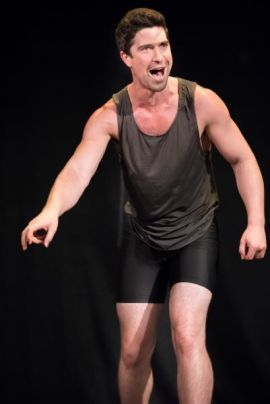 A special mention must also go to the cast of Blind Date. The four hander featured a couple and their alter egos commenting on the action of a night out.
Glenn Wanstall was only handed the script a few days before the final when the original lead was told by his restaurant that he could not take off shifts as a waiter (such a typical tale for an actor).
Anyway not only was Glenn faultless but he earned one of the top raps in the male acting department. Who needs rehearsals?
FULL RESULTS
+ BEST PRODUCTION
presented to the best overall production, taking into consideration acting, direction & script.
Match of the Century, Mark Longhurst's play directed by Stephen Tait, portrays an infamous chess match between Bobby Fisher and Boris Spasky in the shadow of the Cold War. Starring Longhurst with Jack Douglas, Ally O'Brien and band.
+ BEST DIRECTOR
presented to the best director, by discernment of the judges.
Steven Tait for Match of the Century
+ THE KERRY CASEY BEST ACTOR AWARD (x2)
presented to the performers who gave the most outstanding performance, male and female.
Sam Anderson for Bi.Cycle and Ruth Pieloor for Baby Blues (both tour-de-force monologue performances)
+ BEST SCRIPT
presented to the writer of the most outstanding new script.
Mark Longhurst for Match of the Century – the amazing rap piece about the Cold War chess match between Boris Spasky and Bobby Fisher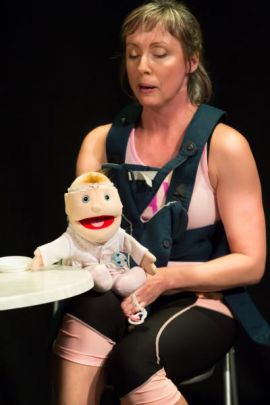 + PEOPLE'S CHOICE SHOWCASE WINNER
for the most popular play, as voted by audience at the Gala Finals.
Who Wants to Be a Channel Nine Intern?written and performed by Davey Reynolds and Chris Heaslip
+ GALA FINAL PEOPLE'S CHOICE WINNER
for the most popular play, as voted by audience at the Gala Finals.
Match of the Century(see above)
+ OVERALL WILDCARDS WINNER
for the best production of the Wildcards programme as determined by the judges at the Wildcard Finals.
Bi.Cycle – Sam Anderson's brilliant monologue while conducting a 'Spin' class…
+ BEST NEWCOMER (x2)
for notable participants that has not been credited with an above award, and who has not previously been involved in a substantial way with Short+Sweet Sydney, male and female.
Dudley Levell – writer/actor of Same Time Next Week; and Gina Cohen – writer/actor of Sauerkraut
+ BEST POSTER DESIGN
for the most impressive design of a poster advertising a Short+Sweet Sydney 2016 play.
Loop
Images: Taken by Sylvi Soe of Match of the Century, Bi.Cycle and Baby Blues.