Shrek the Musical
Some of Australia's most popular musical theatre stars are slapping on the green make up and strapping on the knee pads for the awkward demands of playing the leading roles in Shrek the Musical now on stage in Melbourne. David Spicer caught up with them before the hard work in the swamp and castle commenced.
Ben Mingay was like a child with a new toy when Stage Whispers caught up with him at his first make-up call. He was giggling, and other members of the cast squealed with excitement when the famous actor emerged for the first time as the lovable green ogre.
Supervising the transformation was makeup artist Craig Forrest-Thomas.
"He was a bit tentative to begin with. It is quite a long process. Today it took two hours," Craig said.
"We start off with a bald cap. Then we put on a prosthetic cowl (mask), which goes over Shrek's head. Then we start with the pieces. We've got a chin which comes up into his cheek, forehead and nose.
"We are painting the colour with acrylic paint mixed with glue. Then come the finer details like bushy eyebrows and pulling his eyes out."
Please explain?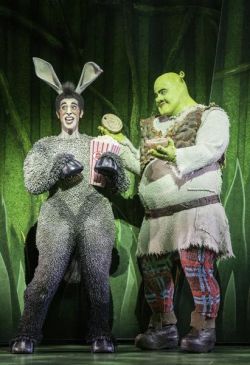 "Framing the eyes so they are not lost on stage," he explains.
"He has holes underneath his nose to breath; to blow his nose, he's got to get a cotton bud right up there, or one of us has to do it.
"It is also very hot. Once he's up and running sweat comes through the prosthetic, which could fall off. When he is off stage, we quickly push any moisture away with a powder puff."
Blissfully removal is swifter.
"That only takes a few minutes using an oil-based product under the prosthetic. The face bits go in the bin."
Ben says he is relishing the opportunity to play a character who looks unconventional.
"It has never been more important to include everybody and not judge a book by its cover," he said.
"In a day when Instagram rules, and people are constantly on it all day, we see how some people live and look. People struggle with that, thinking that it's the norm. In this show, looks and images are not important. What is important is being kind and that relationships are real."
Lucy Durack is more used to spending time in make-up that helps her to look sparkly. Her past leading roles include Elle Woods in Legally Blonde and Glinda in Wicked. In Shrek she'll be belching away as Princess Fiona.
Appearing a little less glamorous is par for the course for the new mother. Lucy was on the rehearsal floor just seven weeks after delivering baby number two.
"Coming to work is a bit of a rest for me," she jokes. "I have to lie in a dark dressing room for a while. It is part of the process.
"We are lucky Theodore has fallen into line, sort of, with his sleeping and Polly has been a beautiful doting sister. My husband Chris has been doing a wonderful job. We have the most beautiful nanny, and mum has come in, so it is all hands-on deck."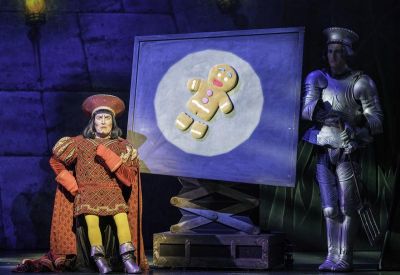 Lucy is enjoying getting into the psyche of portraying an ogre.
"The characters have had to build walls up to cope with life. They remain just open enough to learn from each other to pull these walls down. Shrek comes to teach her that what makes you different is what makes you special."
Craig Forrest-Thomas would not comment on what make-up Princess Fiona requires – except to speculate that if a character required a quick transformation, a team of five people would be required for a tightly choreographed operation.
Todd McKenney is also up for a transformation. He's Lord Farquaad - a very angry little dictator.
"I am trying to work out who to model him on. I think it might be a cross of Donald Trump and Kim Jong Un - a dictator who can't see anything wrong in what he is doing but could blow up the world."
The painful part for Todd is that he must spend the entire performance on his knees. He started rehearsals just nine weeks after undergoing a total hip replacement – the result of a lifetime of dancing wear and tear.
"This is a physically demanding role. I am giving my hip a run for the first time. To prepare, I do an hour on my knees, in my house, on carpet. I am just getting my muscles used to the action; to not have it totally kill me. This show could do the other hip in.
"The director said the biggest problem people have in this role is their knees, hip and back. When I said 'I have just had a hip replacement' she just froze.
"I am down on my knees, so everyone is up - particularly Shrek. With platform shoes, Ben Mingay is eight and half feet. So, everyone is above me, and my back is arched. To prepare, I am working to loosen up my back."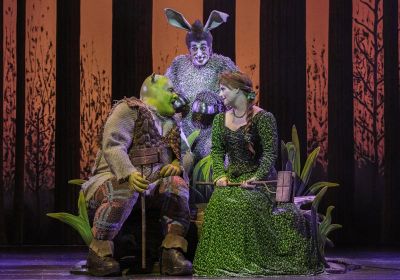 This is a huge physical contrast to his last role in Barnum, which required him to train to spend time on his tippy toes.
"I did Barnum with an excruciating bad hip. Nothing could be harder physically."
There is an adage that laughter is the best medicine, and the dance routine for Lord Farquaad is side-splittingly funny. It uses an old vaudeville trick to portray the flaying arms and legs of an energetic routine.
"The costume is very cleverly made. It's all done with zips, Velcro, smoke and mirrors," said Todd.
Ben Mingay admits that one of the biggest challenges he'll face in the production is to control his own laughter when Lord Farquaad is on stage. He's also relishing the interactions with Princess Fiona.
"Lucy Durack and I have never worked with each other. I love the way Lucy is creating a Fiona that dives into her quirkiness," he said.
The admiration is mutual.
"I have been a huge fan of Ben. He is bringing so many levels of vulnerability to Shrek, which is important. This could get overlooked in such a big character," she said.
Another actor with big shoes (or should I say horseshoes) to fill is Nat Job. He's playing Donkey, originally voiced in the movie by Eddie Murphy.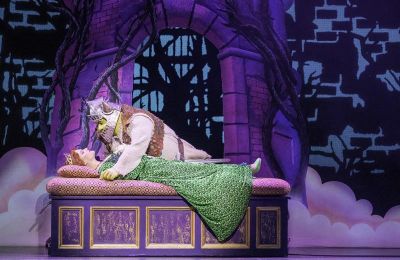 "I think he is the role I was born to play. He is silly, gorgeous and fun, with a huge heart. I feel very lucky to put those hooves on every day," he said.
"In the history of animated cinema, Eddie Murphy gave one of the most iconic performances. This is a huge amount of pressure. The trick is not to do any impersonating but make the role your own.
"I feel Donkey is the heart and soul of show. He sees through everyone's differences and sees the good in all the people around him. He has a child-like innocence in bringing the characters together."
Todd McKenney says the rhythm and blues style of music for the character of Donkey is part of a rich tapestry of musical styles in the production.
"Shrek also sings a big power ballad, there is some jolly vaudeville, a song which is an old 40s style tap dancing number, and one channels 'Defying Gravity' from Wicked."
For those who haven't seen the original DreamWorks movie, Shrek is set in a faraway swamp where the precious solitude of an ogre is shattered by an invasion of annoying fairy tale characters.
They have been banished from their kingdom by Lord Farquaad. Shrek sets out on a quest to save their homes and rescue Princess Fiona.
The musical opened on Broadway in 2008, where it ran for just over a year. The 25-million-dollar production included a technical extravaganza that attracted largely positive reviews, with some reservations about the production.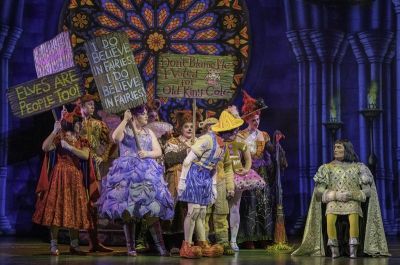 Variety described "an elaborate money-shot involving a giant dragon and a stained-glass window that's intended to be the show's equivalent of Miss Saigon's helicopter or Phantom's chandelier."
Todd McKenney says the dragon sequence will be different in the Australian production.
Marcia Hines is playing the voice of the dragon.
"This is a massive dragon puppet which spans the width of the stage, operated by cast members," he said.
"I have just seen her frock. It is worth the admission price alone.
"I think Shrek is one of those shows that is universally loved. If people haven't seen it, they feel they have seen it.
"It taps into universal stories that you don't have to make yourself beautiful to be loved. This is a great message for kids.
"And there are fart gags. What other musical has fart gags?"
Following its season at Sydney Lyric, Shrek The Musical plays at Her Majesty's Theatre, Melbourne from 16 February, and the Lyric Theatre, QPAC, Brisbane from 9 May.
Photographer: Brian Geach
More Reading