Simon Phillips: Our Travelling Director Goes Platinum
Born and theatre-trained in New Zealand, the MTC's Artistic Director Simon Phillips is now a regular globe-trotter. On his return from opening Priscilla on Broadway, he spoke to Frank Hatherley over a Sydney breakfast prior to the day's rehearsal for the Melbourne production of Love Never Dies.
He's the hottest theatre director of the year. In February he opened his production of Priscilla Queen of the Desert on Broadway.In May he'll unveil a brand-new version of Andrew Lloyd Webber's Love Never Dies in Melbourne. Meanwhile he's continuing his final year as Artistic Director of the Melbourne Theatre Company, for whom he'll direct Hamlet in July and The Importance of Being Earnest in November. Phew!
Simon Phillips starts his day in inner-Sydney Surry Hills with breakfast at fashionable Bill's Restaurant. Actually, its official name is bills – lower case, no apostrophe, no 'restaurant'. That's how trendy it is.
Tall, dressed in all-over black – black t-shirt, black shirt, tight black jeans and shiny jet-black briefcase — he is relaxed and friendly. Recently turned 53, he could well pass for a decade younger.
He orders two soft-boiled eggs, hardly breakfast for a workaholic renowned for his 16-hour days. "I'm used to a fairly intensive schedule," he says with cheerful understatement.
Why is he rehearsing the Phantom sequel in Sydney?
"Because the wardrobe is being made here," he says. "The actors are having so many fittings, if the wardrobe was here and we were rehearsing in Melbourne it would have been an absolute nightmare. So there's a little bit of up and down to Melbourne going on for me."
His frequent flying points this year alone must be extraordinary. "Yes, I've definitely gone platinum," he says. And so has his international directing reputation.
It's his 12th and final year leading the MTC and he continues to keep his restless eye on things. "I flew down last Saturday to go through Hamlet with my set designer Shaun Gurton, and to watch a run of Next To Normal [the small-scale Broadway musical which opens at the end of April]. I gave it to Dean Bryant and Matt Frank to direct and musically direct. I've been working with them as assistants or associates for a long time and I felt it was time they stepped up to the mark. Now it's important that I make sure they are supported."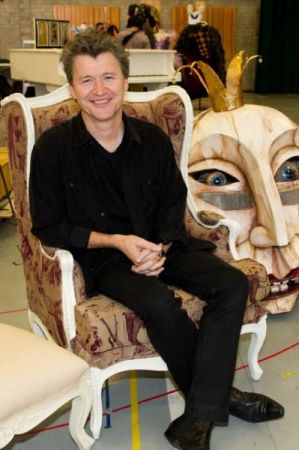 His elegantly presented boiled eggs arrive, accompanied by an arty stack of ultra-thin toast shapes. While he eats he talks about his recent New York experience. He's an enchanting talker.
"Everyone who works on Broadway really, really believes that they have reached the pinnacle of their performing career. You don't have to incite anyone to do their best work, because they'd made it to Broadway and they need to prove that they deserve to be there.
"One of the things I like about Australia and the Antipodes [Phillips is New Zealand born] — we don't take ourselves too seriously. There's an efficiency about work here but it's not cutthroat. On Broadway everyone is absolutely rigorously serious, from the performers to everyone who works backstage. They know their place, they know their function and they know they have to perform.
"For a country that calls Obama socialist whenever he tries to introduce anything for the greater good, it's amazing how unionised everything is. They may be socialist-paranoid but they're far more stridently unionised than we are here.
"You get some absolutely crazy union fellers. Everyone has a very specific job. The bus in Priscilla was loaded with secret people at any given time, because you can't say 'you go on with that costume and that prop and hand it to that actor'. No, there has to be a prop and a costume person.
"We had a guy working backstage who had five cues in the show. His fifth cue involved him walking up two flights of stairs to do something on the fly floor. But he said, 'Oh, no, I can't do that, I don't climb stairs' – and that was taken to the union. We argued it was crazy and we won, but the issue would never have even come up in Australia."
Do you get huge respect as the director, or are people watching you very closely?
"You get both those things. What your needs are will be paramount at any given time and everything else will be sublimated to that.
"But the producing world is intense. Part of the ethos of being a producer there is that you get to give notes to the director. You get to say 'I think the show would be better if – '. So you're fielding that quite a lot. I understand why they're watching you like a hawk. They're anxious. They raised 15 million dollars and they're want their money back."
"Some notes were genuinely very helpful, but some could be conflicting. One producer says 'this is my favourite moment in the show', and the other says 'I hate this moment beyond world: you must cut it'. From two very powerful people. How do you juggle that? My response was that we should see what the audience think of it; we should road-test it.
"As soon as the audience came to the show they were so overwhelmingly positive a lot of those problems just faded away."
American audiences always seem so enthusiastic, so inclined to give multiple standing ovations.
He shrugs. "Priscilla always gets a standing ovation, every territory we've been to. But I know what you mean: you'd go to something quite underwhelming in New York and at the end there'd always be people who get to their feet. It's charming in its way. It's genuinely people going to the theatre with a will to be thrilled and wanting to be very generous in their congratulations."
He orders more butter for the skinny toast.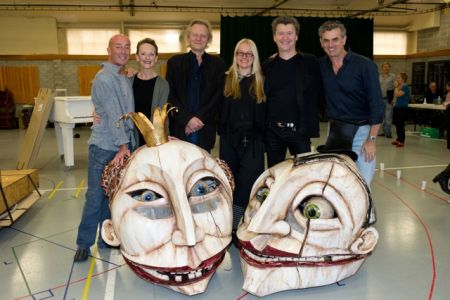 Simon Phillips opened Priscilla in London's West End in March 2009 [it's still running] under the co-production wing of Andrew Lloyd Webber's Really Useful Group (RUG).
"I didn't meet Andrew at that time, but I had enormous respect for André Ptaszynski, his CEO.I thought he was an extraordinarily savvy and congenial guy, really as good as they get. So they knew about me at RUG.
"Initially they had a madcap plan to open Love Never Dies in several territories at once, but they soon saw how impractical that was. Where's the director? Literally phoning it in. So it became the usual, 'We'll do the blueprint here which can be done around the world'."
The London opening in March 2010 was not the success that might have been expected. Reviews were, as they say, 'mixed'. Most critics loved the sweeping score ("Andrew Lloyd Webber at his musical best," said The Times), but others were unhappy about the storyline ("torpid," said Variety, "a radical rewrite is required"). The proposed Broadway production was 'indefinitely postponed'.
Plans were changed. RUG's Australia/Asia division was offered the chance to develop a new version. Tim McFarlane, the local Managing Director, rang through to the newly resigned Artistic Director of the MTC and offered him the gig.
"So I was brought on board," says Phillips. "Then I went to meet Andrew and we developed a series of changes. He then decided to introduce those changes to the London run."
The show closed for a week in November when a new director — not Phillips — oversaw the rewrites.
"I don't know if Andrew would have asked me, but I was completely unavailable. I wouldn't have felt particularly happy to do it in London because it wouldn't have been on my own set, and I didn't want to get involved in the clearly awkward politics between Andrew and his original creative team.
"So they road tested those changes in London, and when I went back to see how they'd gone, in general I thought they were really good. Structurally, it was definitely an improvement."
So are you now moving ahead of those changes?
"Yes, we're making adjustments mainly in terms of how we plan our physical production, how it flows and develops. And I'm clarifying the new narrative. There are some places in London where, because they were constrained by the original design, there are some clunky moments, in my view. But our design [by Sydney-based designer Gabriela Tylesova] was entirely conceived around the new structure.
Is Ben Elton, now resident in Australia, still involved?
"No, none of the original team have been working on it. When they started doing the changes in London, Charles Hart, who was the original co-lyricist on Phantom of the Opera, came in to help on some re-lyricing. I've asked Charles to do a few more lyric changes for me where I thought the new plot could be clarified with a little bit of tweaking."
Will die-hard Phantom fans take to the sequel?
"The way Phantom ends is fortuitously enigmatic. The sequel has the central premise that Christine and the Phantom did actually sleep together, at least for one night. Some die-hard fans find that untenable and if they don't buy it there's nothing I can do about that. For me, from the chemistry of the original stage version, it is certainly possible.
"And there's a different vibe. All the characters are now ten years older and that takes away the frenzy and the tremor of youth. The dilemmas of the characters are different. They are essentially maternal now, rather than fraught with burgeoning sexuality.
"In spite of the fact that many people say that Phantom of the Opera is their favourite opera, Love Never Dies is far more an opera that Phantom ever was. Its flow, its musical energy and its tragic ending are far more operatic in tone."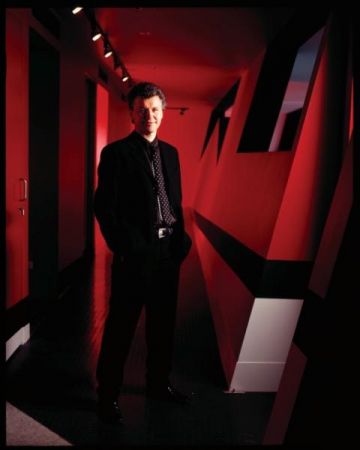 Preparing for a high-profile Hamlet while directing Priscilla and then Love Never Dies must have been challenging."Madness," he laughs, "spin time. What was I thinking of?"
There are unavoidable expectations for his Hamlet following his radical, Helpmann Award winning Richard III last year. And he feels the pressure. For the first time he goes silent, then chooses his words carefully.
"Well, [long pause] I'm nervous of the idea that Richard was such a hit, so what's Hamlet going to be like? But also I feel – [pause] Richard responded to our totalitarian concept. But part of the genius of Hamlet is its untameability. To push it into some kind of mould would be to the detriment of what is the most extraordinary thing about it. I'd say it's got very strong ideas but it hasn't got a concept — [long pause] Who knows? We'll see. It's a contemporary production."
Can you do ghosts and battlements in modern dress?
"I want to create a scenario where you say to the audience: really, really, really, what would it be like if you got visited by the spirit of your dead father? Rather than saying, let's try and work out a way that the ghost is all in Hamlet's mind, which is counter to the play, of course. The play has other people encountering the ghost before Hamlet does. I don't want to allow the audience to distance themselves from that phenomenon."
To cap his amazing year he'll be directing The Importance of Being Earnest, a play he staged at the MTC in 1988 when he was the company's young Assistant Director. His fabulous cast then included Ruth Cracknell, Gordon Chater and Frank Thring, with Geoffrey Rush and Jane Menelaus among the young lovers. So why do it again?
"Well, I was finding it very difficult to work out what I might do as a swan song. And then Geoffrey and Jane and Bob Hornery had a kind of a drunken night and came to me and said, 'Look, why don't we do this? Wouldn't this be fun?' [Rush was volunteering to play Lady Bracknell!]. It's the greatest comedy ever written, and I was also doing the greatest tragedy, so I thought. Well, there you are, two little treats. It did seem as good a bow as any to put round my time with the company."
His two-egg, no-coffee breakfast over, he's ready for another full day at the office. Will he be keeping up the frantic pace in 2012?
"Well, I do have a couple of things lined up, some other things have been mooted, and I have the ongoing 'where will Priscilla go next?' hanging over me. Its next port of call is Brazil, which seems to me gorgeous. Who wouldn't want to put Priscilla on in Brazil? Maybe I'll do what all those other 'original director' show-offs do and pop in for the last two weeks of rehearsal."
No doubt he will rack up many more frequent flyer points.
Images: Top three images of SimonPhillips and his creative team at the Love Never Dies media launch (Photographer: Kurt Sneddon). Lower image courtesy of the MTC.
To keep up with the latest news and reviews at Stage Whispers, click here to like us on Facebook, or follow us on Twitter.