Something's Coming
Coral Drouyn looks at our lasting love affair with West Side Story and the two new spectacular productions in Australia in 2019.
"Could be,
Who knows?
There's something due any day,
I will know right away,
Soon as it shows."
When a young Stephen Sondheim wrote those lyrics more than sixty years ago, he couldn't have known the profound effect they would have on generations of Music Theatre tragics – myself included. West Side Story has been called "the greatest musical ever written" and while there may be other serious contenders, who would seriously want to argue with that accolade? With Arthur Laurents' book, Leonard Bernstein's music and Jerome Robbins' extraordinary vision (he conceived, choreographed and directed the original 1957 Broadway production) and William Shakespeare's Romeo and Juliet as inspiration, Sondheim – at the start of his career - was in his artistic element. These four giants of theatre set the bar for every musical that followed.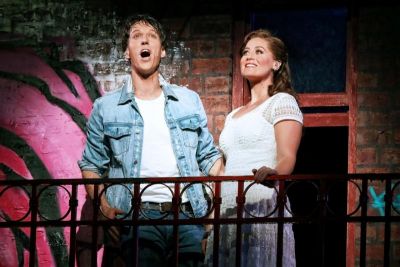 The universal story of star-crossed lovers, at the mercy of their feuding families, adapted easily from 14th century Verona to 20th century New York, and the Montagues and Capulets morphed seamlessly into The Jets and The Sharks. It was the perfect transition.
Back in 1960, when the show opened in Melbourne, the leads were all imported from America – with Bob Kole (Broadway understudy and perhaps a decade too old for the role) as Tony, Rita Tanno as Anita and Wendy Waring as Maria. They haven't exactly become legends in the years since, but it was simply the way Australian theatre was back then. For many years we endured American second-stringers in leading roles.
We've seen many productions since then, including some stunning community theatre offerings, and Australian talent has featured in all of them. You would think that the show itself would be a tired cliché by now, but its greatness seems to grow with every decade. So here we are, at the end of the second decade of the 21st century, facing new imaginings of the story Shakespeare created some 500 years ago, proving that great story-telling is both timeless and universal.
A new production is set to hit Broadway before the end of the year and Stephen Spielberg is directing a remake of the movie, starring the amazingly talented Ansel Elgort as Tony. Since Elgort is a graduate of the School of American Ballet, and is already a recording artist and singer, as well as a much-lauded actor, the role of Tony will take on new dimensions.
Australia plays a massive part in keeping the musical alive, and Opera Australia is involved in two productions this year. The most unusual happens in March, when Opera Australia, under the banner of Handa Opera on Sydney Harbour (HOSH), presents its open-air production. This is the first time HOSH has presented a musical and it comes fraught with difficulties that need a stellar crew to overcome.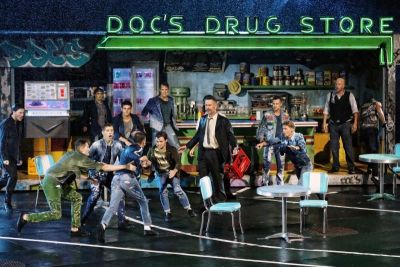 The doyen of Australian set designers, Brian Thomson (with a team of 150), has the mammoth task of creating a backdrop which transports us to 1950s New York whilst integrating 21st century Sydney Harbour. The result, for a stage that is 2 ½ times bigger than the largest theatre stage on dry land, is a fabulous, almost surreal, melange of New York's iconic images, including a subway overpass and the Statue of Liberty's torch. These will blend with the lights of Sydney's own skyscrapers in a way that will expand the set, rather than fighting it, as with more conventional operas. Thomson has described his vision as "a place where old subway trains go to die," and those trains are brilliantly and dazzlingly covered with graffiti.
Jennifer Irwin has designed new costumes in sizzling colours, and director Francesca Zambello and choreographer Julio Monge (currently working on the new film version) will recreate Robbins' vision with a new sense of spectacle, still maintaining intimacy even on such a vast stage.
Opera Australia's two rising stars, Julie Lea Goodwin and Alexander Lewis, show their "cross-over skills" as the star-crossed lovers Maria and Tony. You can drink champagne while you watch the magic unfold and yes, there are fireworks at every performance.
The season ran from March 22 to April 21.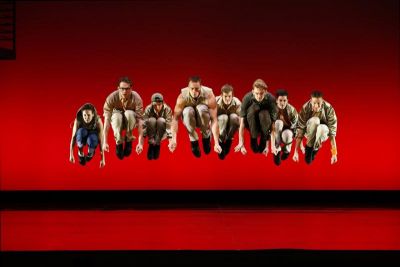 Equally exciting, especially for musical theatre purists, and far less complicated, is a new theatre production. Director and choreographer Joey McKneely brings his much acclaimed production to the State Theatre at Arts Centre Melbourne in April, before Sydney and Canberra seasons later in the year. McKneely is considered the master of interpreting Jerome Robbins' vision, and that's not surprising since he actually worked with Robbins back in late 1980's, when Joey was starting his career and Robbins was ending his. From that time on, McKneely's star has been tethered to the show and to the Robbins legend, despite his many other Broadway credits.
There are strict rules when licensing the show, about adhering to Jerome Robbins' original choreography, but McKneely doesn't have a problem with that.
"I respect Mr. Robbins' choreography as if it's my own. I honour it every minute of the day. My duty is to recreate, not change or 'update' it. However, with any sort of restaging, there is more of an emphasis on some dynamic levels. The kicks are higher, the jumps are higher, the tempos are faster - this is all in keeping with the emotional integrity of his choreography," the director says.
But such is the reputation of the show that some followers believe changing even one move is messing with God. McKneely doesn't subscribe to that theory.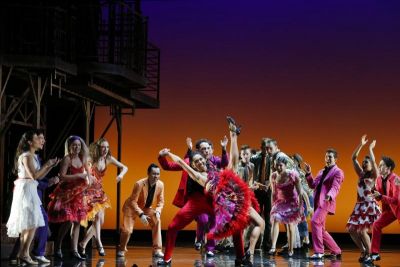 "It's definitely not messing with God, it's only a musical for Pete's sake!" he says.
"I knew if I just keep remembering how it felt to do the choreography, I could not go wrong with passing it on to the next generation."
This time round he has cast 33 young Australians in this new production – all of them Australian - with Todd Jacobsson as Tony and new face Sophie Salvesani as Maria. But is there a need for yet another production, when McKneely's last production is still considered by many as definitive?
"I wanted to bring it into the new millennium. Give it a modern look, more minimalistic," he explains. "By making the lighting more dynamic and giving the costumes a sexier look by showing more skin, the show immediately felt more like today. Without changing a word, suddenly it felt more real. With this, the acting needed to be more realistic. Raising the violence level and emotion, much like in today's naturalistic acting approach, the show can reach today's audience more intensely."
Some of this is so subtle that the audience doesn't notice it, nor are they meant to. A closed fist instead of an open hand, a turn upstage rather than down, the force behind a gesture; these are the subtext that McKneely brings to the work, not just the ability to recreate what Robbins set in motion all those years ago.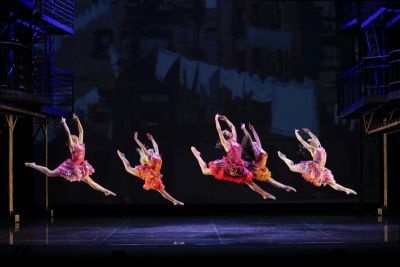 "It takes a lot of pieces to come into place to make a show like WSS come to life," he says. "It's not easy to create a musical which speaks to people on the level that WSS does. Maybe once every eight years one comes along. We just had Hamilton. Timely, powerful, ground-breaking in many ways."
But he does concede that the days of huge dance-based musicals might be a thing of the past.
"I can't predict what the evolution of musical theatre will be, but we will always have WSS, so that's why it's important to keep bringing it to new audiences," McKneely explains earnestly.
"The new generation of choreographers is all around us. However, there will never be a Jerome Robbins again. Not possible. The times are different, the theatre is different, the process is different. He was a master and was there really for the birth of the modern Broadway musical. We need to know the history in order to reach into the future."
And that's why we need to keep seeing West Side Story.
West Side Story played Melbourne Arts Centre from 6- 28 April, to be followed by seasons at Sydney Opera House 16th August - 6 October and Canberra Theatre Centre from 10 – 27 October.
The Handa Opera on the Harbour production played from March 22 to April 21, 2019
Images: Top three images from Handa Opera on Sydney production - Photographer: Prudence Upton. Lower three images from Melbourne season - Photographer: Jeff Busby.