The Sound of Australian Musicals
Three new locally written musicals, are on stage now in Sydney and Melbourne. David Spicer reports on the stories behind Dubbo Championship Wresting (Hayes Theatre),The Deb (ATYP) and Driftwood the Musical (Umbrella Events), and what makes them unique.
Dubbo Championship Wrestling
Actor Aaron Tsindos is in the fight of his theatrical life. When I spoke to him he was training for his role as the star import of the (fictional) Dubbo wrestling league.
Its 2am, there is no-where else to go
The pub is shut
Muscle bound men chock full of aggro
A paradise for your average Joe
Second only to the footy show.
A long-time fan of wrestling, Aaron was up on the lingo, telling me his fight coach helped him practise a suplex and a piledriver. 'Er, what do those words that mean,' I asked?
"A suplex is where you pick up your opponent, grab and throw them behind you," he explained.
"A piledriver (throwing someone headfirst) was outlawed in the WWE because a big star injured his neck."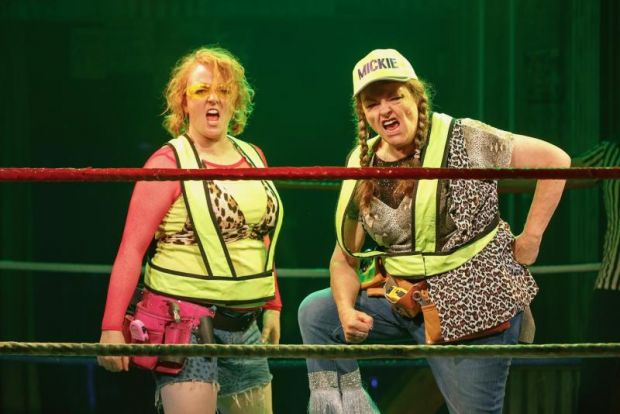 Dubbo Championship Wrestling photographs by Philip Erbacher.
To avoid injury, the fight coach trains the wrestler on the receiving end to hit the ground with their arms to cushion the blow and avoid a back injury.
The wrestling ring floor is also lightly sprung to lessen the impact if you fall on your face.
"I have been trying to go to gym to look sort of like a wrestler, as they are quite buffed up."
Being dressed in spandex means there will be nowhere to hide any of his bits and pieces.
Aaron's character is Perfect Ten Ken, the only non-Australian in the mythical Dubbo Wrestling League.
"Ken got fired in America for taking too many banned substances. It is implied that Dubbo is the only place that will hire him. He is committed to the craft and does not understand that it is fake."
But it is fake, I ask?
"Wrestlers still get hurt. Back in the day it was pretty full on, and they used real thumb tacks to jump onto. They would jump onto tables which had break points, but they were still real tables.
"We deal with that in the show. It is not as real as it seems, but it still takes a toll on the body."
"I grew up watching WWF wrestling all the time. I used to love watching it every week."
The premiere production, originally scheduled for 2020, has been postponed several times due to COVID. It is the brainchild of writing and composing brothers Daniel and James Cullen.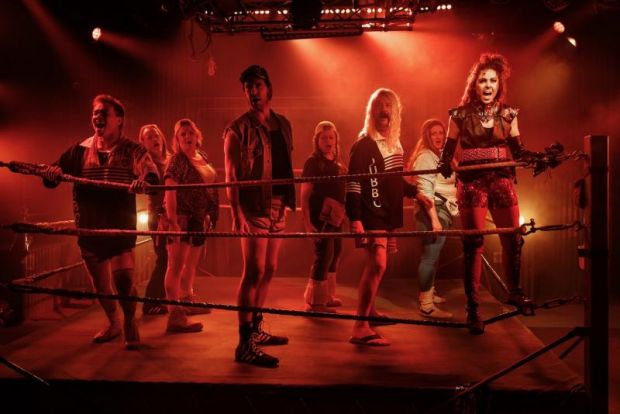 The silver lining has been that in the extended downtime, the Hayes Theatre has released a concept album for the musical featuring David Campbell, Lucy Durack, iOTA and Eddie Perfect.
Joe Accaria, musical director and arranger of the album, used remote recording technologies.
"During Covid I built a recording studio in my garage so I could be in Sydney and monitor others interstate in real time by Zoom and audio programs, which allow you to collaborate on the fly.
"It is sufficient for a musical, although you would not try it for a symphony orchestra."
So how do you replicate a chorus sound using artists who are remote from each other?
"I would get them to do it once, then sing it again from a different angle to the microphone and maybe with a different character in mind. The cumulative effect is that it sounds like there are more singers than are there."
How would he describe the sound of the musical?
"A blend of Australian rock'n'roll with amazing and memorable production techniques from US as well as UK rock. A quintessential 80's professional rock sound with an Australian accent - pub rock basically."
The soundscape of the production will also be influenced by the wrestling ring.
"The sound of the bell is like a percussion instrument. There will be the sound of people slapping each other and bodies falling on wrestling mats. We are also putting in some comic elements akin to Looney Tunes."
The sound of the lyrics is different too. Aaron Tsindos says, "an Australian accent can be very flat in tone and it can be tricky to round out the vowels. Most people are trained with voice placement that is more suitable to a British or US accent.
"That is all shifting and changing. Over last five or ten year we are embracing vocal changes. The accent in Hamilton's hip hop sound is very different to a Les Mis sound."
Joe Accaria loves the unambiguously Australian accent.
A favourite line for him in the musical is:
Where every sunrise is the same day dawning.
A hotbed of bogans spawning "I have never heard the words bogan and spawning in the same sentence," he said. The song has heart and also a lot of comedy. This just would not work in an American twang."
Dubbo Championship Wrestling is on stage at Sydney's Hayes Theatre until June 11 - hayestheatre.com.au then at the Riverside Theatre Parramatta - June 16 - 25.
The Deb
Filthy Taylah from the farm
All frocked up with a boy on my arm
Ready or not
Gonna show em' what I've got.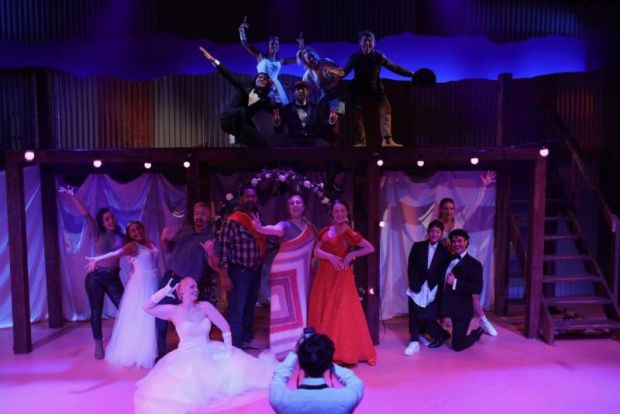 The Deb production images by Tracey Schramm.
Set at a country town Debutantes' Ball, The Deb, conceived and co-directed by comedian Hannah Reilly, with music by Megan Washington, premiered in April at ATYP's newly renovated home at Pier 2/3 in Sydney's Walsh Bay Arts Precinct.
"I had no idea what a Deb was. I was 17 at Schoolies week in northern New South Wales when a debutante turned up in full white ball gown, gloves and tiara, smoking, and drinking a vodka cruiser," Hannah told me.
"Oh my God, I thought. She was the scrappy Cinderella of my dreams. I asked, 'Did you just get married?' No, she was just back from a Deb. 'Do you not have them in city,' she asked? She told me all about it and since then I have been fascinated by the whole process.
"It is uniquely Australian, much like the Melbourne Cup. We take an old-fashioned ceremony and give it our own twist."
The lead character in the musical is high school 'mega-dork' Taylah.
"She lives in a town where the Debutant Ball is important - a coming-of-age event that feels like life or death. They ask her to conform to a very narrow view of what a girl should look like. She is bigger and stronger. All she wants to be is the opposite of the dainty little damsel, and she becomes an easy target for bullies who push her to the side and reject her. Just when she thinks she can't attend, her inner-city cousin arrives and they hatch a plan to go together."
The story appealed to actor Rebel Wilson, who is backing the production.
"Debutante Balls are incredibly old fashioned," Hannah continued. "The ceremony dates to the 1400s in France. Even in the 1950s the Queen (stopped attending them in England because) they were a bit problematic.
"A lot of things about the balls desperately need updating (such as) same sex partners, however what is lovely is that they are a celebration of young people - of their future - which makes them feel loved, appreciated and special.
"This is particularly in areas where there is not a lot of glamour or excitement, which is why they tend to be big in rural working-class areas.
"It is no longer about having young women being ready for marriage, but is more of a coming-of-age ceremony."
I'm comin' out
I'm comin' out of my shell.
You got a ball?
Well, here's ya belle
A princess in a fairy tale come true
When I finally make my debut.
Hannah Reilly says local audiences love the way Australian voices sound in the musical theatre artform.
"The Australian voice is so idiosyncratic; it makes surprising musical theatre content. We all know what a British or American musical sounds like. Only in the last few years have we been making unique Australian musicals.
"(The composer) Megan Washington and I both enjoy old fashioned music theatre shows where each character is unique, and so we were interested in creating a distinct sound for each of them.
"Taylah makes a scrappy Aussie Disney Princess. She has the equivalent of 'Bonjour' in Beauty and the Beast. She is airy and light on her feet.
"There is a bridal shop moment, which is an old-fashioned number featuring an inner repressed showgirl song.
"The local beauty salon owner has a villainous moment, which is inspired by an 80s Bonnie Tyler goofy pop rock number."
Hannah Reilly's background is in stand-up comedy and she is relishing the opportunity to create a new musical in a brand-new venue which does away with "old fashioned story telling".
"We are sticking to conventions, then breaking them to surprise the audience. There is a balance of pathos and absurdity. There is not just one villain but dual protagonists. There is a lot going on."
The Deb plays until June 4 at ATYP's theatre at Pier 2/3 in Sydney's Walsh Bay Arts Precinct. atyp.com.au/ATYP-productions/the-deb/
Read our Review.
Driftwood The Musical
Driftwood the musical is an intensely personal project for singer Tania de Jong AM, inspired as it is by the remarkable history of her family's escape from the Nazis during WWII.
In addition to playing the role of her grandmother in the World Premiere, Tania is also the producer and has also written some of the lyrics.
Thirty years
But I never lost sight of you. All those tears
Keeping the memory alive.
Thirty years waiting
Thirty years wondering
Tell me, how did we survive?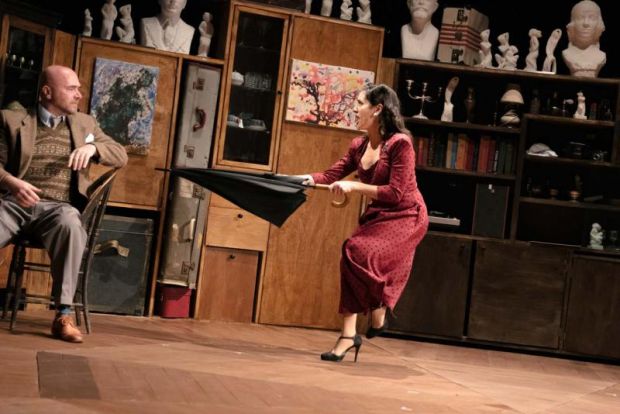 Driftwood photography: Cameron Grant, Parenthesy
"My grandmother (Slawa Duldig) invented the foldable (telescopic) umbrella in Vienna in 1929. Inspiration came on a rainy day when she thought, why couldn't someone invent an umbrella which fits into a bag. She worked on it for nine months to come up with the design," Tania told me.
"My grandfather (Karl Duldig) was a sculptor and professional tennis player."
Their ideal life was turned on its head when Hitler integrated Austria into Germany, and as Jews they could no longer work. At the time her grandfather was playing professional tennis in Switzerland.
"Their escape was miraculous; he had to bribe a Swiss border guard. He sculpted a bust for the border guard to get his wife and my mother in."
The musical starts in Europe but moves to north Victoria and Melbourne.
"When they eventually arrived in Australia, they were interned as enemy aliens."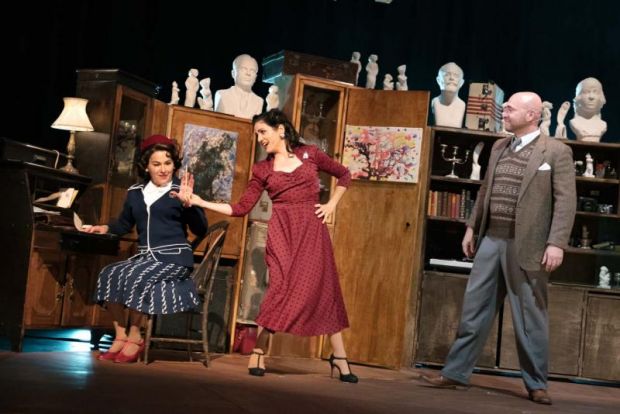 How they went from enemies of the state to esteemed Melbourne artists forms part of the narrative of the musical.
Tania and composer Anthony Barnhill became excited about the potential of the story when they attended the launch of her mother's memoirs in 2017.
"Being a singer and musician, I thought, we have got to turn it into a piece of music theatre," she said.
The first part of the musical is set in Austria, including references to a classic Viennese lullaby and a traditional Yiddish prayer song.
Most of the music is original compositions.
"I have my own sound, which has a Jewish quality, slightly influenced by Fiddler on the Roof. I have written for the voices we have in the cast, including some big soaring melodies," he said.
The lyrics and music will be more international in their flavour than local.
"I worked on Muriel's Wedding, where the Australian accent was a feature of the sound. Other pieces go for much more neutral quality. That is where we are going," Anthony Barnhill said.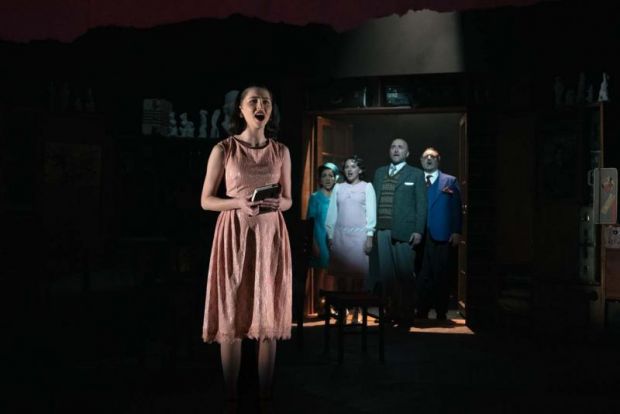 Tania would like more stories of the migrant experience told on stage.
"Australians come from so many different places. There are not enough meaningful, true stories on the musical theatre stage. We need to see more deep stories of this nature that reflect the diversity of who we are and the people who have rebuilt their lives from incredible hardship," she said.
Driftwood is based on the original memoir by Tania's mother, Eva de Jong-Duldig, with book and lyrics by Jane Bodie and music by Anthony Barnhill. Its world premiere season plays at the Alexander Theatre, Monash University on May 13 and 14, then Chapel off Chapel from May 18 to 28. driftwoodthemusical.com.au
Read our review.