STAGE WHISPERS MAGAZINE: DECEMBER 2020 - FEBRUARY 2021 EDITION OUT NOW!!!
IN THIS EDITION
Frozen's Snow Men
Meet the Hot Snowman, Wicked Prince and Iceman
Does Sport Score on Stage?
Hits, misses and a new play about Evonne Goolagong Cawley
Kate's Joy, Magic and Darkness
Playwright and actor Kate Mulvany on her remarkable career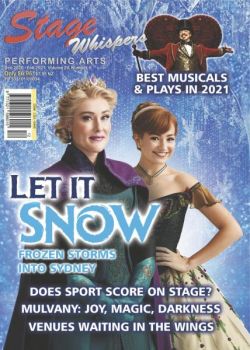 Waiting in the Wings
New and rejuvenated theatres around Australia
Digital Marketing Tools
Getting the word out about theatre by email and social media
New Directions
Three of our top directors reflect on the impact of COVID and the future
Not to be Missed
Plays we can look forward to around the country in 2021
Musicals in 2021 and Beyond
Frozen, Hamilton, Moulin Rouge and so much more
Community Theatre Seasons 2021
Non-professional theatres begin to recover
John Wood – On Acting
An extract from the autobiography How I Clawed My Way to the Middle
Buy individual copies online at
www.stagewhispers.com.au/products
or at your newsagent.
Subscribe to Stage Whispers print edition for two years or more and receive a free CD, DVD, Blu-ray or book.