STAGE WHISPERS MAGAZINE: JULY / SEPTEMBER 2020 EDITION OUT NOW!!!
IN THIS EDITION
7 Stages of Lockdown
How theatres have engaged us during the pandemic
Hamilton Leads Screen Bonanza
Will streamed theatre boost live audiences?
Can Clean Theatres Save The Entertainment Industry?
How theatres will need to adapt to be safe and viable
Ghosts of Theatre Past
The stories behind theatre superstitions
Love in Lockdown
Script excerpt from the iso TV rom com starring Eddie Perfect and Lucy Durack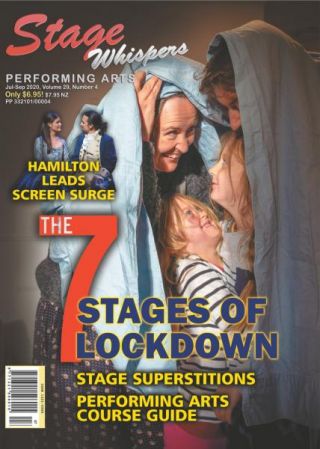 Love at First Seat
How musical theatre hooked two young performers for life
Sewell's Furies
Celebrating the career of Australian playwright Stephen Sewell
Performing Arts Course Guide
A survey of performing arts courses and training in 2021
Courses Adapt In Horror Year
How performing arts training has adapted to an online environment
AND MORE
Including
• Broadway and West End
• CD Reviews
• Reviews
Buy individual copies online at
www.stagewhispers.com.au/products
or at your newsagent.
Subscribe to Stage Whispers print edition and receive a free CD, DVD, Blu-ray or book.