STAGE WHISPERS MAGAZINE: MARCH / APRIL 2021 EDITION OUT NOW!!!
IN THIS EDITION
Coming Back From Away
As Come From Away resumes its national tour, we chat to company members.
Politics & Broadway
With Hamilton opening in Sydney we look at how politics in Broadway Musicals.
Meet The Fangirl of Theatre
Writer / composer Yve Blake on her hit musical Fangirls.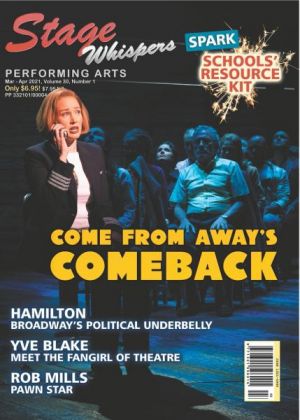 Musical on the Menu
Impresario John Frost reveals exclusively what musicals he will produce post Covid.
Rob Mills: Pawn Star
From Australian Idol to stage heartthrob, to Chess's wheeler-dealer.
Staging Our Town
Director Lee Lewis on staging the Thornton Wilder classic for Queensland Theatre.
A Treasure Trove of Programs
More than 200 Years of Australian theatre programs.
2021 School Performing Arts Resource Kit
Resources and news about theatre performed for, and by, school students.
In The Director's Chair
Top directors Roger Hodgeman, Neil Gooding and Jason Langley chat to Coral Drouyn.
Selling Your Show
ACMN's new Managing Director on how to market shows, large and small.
PLUS all our regular features
Buy individual copies online at
or at your newsagent.
Subscribe to Stage Whispers print edition for two years or more and receive a free CD, DVD, Blu-ray or book.