STAGE WHISPERS MAGAZINE: MAY / JUNE 2019 EDITION OUT NOW!!!
IN THIS EDITION
All The World's A Circus
Barnum, Russian Circus ZIRK! and Cirque Du Soleil's KURIOS
Muriel's Wedding The Musical
Behind the scenes at Her Majesty's Theatre, Melbourne
Eddie Perfect on Broadway
Aussie composer represented on Broadway by Beetlejuice and King Kong
Festival City Performance Venues
A look at some of Adelaide's diverse theatres
Making Dreams Reality
Broadway and West End star Ruthie Henshall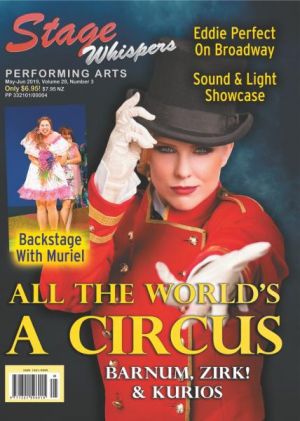 Lighting and Sound Feature
Technical features
Black is the New White
An extract from Nakkiah Lui's smash hit comedy
A Golden Age of Student Drama
An extract from a new book on Drama at the University of Sydney 1957-63
AND MORE
Including
• Broadway and West End
• CD Reviews
• What's On
• Reviews
Buy individual copies online at
www.stagewhispers.com.au/products
or at your newsagent.
Subscribe to Stage Whispers print edition for one year or more and receive a free Double Pass, CD, DVD, Blu-ray or script.
As some stocks are limited, please nominate 3 choices.
Visit our subs page for more details - click here