STAGE WHISPERS MAGAZINE: MAY / JUNE 2021 EDITION OUT NOW!!!
IN THIS EDITION
A German Life
How 'Trumpism' lured Robyn Nevin to portray an 'ordinary' life in Nazi Germany
The Heart of Hamilton.
An audience at NIDA with Hamilton's international producer Jeffrey Seller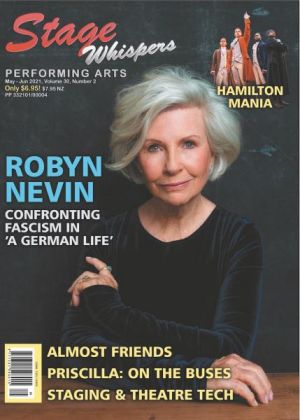 The Past Is Never Dead
How a trip to Berlin and family history inspired Joanna Murray-Smith's latest play
Theatrical Throwback
The Wedding Singer: The Musical on tour
Moulin Rouge & Jagged Little Pill
Broadway's paused hits reach Australia
Almost Friends
The musical parody of popular TV sitcom Friends hits our stages
Lighting Hamilton
Breaking down Tony Award-winning Howell Binkley's lighting design
On The Buses
Building Priscilla, Queen Of The Desert for Community Theatre stages
Behind The Scenes With Debora Krizak
A Musical Theatre star on why performers depend on audio
Hearing The People Sing Again
How an audio event company survived COVID-19 and has re-emerged
The Power of Sound
We speak to four of our top sound designers
PLUS all our regular features
Buy individual copies online at
or at your newsagent.
Subscribe to Stage Whispers print edition for two years or more and receive a free Double Pass, CD, DVD, Blu-ray or book.