STAGE WHISPERS MAGAZINE: MAY / JUNE 2022 EDITION OUT NOW!!!
IN THIS EDITION
A Fairy Tale … For All Time
Rodgers + Hammerstein's Cinderella begins its national tour
The Sound of Australian Musicals
Three brand new local musicals have their premieres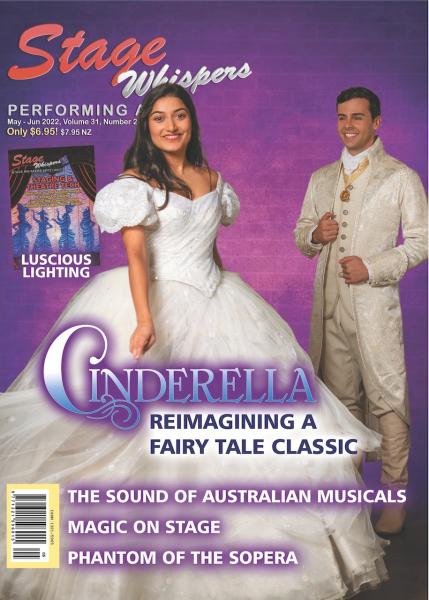 Suspending Disbelief
Magic, and the magic of theatre
The PHANTOM of the SOPERA
The perils of taking the world's most famous musical outdoors
The Tempest Has Passed
Recent floods and their impact on our theatres
Australia in 50 Plays
An extract from Julian Meyrick's new book
Counting Pennies on Stages Past
A peek into the theatrical account books of the 20th Century
Staging and Theatre Tech
Our annual technical supplement
Behind the Scenes with Debora Krizak
Welcome to the Moulin Rouge!
Musical Spice
David Spicer on his experience on stage with Opera Australia
PLUS all our regular features
Buy individual copies online at
www.stagewhispers.com.au/products
Or at your newsagent.
Subscribe to Stage Whispers print edition for two years or more and receive a free Double Pass, CD, DVD or book.