STAGE WHISPERS MAGAZINE: READ OUR MAY / JUNE 2020 EDITION FREE ONLINE NOW!!!
Usually this would be our annual Lighting and Sound edition, but due to advertising cancellations following the closure of theatres due to COVID-19, we have opted to create this special on-line edition which we are sharing FREE with everyone who loves to make and/or watch theatre. Our print edition will resume in July 2020.
IN THIS EDITION
Art Aches
How COVID brought our curtains down.
Stage Heroes
Extreme understudy and cast replacement tales.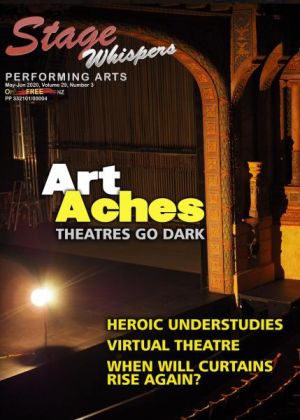 When Will Theatres Re-open?
John Frost on the challenges of getting theatre back on track.
Almost Opening Night
Community theatre shows ready and waiting for an audience.
A Toast To The Production Company
Simon Parris celebrates the iconic Melbourne company.
Online Theatre Highlights
Some of the great theatre productions streaming online.
Virtual Therapy
Jan van de Stool on navigating the COVID-!9 crisis.
Theatre in Isolation
Marvelous musical theatre performances from home.
Actors Keep Lights On For New Work
James Millar on the lockdown project developing new plays and musicals.
Lockdown, But Not Out
How New Zealand Musical Theatre companies are weathering the COVID-19 storm.
Celebrating Sydney's Griffin Theatre
An extract from John Senczuk's book on Griffin Theatre Company's first decade.
AND MORE
Including
• Broadway and West End
• CD Reviews
• What's On
• Reviews
Subscribe to Stage Whispers print edition and receive a free CD, DVD, Blu-ray or book.