STAGE WHISPERS MAGAZINE: SEPTEMBER / OCTOBER 2019 EDITION OUT NOW!!!
IN THIS EDITION
Razzle Dazzle 'Em
Chicago returns with "All That Jazz"
This Is Warlow's Moment
Anthony Warlow is set to finally play Jekyll & Hyde
Caroline, or Change
How imaginative sets transform the tiny Hayes Theatre
Opera Goes Digital
LED sets reinvent the way Australia sees Opera
West Berlin Story
Australia takes West Side Story to Germany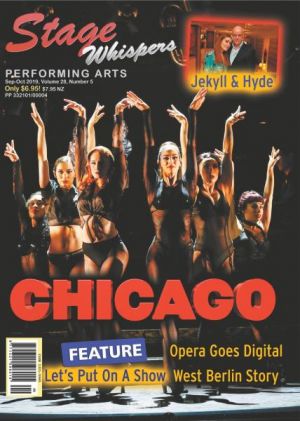 Aussie Play's Magical Spell
Belvoir's local play beats out Harry Potter this year's Helpmanns
Let's Put On A Show
Helpful hints for staging your next production
The Wizard of Oz Director's Diary
Adapting and transporting a beloved classic to arenas across Oz
Cabaret Compendium
Our round-up of Cabaret Festivals from around the country
AND MORE
Including
• Broadway and West End
• CD Reviews
• What's On
• Reviews
Buy individual copies online at
www.stagewhispers.com.au/products
or at your newsagent.
Subscribe to Stage Whispers print edition for two years or more and receive a free Double Pass, CD, DVD, Blu-ray or book.