The Sum of Us
How's a guy supposed to find Mr. Right when his dad won't stop trying to help?
Written by Australian playwright and Academy Award nominee David Stevens, The Sum of Us is a bitter-sweet comedy about the search for companionship and belonging. It explores the loving relationship between a widower, Harry, and his gay son, Jeff, as they embark on their individual searches to find the right partner.
This touching play illuminates the eternal human need to transcend our separateness and embark upon the difficult but necessary road to an accepting and loving connection with others. Perfectly balancing humour and sadness, it's described as 'a meditation on the enduring strength of love in the face of adversity'.
The Sum of Us stars one of Australia's most well-know television, theatre and film actors John Jarratt (Wolf Creek) alongside Patrick Harvey (Neighbours), Glenn van Oosterom (Rush) and Nell Feeney (Neighbours).
Director: Denis Moore. Designer: Shaun Gurton. Lighting Designer: Richard Vabre.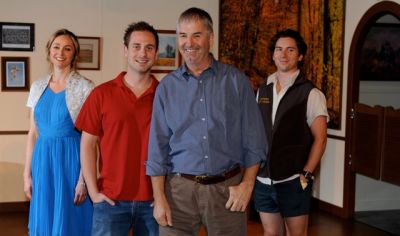 Glen Street Theatre: 9 – 20 August, 2011(02) 9975 1455 www.glenstreet.com.au
Also playing at Lennox Theatre, Parramatta Riverside from Aug 23 -27.
Images: (top) John Jarratt and Patrick Harvey, and (lower) the cast in The Sum of Us.
Win Tickets
Competition closed: Winners Joshua Luke Aspinall and Catherine Lockley.
Win a pair of tickets to the Opening Night of The Sum of Us at Glen Street Theatre on August 10 at 8pm (2 pairs available)
The Challenge: As The Sum of Us is a play about a father / son relationship, tell us what you would call your parent / child (or family) play (either fictitious or autobiographical)?
Return to the competition on our Facebook page - http://www.facebook.com/stagewhispers- and place your entry as a comment.
Likes will help us choose a winner.
Entries close 12 noon, Monday August 8.
To keep up with the latest news and reviews at Stage Whispers, click here to like us on Facebook, or follow us on Twitter