Swings in the Wings
Image: Marika Aubrey in Come From Away
Beth Keehn speaks to some of theatre's unsung heroes, the understudies who are keeping theatre alive and kicking despite Omicron.
At a recent curtain call for The Music Man, Hugh Jackman made an emotional speech, paying tribute to swings and understudies as "the bedrock of Broadway". As Hugh knows only too well, as 2022 start, the pandemic has unleashed a fresh focus on theatre's practical strengths and shone a new spotlight on the vital role of theatre's cover players.
When you think of an understudy, it's tempting to see the extremes: outrageous luck – Shirley MacLaine, stuck in The Pajama Game's thankless chorus line when leading lady Carol Haney breaks an ankle, sending understudy Shirl on stage and hurtling on to a Hollywood career 'overnight'; or ruthless Eve Harrington, scheming her way from stage door shadows into the life of ageing star Margo Channing, ready to usurp the throne in All About Eve.
But, take a more recent example. Sutton Foster, cast in Annie with no experience other than a love of musicals, goes on to understudy for Thoroughly Modern Millie and gets her break when the lead star walks off the production. Through determination and hard work, Sutton becomes, as Hugh Jackman said, "... one of the greatest actresses, singers, dancers of her generation." He was, of course, speaking at the curtain call of a recent Broadway preview of The Music Man where, unfortunately, Sutton had tested positive for Covid and understudy Kathy Voytko had jumped in at short notice. So, reality would suggest that an understudy's fortune is more along the lines of the quote attributed to movie mogul, Samuel Goldwyn: "The harder I work, the luckier I get."
From Standby to Broadway Debut – Marika Aubrey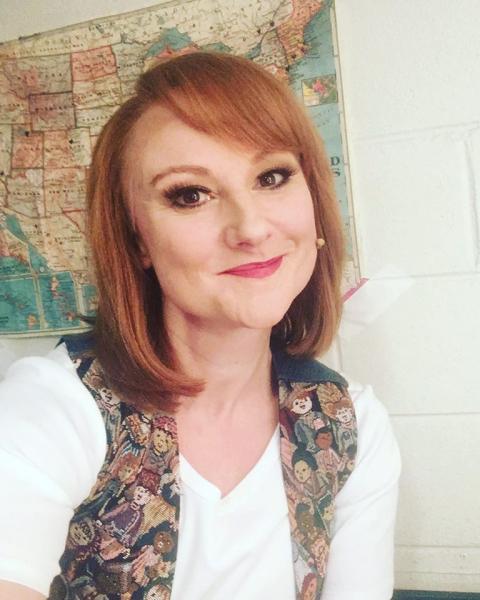 For one Aussie performer abroad, Omicron caused chaos for her tour of North America, but was a springboard to her Broadway debut in Come From Away. Marika Aubrey tells us what happened.
"I started my American career as a standby for Come From Away. After 10 months I was asked to audition for the tracks (the performers' plots of their multiple roles in the show) I covered. I got the part and made my American stage debut at two hours' notice in Los Angeles. I've been playing Beverly Bass in the touring production ever since.
"In December 2021 I happened to be in New York for Christmas when Rachel Tucker tested positive for Covid. Associate Director Daniel Goldstein rang me on Christmas Day and said 'Hey are you still in New York? I need a Beverly.' I got off the phone and said to my husband, 'I think I'm going to make my Broadway debut tomorrow!' There was no time for champagne or flowers – but that felt appropriate!
"I called it our crazy 'Franken-cast' because we were a collection of people from casts past and present – some hadn't done the show for years but got the call and turned up the next day! And that's been happening on the tour as well – it's exciting. You get this grand final team spirit and it really unites everyone.
"The pandemic means we're having to get creative about how we keep the curtain up and keep Broadway alive – and I'm loving seeing this renewed attention on standbys, swings and understudies and how absolutely vital and what rock stars they are. We couldn't run the theatre community without them.
"I know how hard standbys work! In our show they learn five tracks and have to be ready to go. The show looks very simple, but it's incredibly intricate, and they are all lead roles at different points. Without standbys, we would have had to close the show.
"I think audiences are changing their perspective: seeing an understudy go on is a great opportunity to discover a new talent, and you are going to get a special show – and that is very cool. It's a really special time to be on a stage and feel that added electricity."
Upcoming Stars as Alternate Leads – Cameron Holmes and Dimity Azoury
Because of their physically demanding lead roles, opera and ballet have always used understudies. And, in a new partnership with the Australian Ballet, the touring production of An American in Paris uses another safety net: double casting. When full-time ballet performers Dimity Azoury and Cameron Holmes were given the chance to prove their singing and acting skills for international director and choreographer Christopher Wheeldon, they jumped at the chance. Now they have moved into musical theatre as 'alternate' leads for original Broadway and West End leads, Robert Fairchild and Leanne Cope. A cast injury meant they had to go on a week earlier than planned, but they were ready for the challenge.
"Working on lead and ensemble roles means using a different head space," Dimity told me. "But that's not new for us, coming from the ballet – some productions will require us to learn five roles each. It's been wonderful working with Leanne Cope. I think we portray Lise differently, but Leanne has been performing the role for about eight years, so her character is just beautifully fleshed out. For me, it's inspiring to see how complete her portrayal is: it pushes me to go further in my own direction."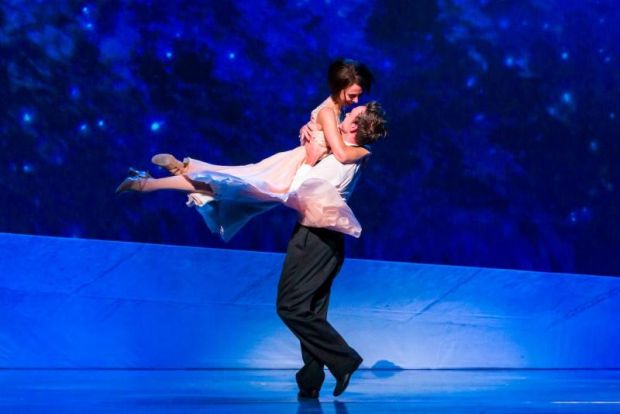 "We rehearsed for six weeks – and a lot of that time we spent learning Jerry and Lise and our ensemble track," Cameron said. "For Jerry, there's a lot more dancing, singing and acting, and I've learnt so much from Robbie Fairchild. He has taught me to enjoy the process and not be so tough on myself. As part of the alternate duty, we have scheduled shows and we also do our ensemble track when we are not performing Jerry and Lise. We've had standing ovations from our audiences, which is a wonderfully warm feeling."
Back on Stage for One Performance Only – Theresa Borg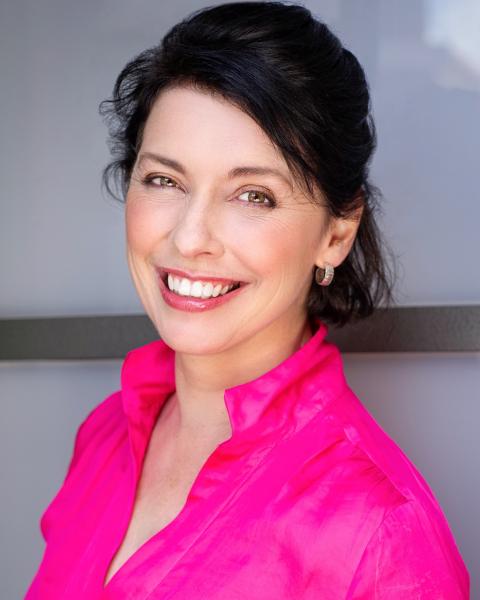 When most of the cast of An American in Paris collided with Covid before opening week in Brisbane, Resident Director Theresa Borg had to step back on stage herself!
"As Resident Director it's my job to maintain the excellence that we've established in rehearsals with our international creatives. I also train up anyone who joins the company along the way, including all the covers and understudies, but I never expected that I would have to step back on the stage myself!
"Before our opening in January (at QPAC) we were doing so well, 'bubbling' by department – crew, creatives, orchestra – but then unfortunately we had a brush with Covid and, just before we were due to open, we had 27 out of our cast of 33 out of action. With various strategies, five days after opening, we had a full company back on stage. We had one guest artist, Helen Howard, who came in over a weekend and learnt Anne Wood's part of Madame Baurel. And I stepped in for Annie Standford as 'Olga' in the ensemble for one night – Annie was out, and her cover was out too. Luckily I'm an old showgirl and have performed in many productions in the past. I put on a pair of character shoes and I was fine! It was a privilege to contribute to keeping the curtain up for the producers and my colleagues.
"Until now, understudies and swings may have been one of our industry's best-kept secrets. Certainly, they have had a larger role to play in the last six months. And it's usually the swings – and the people who develop them – who come through the ranks to become resident directors. They are the people who have a brain that can juggle multiple tracks and develop an outside eye on the show. It's a very special skill. And now the secret is out, it really shines a light – for our audiences, for governments and education systems – what a great experience of teamwork theatre is, and how valuable it can be."
An American in Paris Tour: https://americaninparis.com.au
Stepping Up at Short Notice – Cheree Cassidy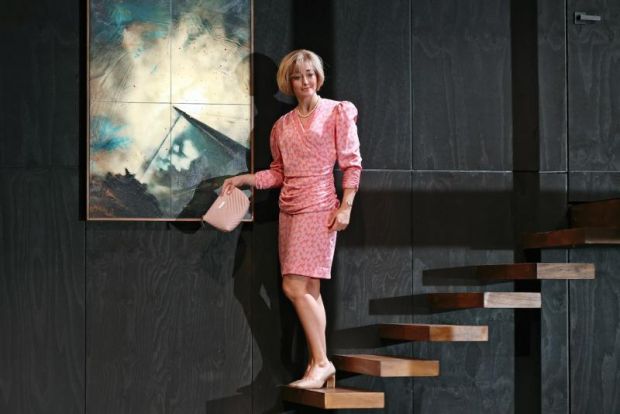 Photographer: Prudence Upton
After stops and starts, cancellations in 2020, and an Australian premiere season at Queensland Theatre in 2021, Triple X began its Sydney Theatre Company season in January. The play has five main characters, covered by four understudies. Even the semi-autobiographical role of Dexie, performed by Glace Chase, was covered by Charley Sanders. Close Covid encounters meant that, early in the run, understudies Anthony Taufa and Cheree Cassidy had to go on.
Cherie had only been rehearsing for a week when she got the call.
"I am covering two lead roles," Cherie related. "Both are quite demanding. I didn't really have a map of how to do it, but I split my time: first week on Clare; the second week on Deb. At the end of that week, (the director) Paige said: 'You've got to go on as Deb.' I had a little mini-season, an almost a two-week run before Christen (O'Leary) was back – currently I'm performing the matinees and we'll take it week to week. I've only just started to go back into rehearsals for Clare – to sharpen that part up in case I must go on.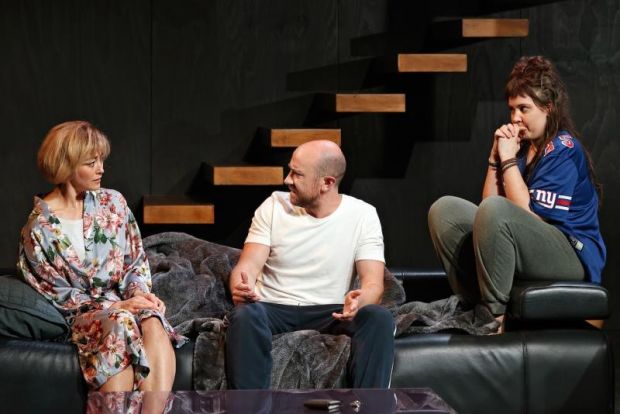 Photographer: Prudence Upton
"Of course, there's no guarantee that I will get to perform the parts I've rehearsed. As understudies, we are here to provide support – to be gracious to the actors who originated the roles. But my mindset from the beginning was 'I'll work like I'm going to open the play, but not expect to' – and I think that was the best decision I made.
"It's my first time as an understudy and it is sort of terrifying – it puts you to the test mentally and physically, but the whole thing has been rewarding.
"I love the resistance that theatres are putting up against Covid. And it's been amazing how warm and responsive the audiences have been. I think they understand the predicament we are in, and those coming to see shows in the middle of an Omicron wave are willing to go with those changes. They've been so responsive. And a positive thing is that the door has opened for other actors who might not otherwise have had the opportunity."
Understudying a One-Person Play – Mitchell Butel and Rachel Burke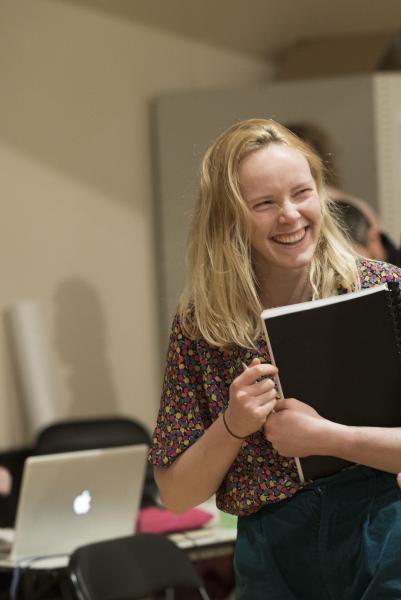 Image: Rachel Burke: Photographer: Shane Reid.
Mitchell Butel, Artistic Director at State Theatre Company South Australia, explained that enlisting understudies is all part of his job in catering for audiences and is especially important during the pandemic.
"Musical theatre and commercial theatre have always had understudies – there's a real financial imperative to the shows continuing. So, even though it is a substantial cost to a company, I think this focus on understudies will continue for a time.
"But cover roles and understudying can also be a great platform for emerging artists, which is wonderful. Sometimes it's a chance to discover a new talent – such as Rachel Burke who is understudying Justine Clarke for our upcoming production of Dennis Kelly's Girls & Boys. The (February-March) season is nearly sold out and with that demand for the play, it would be a shame to cancel – and we can't move people to other nights."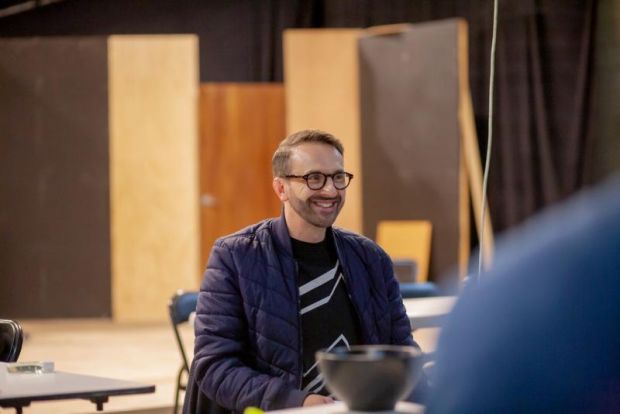 Image: Mitchell Butel. Photographer: Jessica Zeng.
"I was initially going to work as assistant director, but that soon changed to being understudy," Rachel Burke explained. "This current need for understudies is unprecedented – especially in plays that feature a solo performer; it's a whole different beast!
"At the moment, I'm on tour with Bluey's Big Play, so I'm Zooming in to rehearsals – mostly to observe and ask questions. Once I am back from tour, I will get involved in rehearsals and hopefully move around the set. With Covid, the whole point is to keep me and Justine separated: so that's an added challenge.
"There are no plans for me to perform the play, unless something happens. I guess it is a strange thing, not knowing if you'll get to perform. But that's just part of the gig. Your job as an understudy is quite specific: you are making a representation of that work, rather than being the original conduit.
"I'm terrified about the possibility of being on stage, but it's also absolutely thrilling that I might get to do this show. With any live theatre there's an element of excitement that anything can happen, but in particular when an understudy is performing."
State Theatre Company of South Australia: https://statetheatrecompany.com.au
Covering in the Community – Brisbane Arts Theatre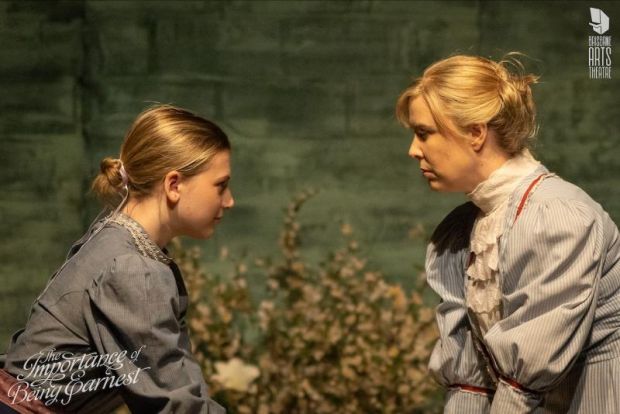 Image: Eleni Koutsoukis (Understudy for Cecily) and Carlee Stockall (Understudy for Gwendolen).
It's not just our major theatre companies that are preparing for all eventualities. Our community theatre sector is also keeping cast, crew and audiences safe, and making sure the show goes on. That means using understudies, as Tallulah M.E. Grey, President of the Board at Brisbane Arts Theatre, tells us.
"COVID-19 has definitely increased the need for a good support system! Since 2021, the majority of our shows are either double cast or include understudies. Our first 2022 production, The Importance of Being Earnest, had each of the nine characters covered by either another cast member who could play multiple roles, or one of our three magnificent understudies, who have all worked amazingly hard to make sure the show can go on, no matter what! Alastair Wallace played the role of Lane, but learnt two other support roles and, if needed, could play a third character in the same night! Eleni Koutsoukis understudied the role of Cecily Cardew, and performed on our preview night after only performing Act 2 in rehearsals once! She did a magnificent job. Ben Kasper understudied both leads, Jack and Algernon. The whole team was truly impressive!""
Brisbane Arts Theatre: www.artstheatre.com.au