Sydney Fringe 2011 Awards for Excellence
The 2nd Annual Sydney Fringe Festival Award-winners were announced and their work celebrated in a ceremony at the Sidetrack Theatre, Marrickville, on November 3.
It does, however, seem a rather long time lapse between the close of Fringe on October 2 and the awards presentations, compared to, say, the 2011 Adelaide and Melbourne Fringe Festivals, where the awards were presented on the closing night of the festival
Festival Director Richard Hull said that more than 70,000 audience-members attended more than 250 events in over 80 venues.
"We are still new, we are still growing and we are still very much at the start of this journey," Hull said.
"We have already begun our plans for 2012 and I hope, at least some of you here tonight, will be ready to take another plunge when we open our registration process on February 1st.
"But tonight is about recognizing some amazing work from this year's festival. A team of judges, including myself, who saw as many shows, events and exhibitions as we humanly could, have recommended and wrangled to reach our final choices.
"In a festival as diverse as this, with so many genres, so many reasons and motivations for being a part of the Fringe, to compare one artist's work against another is, I think, a bit redundant. So we celebrate excellence across the board here tonight, without categories or competing nominations."
Performing Arts winners of Awards for Excellence are:
Divya Palat
Writer/director/performer/producer
For her production A PERSONAL WAR, STORIES OF THE MUMBAI TERROR ATTACKS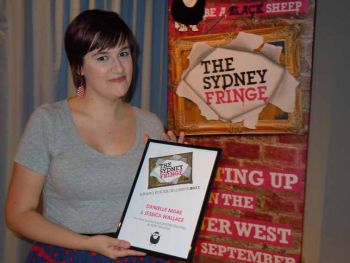 Danielle Maas & Jessica Wallace
Writers/performers/designers/producers
For their devised production COUNTRY MATTERS
James Edgar Francis & Maxine Kauter
Musical arrangers/performers
For their production BEAUTY AND THE BEAST – AN EVENING OF DISNEY SONGS
Ali Kennedy Scott
Writer/performer
For her solo performance THE DAY THE SKY TURNED BLACK
Chris Turner
Performer
For his performance as Jack in THE WILL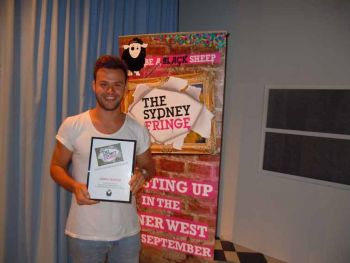 Daniel Hunter
Director/Co-producer
For his direction of PRODUCT by MARK RAVENHILL
Naomi Livingstone & Edward Grey
Performers
For their performances in the musical JOHN AND JEN
Gavin Roach
Writer/performer
For his solo performance CONFESSIONS OF A GRINDR ADDICT
Susan Williamson & Simone O'Brien
Writers, Performers, Knitters
For creating SPINNING A YARN
James Buckingham & Liam Bradbery
Devisers/performers
For their performances in ROMEO AND JULIET IN TEN WITH TWO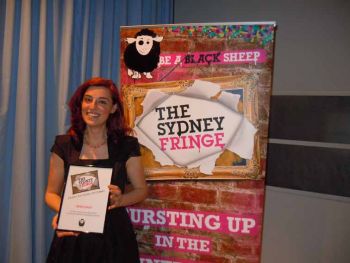 Keira Daley
Writer/performer
For her cabaret production LADY NERD
Tommy Bradson
Writer/performer
For his performance in PIRATE RHAPSODY, MERMAID REQUIEM
Austinmer Dance Theatre
For their production TOO SOON TO TELL
Helen O'Leary
Writer/performer
For her solo performance MY PARIS
Michael Workman
Writer/performer
For his stand-up show MERCY
PETER LEHMANN PEOPLE'S CHOICE AWARD
THE DAY THE SKY TURNED
To keep up with the latest news and reviews at Stage Whispers, click here to like us on Facebook, or follow us on Twitter.