Sydney Theatre Company Goes Solar
Sydney Theatre Company Artistic Directors Andrew Upton and Cate Blanchett officially 'switched on' the massive solar array on the roof-top of the Company's home-base, The Wharf, on November 26. Comprised of 1906 Suntech plut0 solar panels covering the length of the roof (enough to power 46 average homes), it is Australia's second-largest rooftop solar array and a major component of STC's comprehensive Greening The Wharf program.
Andrew Upton and Cate Blanchett said: "Theatre has always been a place to stimulate visionary conversations and practical action. We hope this solar array here at Sydney Theatre Company's home-base, The Wharf, will become a 21st Century symbol of which Sydney can be proud. Along with other measures such as the rainwater harvesting and reticulation, we hope these panels will inspire the hundreds of thousands of people who visit this burgeoning arts precinct each year, to take their own steps in tackling the challenges of climate change. All of us at STC are very aware that we are temporary caretakers of this extraordinary space. We celebrate that great public responsibility and hope that these measures will be a wonderful legacy for future users of The Wharf."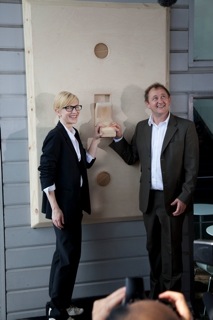 The solar power system, along with energy-saving measures, will provide up to 70 per cent of STC's power supply.
The array is just one part of STC's comprehensive Greening The Wharf program, believed to be a first for any theatre company in the world in its scale and comprehensive approach to sustainability. The Company is engaged in extensive energy efficiency measures and is introducing an innovative rainwater harvesting, storage and reticulation system which will supply 100% of The Wharf's nonpotable water requirements (total estimated water savings after rainwater harvesting will be more that 8 million litres per annum). It is also engaged in best practice waste handling and recycling, exploring ways to make STC productions more sustainable, and has an extensive community engagement and education plan.
The$5.2m total cost ofGreening The Wharf is funded by a unique private and public partnership involving philanthropy, corporate support and Federal and State government funding.
At The Wharf, situated at Pier 4/5 Walsh Bay, formerly a working pier, ideas are grown and collaborations born, sets are built, costumes sewn and all this in the same remarkable building where productions are being rehearsed and presented, suspended above the waters of Sydney Harbour.
Andrew Upton and Cate Blanchett have been the Artistic Directors of the Company since January 2008. At the time of their appointment they indicated that a significant project they wished to undertake early was a comprehensive environmental plan with a view to making the Company a world leader in the arts in this important area. Over the next 25 years, it is estimated that the Greening The Wharf project will deliver water savings of 37.5 million litres; 5,000MWh in energy savings and 10,350 MWh of power generated via the PV array.
Photographs: Solar Launch - Andrew Upton, Dr Zhengrong Shi, Mrs Vivienne Shi and Cate Blanchett. Photographer: Sue Murray Imagine It. Switch On - Cate Blanchett and Andrew Upton. Photographer: Grant Sparkes-Carroll.
Open Day at The Wharf - Sydney's Arts Precinct, Walsh Bay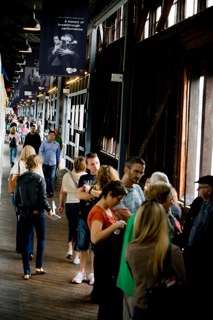 On Sunday 5 December, the arts companies resident in Walsh Bay's Pier 4/5 ('The Wharf') will be throwing open their doors to the public from 10am to 4pm.
Sydney Theatre Company, Sydney Dance Company, Bangarra Dance Theatre, Australian Theatre for Young People, Sydney Philharmonia Choirs, Regional Arts NSW and Accessible Arts invite you to step 'behind-the-scenes' at The Wharf. The Biennale of Sydney, Sydney Writers' Festival and Bell Shakespeare will also join in on the day.
Dance, sing, paint, act and play:you can participate in free forums and workshops, take a tour or just come 'behind-the-scenes' at your leisure.
For full details or to book tours and workshops visit sydneytheatre.com.au/openday
Transport
The Wharf is a ten minute walk from Circular Quay via The Rocks.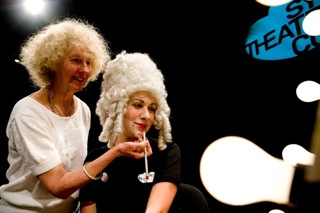 Free shuttle buses will be on loop every 20 minutes, stopping at Wynyard (Carrington Street), The Rocks (George Street, outside DFS Stores) and The Wharf. The first bus departs from Wynyard at 9.45am and the last bus from The Wharf at 4.15pm.
Access
Selected forums will be Auslan interpreted and a new lift located between Australian Theatre for Young People and Sydney Dance Company will be open to access Sydney Theatre Company on Level 1.
Food and Drink
Walsh Bay's local restaurants and bars will all be serving café-style food throughout the day.