Talking Shakespeare's Transformations with Damien Ryan
Damien Ryan makes his Queensland Theatre (QT) debut with Taming of the Shrew, having worked on productions of around 20 of Shakespeare's plays – that's more than half of the known 37 works by the playwright – as director and performer at Sydney Theatre Company, Bell Shakespeare Co, and his own company, Sport for Jove. Beth Keehn from Stage Whispers spoke to the award-winning director just before opening night.
Image (above) of Damien Ryan by Dylan Evans.
What was your first memory of falling in love with Shakespeare?
I think it was probably when I was a teenager and saw Franco Zeffirelli's Romeo and Juliet on TV. I had no idea what it was, but I just loved that image of Leonard Whiting and Olivia Hussey and that incredible song ('What is a Youth' by Nino Rota and Eugene Walter) that is sung at the ball scene – I do remember that.
I grew up in a very non-theatrical family and I never went to the theatre when I was young. I had no relationship to the theatre until I was given a gift of Shakespeare's Complete Works. I was working a night shift at a petrol station on the Great Western Highway – it was dead quiet in the middle of the night and I'd only have a customer every 40 minutes – so I sat there reading the Complete Works. I read all of Shakespeare's plays several times and found them utterly enthralling – I could not put them down. And now, I've been working with Shakespeare for around 28 years.
You've performed in or directed most of the main plays. Do you have a favourite?
I used to love Hamlet and Othello – I love them all for such different reasons. In a way, I see them as one long play: you can see how Shakespeare sustains a set of fundamental ideas through his work – I appreciate the way he develops and evolves basic ideas across his entire career, and recalibrates them as you get into his later career. I love plays like The Tempest, All's Well That Ends Well, Troilus and Cressida, and the seldomly seen plays are the ones that intrigue me most nowadays – and why are they not performed? Probably because they are more morally ambivalent, more difficult to simply pigeon-hole, difficult to describe in a sentence, often because they are very sophisticated modern works that don't have easy, happy endings.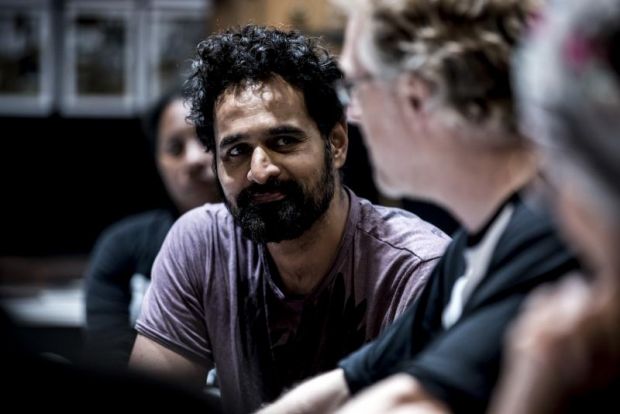 Image: Nicholas Brown and Damien Ryan in rehearsals. Photographer: Brett Boardman
You've said that Shakespeare's plays show us an x-ray of human behaviour – what do you think Taming of the Shrew shows us about the power of transformation and reinvention?
Taming of the Shrew certainly is about transformation, and it's about how theatre reinvents things too – and what's often forgotten is that it's a play within a play, a piece of performance art – and it's unfinished; we don't have the full play that Shakespeare wrote, so we are forced to look at something that may be slightly different to what Shakespeare intended.
But it is very much about transformation – and I think that the key to it is to ensure that the character of Petruchio (as well as Kate) is seen to undergo some form of profound transformation too. We've tried to think about the essence of that transformation as not necessarily a 'taming' – which of course is just an horrendous notion in contemporary context – but a way for two very lonely, very unhappy people who are anxious and wear masks to protect themselves. Something that Shakespeare is very good at exploring in so many of his plays is characters hiding the vulnerable part of themselves, burying it and protecting it with performance, with a character.
What Taming of the Shrew is partially about is two people learning to pull away each other's masks until they expose what is vulnerable and find what is selfless – so transformation is working in that way. But the play is also about the failure of a family to communicate, to trust each other and look after each other: something immense is lost and regained; they will survive, but hopefully a change will take place in the family that, despite coming at a cost, makes for a truer, better family. These are some of the big x-rays that he's trying to look at in a play like Taming of the Shrew.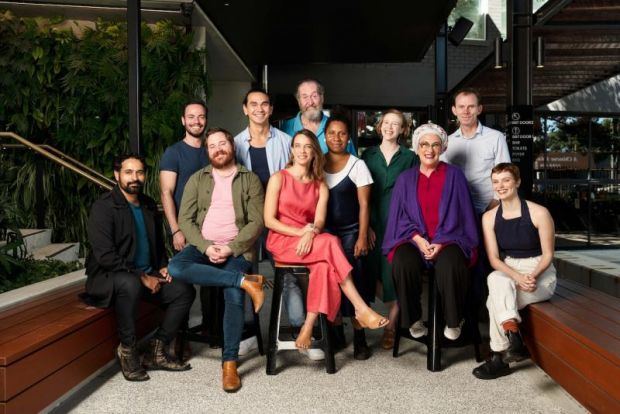 Image: Taming of the Shrew cast. Photographer: Dylan Evans
Why will audiences love this production of one of Shakespeare's earliest comedies?
Well, I hope they will, because – having not been able to put on any shows during the pandemic – one of the things I was really keen to give audiences was a celebratory theatre experience: the whole kit and caboodle. We have a beautiful big set, a big cast, a big show, with lots of beauty, and lots of storytelling - something that gives you a great night out in the theatre.
I've done lots of minimalist Shakespeare in my time, but I feel that Taming of the Shrew is a tightly constructed drama which is all about twists and crafty storytelling, and I wanted to capture the wonderful sort of chaos of it, the real adventure of it. I also wanted to celebrate Queensland actors too! We have such a fantastic group of actors, and this is a theatrical celebration of their skills.
Tell us about the casting process.
It was tricky because we were casting at the height of the pandemic when people were in lockdown, so I had to do it all via Zoom – I couldn't have anyone in the room, I couldn't audition anyone. I did not see one actor in person, and I've never done that in my life. I auditioned well over 200 people and watched a lot of tapes and had Zoom conversations with actors doing a call-back – it was quite enthralling and exhausting and so many actors were outstanding, including the creativity of the way they auditioned with filmed pieces from living rooms, bathrooms and forests – it was absolutely fantastic! And now we have a fantastic bunch of people – and one of the smartest casts I've ever worked with; we've had some very striking conversations about the play and I've learned a great deal from them.
What were you looking for in your two leading actors for Kate and Petruchio?
Above all else, I think, humanity – it's very easy to pigeon-hole these characters: it's easy for Kate to only be angry. In finding a 'Kate' you are looking for someone who, yes, can be a firebrand, a powerhouse and force of nature, but I think that quality will only get you so far with Kate – you need to back that up with pain and vulnerability and a kind of skittishness and and openness that allows an audience to see beneath the cruelty and abuse she displays in the first two or three scenes.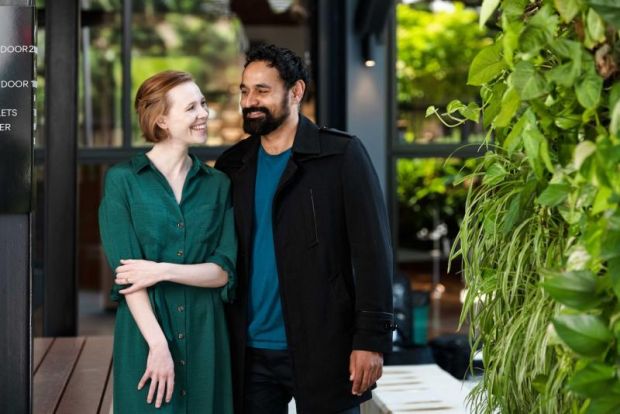 Image: Anna McGahan and Nicholas Brown. Photographer: Dylan Evans.
I've always admired Anna McGahan's work. She is such a smart artist. I've never worked with a Kate before who is so wiry and dangerous, but she's delicate as well which is unusual for a Kate – so that intrigued me when she auditioned, but it was also the way she spoke about the role, and the language.
In Shakespeare, the women's parts are substantially underwritten compared to the men – the men get long journeys that are more clearly put together, they have a lot more to say, and a lot more scenes, and the women traditionally have about a quarter of the lines. But audiences don't always notice that, so it's so much harder for the actress: like that old cliché about Ginger Rogers doing everything Fred Astaire did, but backwards and in high heels! It's that kind of challenge.
And Nick Brown – our Petruchio – is a beautiful actor (another one I have never worked with before). He has what I love to see in a Petruchio, which is that he can be histrionic and outrageous – he's got a beautiful voice – but he is also extremely sensitive and knows how to understate things and that's quite important because a lot of what Petruchio does is sort of desperate and driven by over-reaching anxiety. Nick is able to capture a sort of poignancy in the role, but he's not afraid to hide from the character's ugly side either.
I'm thrilled with the way Nick and Anna have worked with one another and the rest of the company.
Taming of the Shrew is QT's first digital subscription offer – has that affected your process at all?
The filming hasn't really affected us yet: we are just continuing to deliver a show and the film crew will find a way to film it. They do have a challenge because the set reaches all the way around the corners of the theatre – I was quite adamant that I wanted to do something in the Bille Brown that allowed some different perspectives for the audience in how the space is used – and we are using every inch of it. So, we've got 10 cameras on the set – I don't think I've seen a show filmed with that many cameras. I'm sure the actors will be quite nervous – it's strange for theatre actors, knowing that just that one performance will be captured and you have to get it right. But that's the joy of live theatre!
Taming of the Shrew plays until 5 June 2021; The QT at Home production is available from 14 to 20 June: https://queenslandtheatre.com.au/digital
Next time, we talk to Taming of the Shrew's Design Realiser, Adam Gardnir.