Theatre at Sydney Festival 2017
Four theatre works will make their world premiere at Sydney Festival and five international productions will be presented as Australian exclusives in the theatre offering of Festival Director Wesley Enoch's first program. The festival will shine a light on Australian theatre, showcasing work from the country's leading Indigenous companies as well as international theatre from the likes of Complicite/Simon McBurney (UK), Pushkin Theatre Company (Russia) and Native Earth Performing Arts (Canada). Across the 2017 theatre program, five productions feature a one-person cast.
Image: Ich Nibber Dibber - Photo by Document Photography
Theatre
Jan 6 - 22 Prizefighter, La Boite - Belvoir Upstairs
Prizefighteris loosely based on playwright Future D. Fidel's own life as a Congolese refugee. The play sees main character, Isa, escape his country's brutal civil war through boxing in Australia. Previously seen at 2015's Brisbane festival, Prizefighter will transform the theatre into a ring featuring live on-stage boxing.
More info: sydneyfestival.org.au/prize
Jan 7 – 11 Measure for Measure, Cheek by Jowl (UK), Pushkin Theatre Company (Russia) – Roslyn Packer Theatre
The recent recipient of a lifetime achievement prize at the Venice Biennale, Declan Donnellan, directs 13 Russian actors in Shakespeare's play of pimps, prostitutes, prisoners and perverts. Following a run at Edinburgh International Festival, Cheek by Jowl and Pushkin Theatre bring the production to Sydney as an Australian exclusive. In Russian with English surtitles.
More info: sydneyfestival.org.au/measure
Jan 9 – 14 Imagined Touch, Jodee Mundy Collaborations – Carriageworks Track 8
Deafblind artists Heather Lawson and Michelle Stevens create a unique sensory environment in which audiences don goggles and headphones that alter and restrict light and sound to experience the artists' stories through intensified touch and tactile communication.
More info: sydneyfestival.org.au/imagined-touch
Jan 9 – 15 Anthropologies Imaginaires (Canada) – The Reginald, Seymour Centre
Composer and vocalistGabriel Dharmoo performs foreign, exotic chants and other ritual music while interacting with a video mockumentary in a humorous exploration of cultural appropriation. Winner of awards at the 2015 Amsterdam Fringe Festival and the 2016 SummerWorks Performance Festival in Toronto, Anthropologies Imaginaires is a solo performance about the virtuosity, versatility and strangeness of the human voice. Australian exclusive.
More info: sydneyfestival.org.au/anthropologies
Jan 10 – 15 The Season, Tasmania Performs – Drama Theatre, Sydney Opera House
Aboriginal playwright Nathan Maynard paints a comedic insight into the inner workings of a family on Dog Island during the unique six week harvest season of the mutton birds by Aboriginal Tasmanian people. This world premiere features an all-Aboriginal cast and director – an exciting and all too rare combination.
More info: sydneyfestival.org.au/the-season
Jan 11 - 29 Which Way Home, Ilbijerri Theatre Company – Belvoir Downstairs
A modern day road trip comedy infused with humour, heart and writer-performer Katie Beckett's own memories of growing up with a single Indigenous dad. Presented by Ilbijerri, Australia's longest-running Aboriginal and Torres Strait Islander theatre company, Which Way Home is a moving story of a parent and child and a return to country.
More info: sydneyfestival.org.au/which-way-home
Jan 11 - 22 Home Country, Urban Theatre Projects – Blacktown Colo Lane Car Park
The story of urban Sydney is told in three interweaving chapters from the perspectives of an Aboriginal man, post-war Greek migrant and a recently arrived immigrant to Australia. Audiences will be guided through
various levels of a car park in Blacktown as the stories unfold including, at one point, a communal feast.
More info: sydneyfestival.org.au/country
Jan 11 – 21 Hakawati, National Theatre of Parramatta – El Phoenician Restaurant
Co-devised by Wayne Harrison and Paula Abood, Hakawati is inspired by the Arabic ancient tradition of story-telling and breaking bread. Feast on tales of heroism, tragedy and comedy, derived from myth with a contemporary twist as modern tales of Western Sydney come to life in this world premiere. El-Phoenician is an award winning restaurant and will provide a sumptuous meal. Traditional Arabic music will accompany the performance.
More info: sydneyfestival.org.au/hakawati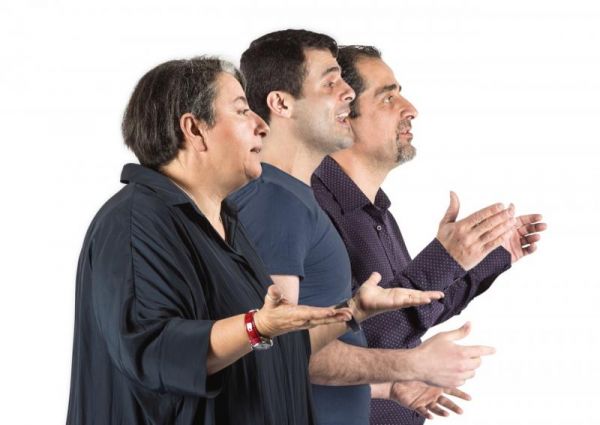 Photohgrapher: Eric Berry.
Jan 17 – 21 You and Me and the Space Between, Terrapin Puppet Theatre – Everest Theatre, Seymour Centre
A funny and heroic story from one of Australia's finest playwrights for children, Finegan Kruckemeyer, is brought to life through narration, music and live drawings that emerge in large scale on a paper set that has a life of its own. The magical tale unfolds live in front of your eyes as the cartoonist, Cathy Wilcox (SMH, The Age), draws the pictures while the story is narrated by local actor Raelee Hill (Superman Returns, Water Rats, Farscape).
More info: sydneyfestival.org.au/you-and-me
Jan 17 – 21 SHIT by Patricia Cornelius and Susie Dee – The Reginald, Seymour Centre
A provocative, raw and powerful play, which examines the intersections of class and misogyny. Readings of Patricia Cornelius' LOVE and SLUT will also be part of the programme. In addition to this, there will be a discussion held between the playwright and Sydney Festival Director Wesley Enoch, where they will discuss her work and the role of women in the theatre.
More info: sydneyfestival.org.au/shit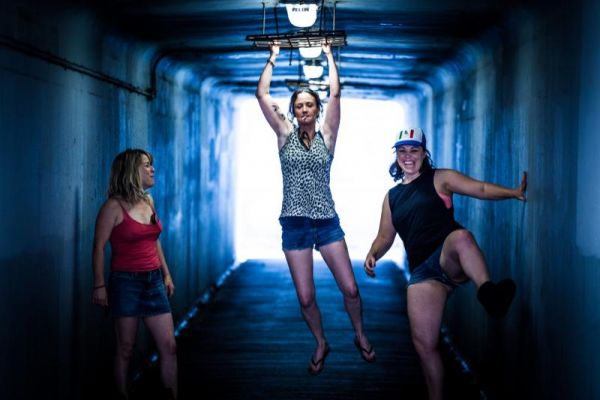 Photo by Sebastian Bourges.
Jan 18 – 28 The Encounter, Complicite/Simon McBurney (UK) – Drama Theatre, Sydney Opera House
Following acclaimed runs in London, Edinburgh, Vienna and New York, Sydney Festival presents the Australian premiere of this immersive theatrical ride, transmitted directly to the audience through headphones. Using ground-breaking binaural technology, Richard Katz tells the epic story of National Geographic photographer Loren McIntyre's quest to find a long-lost Amazonian tribe and, in doing so, explores notions of the real and imagined.
More info: sydneyfestival.org.au/the-encounter
Jan 20-21, 27-28 Ich Nibber Dibber, post - Campbelltown Arts Centre
Developed from 10 years of recorded personal conversations, Ich Nibber Dibber maps the lives and practices of three women coming of age in the twenty-first century. post are a collaborative performance ensemble based in Sydney. Comprised of Zoë Coombs Marr, Mish Grigor and Natalie Rose, post's work is a unique combination of political sensibility and high-camp kitsch aesthetic.
More info: sydneyfestival.org.au/ich-nibber
Jan 21-25 Blood on the Dancefloor, Ilbijerri Theatre Company – Carriageworks Track 20
An unapologetic physical monologue by Aboriginal dancer, choreographer and writer Jacob Boehme, who was diagnosed with HIV in 1998. Blood on the Dancefloor questions how our most precious life source can both unite and divide us in our quest for community and connection.
More info: sydneyfestival.org.au/blood
Jan 24 – 28 Huff, Native Earth Performing Arts (Canada) – The Reginald, Seymour Centre
Award-winning writer-performer Cliff Cardinal draws on Indigenous traditions and plays more than 20 characters in his unflinching one-man show about life on a First Nations reserve in Northern Ontario. Presented by Native Earth Performing Arts, Canada's oldest professional Indigenous theatre company, Huff is a darkly comic tale of solvent abuse, neglect and violence. Australian Exclusive.
More info: sydneyfestival.org.au/huff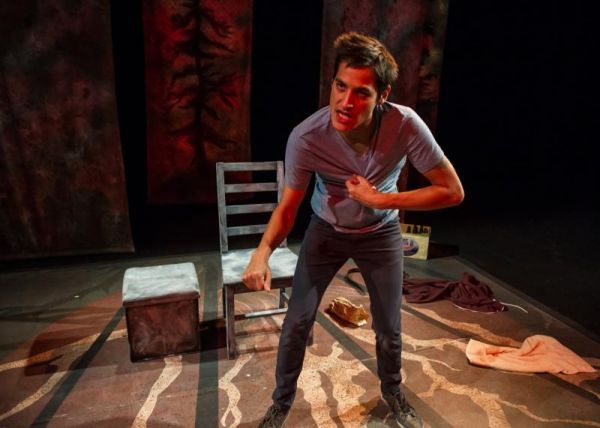 Photo by Sebastian Bourges
Musical Theatre
Jan 3-22 Ladies in Black, Queensland Theatre – Sydney Lyrics at The Star
With music by Tim Finn, words by Carolyn Burns and directed by Simon Phillips, Queensland Theatre present this home-grown musical that transports the audience back to Sydney in the 1950s. The production features some 30 custom-designed and created dresses and suits from award-winning designer Gabriela Tylesova.
More info: sydneyfestival.org.au/ladiesinblack
Jan 7-8, 10-12 The Fiery Maze, Tim Finn – Magic Mirrors Spiegeltent, Meriton Festival Village
Conceived by Dorothy Porter and Tim Finn in 1995 as a 'rock concert album', the talents of these two extraordinary artists combine to produce raw, intimate songs about love, sex and obsession, as Finn is joined on stage by the mesmerising Abi Tucker.
More info: sydneyfestival.org.au/the-fiery-maze