Three Weeks in Spring
The Anzac legend of Simpson and his Donkey is being staged theatrically at Sydney's State Theatre this month in the World Premiere of a new musical Three Weeks in Spring. David Spicer spoke to one of the creators Ian Gerrard.
What inspired you to write the musical?
The direct inspiration was coming across the story of Simpson and his Donkey. As an Englishman, it's not one I was familiar with – although, a touch ironically, Simpson himself was English. But beyond that it was the epic nature of the Anzac legend – the fact that it is in equal parts horrific and heroic – that made me want to write the show and approach the subject matter in a fresh way. Some of the characters in the musical are among the most iconic in modern Australian history – Simpson, C.E.W. Bean (the renowned Australian war historian) and John Monash (Australia's most revered soldier). But there are others, particularly on the home front, whose stories we also tell. Being able to explore the cost of war from the perspective of children who just want their daddies to come home is one of the things I'm proudest of.
Do you have a family connection?
No, but a number of the cast do. And I love the fact that they have named their characters (who in my libretto are simply called names like "injured soldier") after those relatives.
What is it about the story makes it compelling for a musical?
I think the story itself is compelling enough for any medium. It's about courage, sacrifice and mateship, unlikely heroes, overcoming odds, love and loss – those are classic themes. But I think the emotional intensity – both light and dark – of great music (which Russell Tredinnick has composed and Music Director Zara Stanton brings to life) adds an extra layer to all that.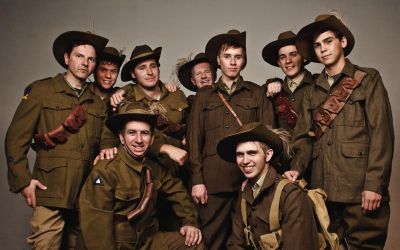 How are you conveying the action on stage through light and setting?
The set itself (designed by Matthew Barry) is quite simple, but highly evocative. We're using projections that, together with the lighting and sound, help create the sense of time and place or the confusion of battle. But it's the direction, choreography and performances that really convey the action.
Why do you that story of Simpson and his Donkey is so important?
I was drawn to it because I love people who challenge convention and refuse to believe that the traditional way of doing things is the best and only way of doing things. But then add the fact that he was an illegal immigrant (he came to Australia after jumping ship from the British merchant navy) who has gone on to be almost the epitome of the Aussie larrikin hero and it just adds to the poignancy of his legend.
Was it clear exactly what happened to Simpson?
Sadly, yes. He was shot and killed on 19 May, 1915 – barely three weeks after he arrived at Gallipoli (hence the title of the show). He was 22.
Describe the journey you have gone through to bring it to the stage.
Thirteen years of writing, rewriting, workshopping, changing, improving, dreaming, scheming, pitching and refusing to stop believing that Australian audiences do not just want to see international imports (fantastic as those shows are), but will respond to inspiring Australian stories brought to life by incredible Australian talent.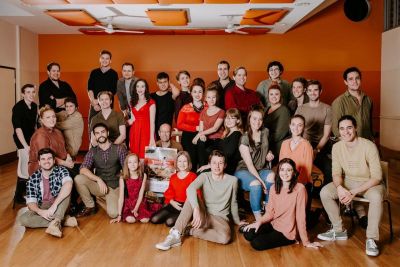 Are there any surprises in the production?
It's funny. All the emotions you normally associate with Gallipoli and the Anzac legend are there – it's sad, it's profoundly moving, it's stirring, it's inspiring. But it's also funny because there was a lot of humour in the trenches – it's the way the soldiers coped. We capture that, particularly through Simpson, who was a stretcher-bearer not a fighter and whose goal was to lighten the mood of everyone around him to help them deal with the horror. He's an adorable, wise-cracking, loveable rogue, and Lincoln Elliott plays him beautifully.
Have you learnt anything about what happened in 1915 from this project?
Although the Simpson story was new to me, I knew quite a bit about World War 1 and the Gallipoli campaign. But, again due to being from overseas, I hadn't really appreciated the impact of the failed campaign on the national psyche because my frame of reference is very different. War has long been part of the UK's history, from before the Norman Conquest in 1066 through to WW2 and more recent conflicts. But in some ways WW1 marked the birth of modern Australia – a nation that was only 14 years old becoming shaped and scarred by a global nightmare. It's something we cover in the show, because it's so significant:
England has her history to call upon
When times are black and cold as care
A thousand years and more besides
Of fortunes flowing like the tides
That scent the air
She's seen it all before
Not for her the painful labour
The bleeding of a nation forged in war
3 Weeks in Spring is on at the State Theatre on 13th – 17th August, 2019.
Endymion Productions is donating 10% of every ticket and album sold to the Australian War Memorial's Anzac Foundation.