Titus Andronicus - S.A. Premiere 400 Years In The Making
New Adelaide theatre company Red Phoenix Theatre has had highly unusual beginnings; the company was born out of tragedy and horror, or to be more precise, a bloodthirsty Shakespearean tale. Lesley Reed reports.
A play that not only stirs you to create a new theatre company to produce it, but also influences that company's future direction must surely be an epic piece indeed. Such was the genesis of Red Phoenix Theatre, which is about to stun the Adelaide theatre scene with William Shakespeare's first tragedy and perhaps his only horror story, the graphically brutal and bloody Titus Andronicus.
Said Red Phoenix Theatre's Artistic Director, Michael Eustice, "Bronwyn Ruciak originally approached me to direct Titus Andronicus for her company, Butterfly Theatre. I was already thinking about starting a new company so I suggested we leverage our combined expertise by doing it as a joint production with my new company. So it was Bronwyn's germinal idea that led to Titus Andronicus being our first production."
However, when Eustice realised the production would be the first time Titus Andronicus had been performed in South Australia he wondered how many other fine plays had not been seen in the state. An idea was beginning to form.
With the assistance of others, including Helen Trepa and Jo Peoples at the Performing Arts Collection of South Australia, Eustice began to build a list of works by playwrights such as Aristophanes, Euripides, Shakespeare, Ibsen, Strindberg, Havel, Albee, Mamet and many more, focusing on works that have never received a public performance in Adelaide.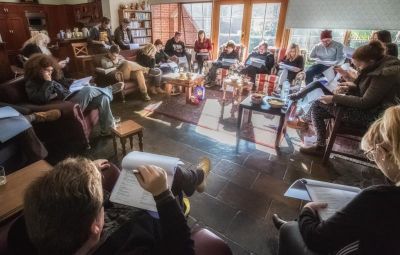 "As the investigation continued it became clear there could be a place for a new theatre company that was solely dedicated to staging Adelaide premieres and that created annual seasons with a clear theme and an over-arching journey for audiences and artists," Eustice said.
And so the unexpected discovery that Red Phoenix Theatre's Titus Andronicus would be a South Australian premiere in turn led to the company's vision to become a company that only produces Adelaide premieres. Red Phoenix now has a clever tag line, 'Adelaide's premiere Theatre Company'.
Red Phoenix Theatre needed not only a venue to stage its plays, but the company also hoped for a residency at that venue.
"We were absolutely thrilled when Holden Street Theatres' Co-Founder and Artistic Director, Martha Lott, invited Red Phoenix Theatre to become their resident theatre company," said Eustice.
"This exciting new partnership strongly aligns with our ongoing commitment to supporting South Australian artists and emerging companies," said Martha Lott.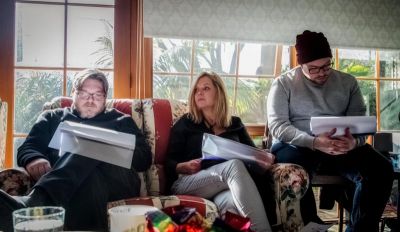 At the launch night for Red Phoenix Theatre, held at Holden Street Theatres on July 7th, Martha Lott stated she believes the partnership between Red Phoenix Theatre and Holden Street Theatres heralds a new era for the venue as well, one in which Holden Street Theatres will become "the home of theatre" in Adelaide. The many Adelaide theatre luminaries present on the night were testament to the promise this statement could well hold.
"We have developed a vision," said Michael Eustice at that event, "to thematically explore, over the next four years, the old adage about the things we are told we should never discuss in polite company; politics, religion, money and sex. 2017 will be the first year of our vision's journey and we will stage three plays all linked by the theme of Politics." He announced a strong lineup of politically themed South Australian Premieres for the coming year. In addition to the August 2016 production of Titus Andronicus, they include:
Don Parties On by David Williamson, November 2016
Two Brothers by Hannie Rayson, May 2017
The White House Murder Case by Jules Feiffer, August 2017
The Conspirators by Vaclav Havel, November 2017
Michael Eustice believes the first Red Phoenix production, Titus Andronicus, is Shakespeare's Game of Thrones.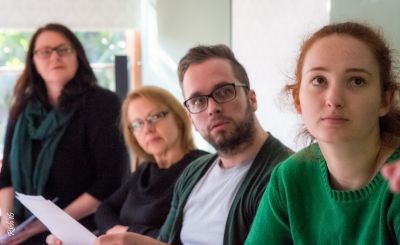 "The play was his first tragedy and was so popular in his own lifetime that it became a smash hit," he said. "It presents a rare opportunity to taste a brilliant example of Elizabethan 'popular culture' which prompts you to question how much our entertainment appetite has really shifted in the last four hundred years."
Today's thirst for explicit entertainment might struggle to find anything more startlingly dramatic thanTitus Andronicus. Titus returns to Rome after a victorious campaign against the barbarous Goths. He brings with him prisoners as gifts for Rome, including Tamora (the beautiful Queen of the Goths) and her sons. Titus sacrifices Tamora's eldest son to the ghosts of the dead and unwittingly unleashes a vicious cycle of revenge.The new Roman Emperor, Saturninus, marries Tamora, giving her the opportunity to wreak horrific and brutal revenge upon Titus and his family. His daughter is raped, his sons are murdered and he slowly begins to lose his mind. But Titus develops a murderous plan of his own. No one is safe.
Michael Eustice said, "Without doubt, it is Shakespeare's bloodiest play and is a gripping thriller. In 2016, the four hundredth anniversary year of Shakespeare's death, we are absolutely thrilled to present the South Australian premiere of this brilliant tale of lust, murder and revenge."
Eustice is to direct the play, which features Adolphus Waylee, Anna Bampton, Brant Eustice, Geoff Dawes, Joshua Mensch, Joseph Salcedo-Storer, Joshua Coldwell, Kyron Weetra, Lyn Wilson, Mark Ritchie, Matt Houston, Mat Lynch, Peter Kahlbaum, Rachel Burfield, Tony Sampson, Tracey Walker and Sean Watters.
No doubt audiences will flock to experience Titus Andronicus, the first SA Premiere in the Red Phoenix Theatre program. The graphic play should launch this rising phoenix of South Australian theatre companies on the road to a prominent position on the Adelaide scene.
Suitable for age 15+.
WHEN: Thursday-Saturday, August 18-20, at 7.30 pm. Sunday August 21, at 2pm. Wednesday-Saturday, August 24-27 at 7.30 pm.
WHERE: The Studio, Holden Street Theatres, 34 Holden Street, Hindmarsh.
BOOKINGS: Online at www.redphoenixtheatre.com