A Toast to The Production Company
Sadly,The Production Company's big final show was cancelled due to the Coronavirus. In place of a standing ovation, Simon Parris celebrates ten of the Melbourne company's landmark musicals.
Over twenty-one marvellous years, The Production Company presented 65 productions, delivering countless hours of entertainment for lovers of musical theatre. Run by Ken Mackenzie-Forbes and Rachel D. Taylor, and funded by arts patron Jeanne Pratt (who loved greeting patrons every night), the company furthered the careers of hundreds of artists and left lasting memories for enraptured audiences.
Beginning with a model of three-performance seasons, its scope grew over the years, with seasons expanding to five and then on to ten or more performances. The annual season announcement was a glittering affair at the Melbourne home of Ms Pratt, as patrons and media gathered to hear excerpts performed live by starry leading cast members.
The Production Company saw the local musical theatre scene grow and thrive around them, with the source of new artists moving largely to higher education training institutions such as WAAPA and VCA.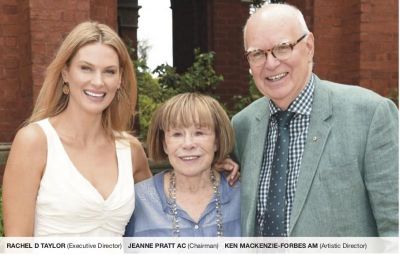 Originally focussing on classic musicals that were left behind by commercial producers, The Production Company went on to stage Australian premieres, with their loyal audience following along even if the show titles were unfamiliar.
Carousel (2004)
The only professional production of Carousel in Melbourne for decades, this early highlight was crowned with a highly memorable leading performance by David Campbell as Billy Bigelow. The concert staging was all the more entertaining for the creative choreography of Andrew Hallsworth, who has gone on to be one of the industry's most respected artists.
Director Gary Young helmed many a noteworthy show, and performers in Carousel who went on to be stalwarts at TPC included Anne Wood as Mrs Mullin and Melissa Langton as Nettie Fowler. The career of Lucy Durack, one of Australia's brightest musical stars, was launched by TPC; Durack performed in the chorus ofCarousel.
Thoroughly Modern Millie (2006)
The first Australian premiere from TPC, Thoroughly Modern Millie, fit perfectly alongside the style of classic musicals usually presented. Broadway's 2002 Best Musical Tony Award-winner was a welcome sight on the Melbourne stage, and audiences flocked to the season.
Raising the established standard of their concert stagings, Thoroughly Modern Millie featured a striking, large-scale silhouette backdrop representing New York City, designed by Richard Jeziorny. In his sixth show for the company, prolific director Rodger Hodgman brought the slapstick comedy to life. Leading lady Chloe Dallimore, fresh from the Australian tour of The Producers, delivered her own unique interpretation of title character Millie Dillmount.
Rising in status from a couple of previous featured roles, David Harris capably displayed his talents as a leading man in the role of Jimmy Smith. By this point already a more established lead performer, Lucy Durack graced the stage as Miss Dorothy.
By the time of the 2018 revival of Thoroughly Modern Millie, audiences were far less accepting of the show's stereotyped representation of Asian people. While Nicki Wendt scored ample laughs in 2006 as racist aging actress-in-hiding Mrs Meers, perennial favourite Marina Prior faced a tougher challenge in the role in 2018. A revised version of the musical – which addressed this issue – was set to play in New York in May. Hopefully the reopening of theatres will allow this new version to be seen and enjoyed.
The Boy Friend (2009)
Another show seen extremely rarely on the local professional stage, The Boy Friend was creatively revived by director Gary Young. Inspired by Ken Russell's movie version, Young provided dialogue for a fictional set of bickering, disillusioned English actors performing The Boy Friend on a drizzly matinee. This framing device meant that if the expressions or actions strayed close to being over the top, it was the indulgence of the English "actors", not the actual Australian cast.
The Boy Friend featured inventive choreography from Andrew Hallsworth and elegant designs from Richard Jeziorny.
The Boy Friend brought Esther Hannaford to prominence, starring in her first high profile leading role as Polly Browne. Alex Rathgeber took centre stage as leading man Bobby van Husen. Christie Whelan-Browne, a clear favourite of TPC over the years, played Maisie opposite Tim Campbell, who proved a slick tap dancer. Kellie Rode stopped the show with "It's Nicer in Nice".
Supporting the young lead performers were relative veterans Grant Smith, Robert Grubb and Robyn Arthur. Rhonda Burchmore, The Production Company's original leading lady, played flamboyant Madame Dubonnet.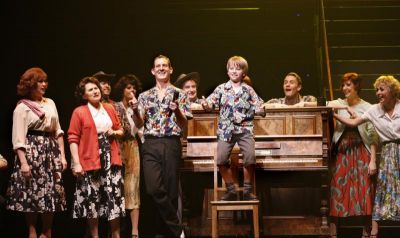 The Boy from Oz (2010)
As their first Australian musical, beloved nationwide hit The Boy from Oz was an ideal choice. The Melbourne season sold out before opening night, prompting a return in January 2011 before a March 2011 season in Sydney.
Hugh Jackman's massive Broadway success in The Boy from Oz prompted a local arena tour, but original Australian star Todd McKenney triumphantly reclaimed the role as his own. Resplendent in some of the original costumes, McKenney had the audience in the palm of his hand, his comic timing minted to perfection and his athletic dance moves still just as limber. Original cast member Robyn Arthur moved up to the role of Peter's mother Marion Woolnough, giving a heartbreakingly intimate rendition of "Don't Cry Out Loud".
Director Nancye Hayes imbued the production with abundant heart and soul, musical director John Foreman inspired Orchestra Victoria to a rousing rendition of the hit score and Andrew Hallsworth's tight, sharp choreography benefited from the presence of ten additional dancers. Stand out supporting cast members included Christen O'Leary as Judy Garland and David Harris as Peter's lover, Greg.
TPC enjoyed a further success with The Boy from Oz in 2018, with frequent leading man Rohan Browne starring as Peter Allen.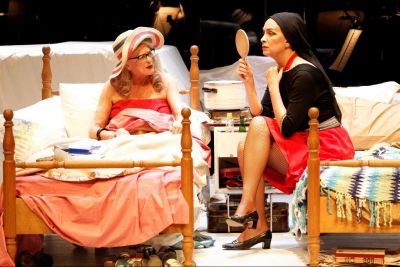 Grey Gardens (2011)
Another very welcome Australian premiere, Grey Gardens featured the unforgettable performances of Nancye Hayes and Pamela Rabe.
A smaller scale musical, Grey Gardens was one of several productions over the years to be presented at the Playhouse rather than the regular, much larger venue of the State Theatre, which is also housed in Arts Centre Melbourne. Director Rodger Hodgman delivered a quality that belied the short rehearsal period.
In act one, Rabe played preening steel magnolia Edith Beale before delivering a giddily gleeful turn as Little Edie in Act Two. Hayes, a veteran of the Australian stage and also a performer with The Production Company since their first year, was almost unrecognisable as the older Edith Beale, bringing an undercurrent of warmth to the cantankerous character.
The ensemble cast of nine actors also included John O'May, Alex Rathgeber, Bert La Bonté and James Millar.
Chess (2012)
TPC raised the bar again with their visually splendid, gorgeously sung production of Chess. A popular cast recording due to the score by ABBA's Benny Anderson and Björn Ulvaeus, the notoriously difficult stage musical was tamed by director Gale Edwards, who was able to present the narrative with crystal clarity. Shaun Gurton gave the design an epic feel, and Tony Bartuccio provided crisp choreography.
The rare musical to focus on an adult romance, Chess featured the highly memorable pairing of Simon Gleeson as Anatoly and Silvie Paladino as Florence. Gleeson and Paladino soared in solos and had the audience swooning in duets. Quality casting continued in the supporting roles, with Martin Crewes as Freddy, Michael Falzon as the Arbiter, Bert La Bonté as Walter and Mark Dickinson as Molokov, with Alinta Chidzey, fresh from the national tour of West Side Story, as Svetlana.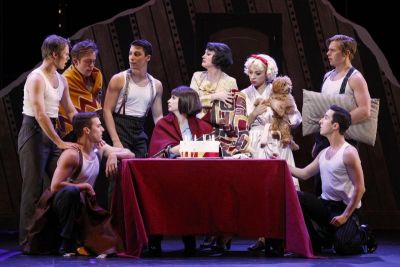 Gypsy (2013)
Already seen with a terrific cast headed by Judi Connelli in 2000, Gypsy was one of several shows that TPC staged twice. The 2013 revival of Gypsy reached a zenith in all aspects of production and performance, with cast and creatives at the top of their games.
Having performed with TPC since their first year, international stage star Caroline O'Connor returned to give a towering performance as Mama Rose, inhabiting the role with all her being, taking the audience's hearts only to ultimately break them.
Director Gale Edwards streamlined the legendary Broadway musical with her unique vision, Andrew Hallsworth provided another set of wonderfully witty choreography, and masterful musical director Guy Simpson led Orchestra Victoria in a sparkling rendition of Jule Styne's score. Adam Gardnir delivered multiple backdrops and Tim Chappel brought characteristic flair to the costuming.
The strong supporting cast included Matthew Hetherington as Herbie and Christina Tan as Louise, with Chloe Dallimore, Nicki Wendt and Anne Wood strutting their stuff as the broken-down burlesque dames now working as striptease artists.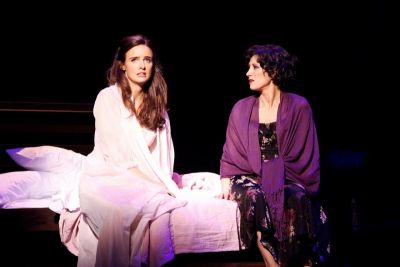 West Side Story (2015)
Seen quite regularly on the local commercial stage, seminal Broadway musical West Side Story was given the polish and respect it deserved and was an excellent choice for TPC's landmark fiftieth production.
It was compellingly directed by Gale Edwards, with spectacular sets designed by Shaun Gurton. Guy Simpson made deceptively simple work of Leonard Bernstein's fiendishly difficult score, leading Orchestra Victoria in another sensational performance.
Rising choreographer Michael Ralph expertly recreated, taught and drilled Robbins' original choreography. Lighting designer Trudy Dalgleish added significantly to the quality of the staging with clever use of colour to enhance mood.
Anna O'Byrne returned from London to play Maria, a role that showcased her angelic soprano perfectly as well as drawing on her dramatic and comic acting skills. Gareth Keegan's fine tenor soared in the role of Tony.
On opening night, due to laryngitis, Deone Zanotto played Anita on stage, while assistant director Natalie Gilhome provided the dialogue and Amanda Harrison provided the singing. Incredibly, this arrangement worked seamlessly, a testament to the skills of all three women.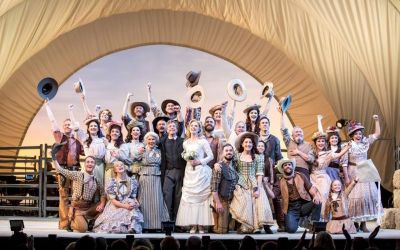 Oklahoma! (2018)
Oh, What a Beautiful production. 75 years young, Oklahoma! was seen and heard at its evergreen best in this highly entertaining staging.
TPC first presented Oklahoma! in 2006, giving a sneak preview of the Australian premiere cast of Wicked with Lucy Durack as Laurey and Amanda Harrison as Ado Annie. Having played Will Parker in 2006, Chris Parker returned for this season to make his company debut as director. Parker's respect for the material found authentic humanity beneath the caricatures, with appealing chemistry and affecting drama in abundance.
In his fifteenth TPC engagement, musical director Guy Simpson lead the orchestra in a delightful performance of the beloved score. Working with unbridled confidence and flair, Amy Campbell made an auspicious debut as choreographer, her lively work at its very best in the riveting Dream Ballet, featuring Stephanie Jones as Dream Laurey.
Design was at a premium, with Dale Ferguson crafting a giant calico background and Isaac Lummis contributing delectable costumes. This was another production blessed by the pristine millinery of Phillip Rhodes.
The all-star cast featured Simon Gleeson as Curley, Anna O'Byrne as Laurey, Elise McCann as Ado Annie, Bobby Fox as Will Parker, Ben Mingay as Jud Fry and Grant Piro as Ali Hakim. Veteran stage actress Robyn Nevin made her debut for the company as crotchety sweetheart, Aunt Eller.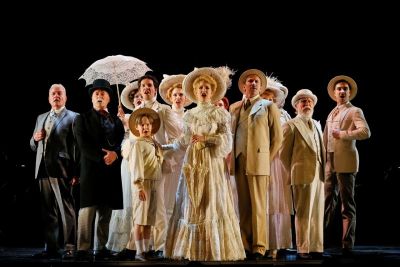 Ragtime (2019)
Working at the very height of their powers, TPC rewarded Melbourne for 21 years of love and support with a superlative production of epic 1998 Broadway musical Ragtime. Little did the audience or even the company know that it was to be the farewell production, but what a beautiful parting gift.
Director Rodger Hodgman gave the epic story plenty of room to breathe, moving the audience to laughter and tears for the vivid, engaging characters. Maestro Guy Noble led the orchestra in a particularly splendid performance.
Even at the last, TPC continued to uncover and showcase new talent. Georgina Hopson soared as Mother, ending the show with an unforgettable performance of "Back to Before". Chloé Zuel also delighted as dear Sarah. Georgina Hopson went on to be cast as Lily in the revival of The Secret Garden, while Zuel (who had also shone in the 2019 national tour of West Side Story) opened in the Australian premiere of Six the Musical.
Supremely gifted actor Alexander Lewis made a striking company debut as Tateh. Kurt Kansley, star of the national tour of Evita, conveyed the dark journey Coalhouse Walker Jr. Established performers from past seasons were seen in Ragtime, including Adam Murphy as Father, John O'May, John McTernan, Mackenzie Dunn, Anton Berezin, Barry Mitchell, Matt Hamilton, Mark Doggett and Greta Sherriff.
***
Special mention and thanks to photographer Jeff Busby for vividly capturing memories from so many of The Production Company's seasons.
Photos: Jeff Busby