Tudor Queens Get Pop Voices
Melbourne, New Zealand and Adelaide seaons postponed.
Remixing the story Henry VIII's six wives with a pop score, SIX The Musical is touring Sydney, Melbourne and Adelaide this year. Loren Hunter, who plays Jane Seymour, and Olivia Ansell, Sydney Opera House's Head of Contemporary Performance, spoke to Neil Litchfield.
Henry VIII is one of British history's most notorious and charismatic monarchs, but less is known of the six women who were his queens. In school we learned to remember them by a simple rhyme that told their fate - divorced, beheaded, died, divorced, beheaded, survived - but we rarely got their names right, or at least in the right order. Now, in a climate of female empowerment, all that is changing, and not before time. What was history 500 years ago is now London West End theatre,and all six of his queens are singing, acting and dancing their own stories on stage in the pop musical SIX.
Two 24-year-olds, SIX co-creators Toby Marlow and Lucy Moss,have done what even Broadway giant Richard Rodgers couldn't. The veteran composer's 1976 Henry VIII musical Rex folded after 49 performances on Broadway, where SIX is now headed in March.
Discovered at the 2017 Edinburgh Fringe, 75-minute musical SIX, with Henry's wives finally telling the story from their perspective, is fast becoming an international theatrical phenomenon. On top of its stage success, with more than 300,000 streams a day the show's cast recording is second only to Hamilton among the highest streaming soundtracks.
On screen Henry VIIIs have included greats Charles Laughton, Richard Burton, Robert Shaw, Keith Michell, Ray Winston, Rowan Atkinson (in Horrible Histories), Sid James (in Carry on Henry) and Homer Simpson. This time around, though, the king is kept in the wings while the six traditionally under-represented Tudor queens take centre-stage.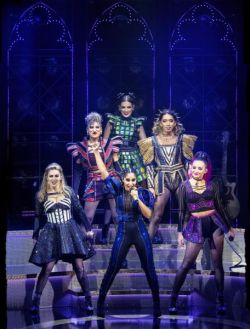 Loren Hunter, who plays Henry VIII's third wife Jane Seymour in the Australian production, explains.
"Henry VIII left his mark in this world. This is an opportunity for these women to leave their own mark, retell their story and redefine what their role was in that time," she says.
"Almost everyone knows them through the eyes of Henry. This is the time when we can go no, that isn't what it was like. Let's tell you what it was really like.
"We know that Henry was a tyrant, but it's more interesting to hear the story from behind the scenes."
SIX The Musical occupies the 2020 Summer Studio season at the Opera House, usually given over to circus cabaret for the last ten years.
"We're very conscious of what the social and cultural conversation is at the minute, so there's a perfect spot to enter the world of SIX The Musical and the six under-represented wives of Henry VII," explains Olivia Ansell, Head of Contemporary Performance at the Sydney Opera House.
"It just had this unique format about it. It's 75 minutes straight through – it's six women with a four piece, all female band. It's a musical, but it's also a pop concert, yet it feels infectious like a cabaret, so it just appeared like the perfect piece of diverse programming to enter the 2020 Summer programme.
"SIX weaves in everything from an infectious pop score to a wonderful retelling of history through the eyes of these six queens. In a diverse world where we're celebrating inclusivity and gender and women, it felt like a very empowering production to present as part of (the Opera House's Summer season). Also, it's reflecting back at history with a comic, satirical and fresh lens, through the eyes of the heroines of the story, not the protagonist."
How does a very contemporary pop score work for these Tudor queens?
"The story reflects the climate that we're in at the minute. It's empowering, it's electric and the stories coincide with the time now. I think to commercialize it, and to place it in the pop realm reflects them in a better way," Loren tells me.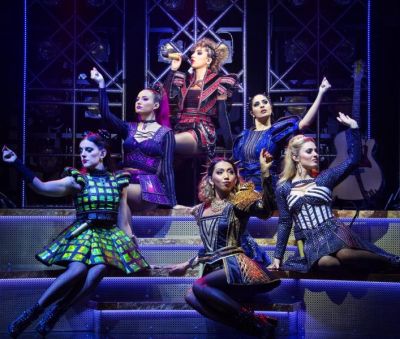 "What's great about this show is that all the queens can relate to each and every song in every way. No matter what queen you're playing, even if you're singing part of another queen's song, you still feel that it's your story as well. Their stories are so intertwined and similar in ways, considering we were married to the same man. But I just love my own song. She's a champion, she's a warrior, and I love her."
It has been claimed that 'Greensleeves' was written by Henry VIII. Does it get a run in the show?
"It's not really part of my story," Loren says, "It's more a part of Anne Boleyn's story, who he reputedly wrote it about. But it appears, particularly at the beginning, and sometimes through what Anne sings about. They've done it really well. There's a taste of it, but they don't really focus on it too much."
But revealing anything else would be a spoiler.
History has often unkindly labelled Jane Seymour the boring wife, best known for providing Henry the male heir he so desperately wanted, but Loren sees another side to her.
"It's interesting that that's how they see her, because if they look a little bit deeper, she was the Lady in Waiting to both Catherine and Anne (who preceded her). She was around the whole time that they were married to the king. So, she knows what to do, what does and doesn't work, and I think she was just smart about it. There's also a massive possibility that she and Henry were in love. It's interesting that people just go, 'Oh she was the weak one. She was the one that didn't say much.' But it's just not the way she was, as far as I can see in my research."
And what would Henry's wives think of how SIX tells their stories?
"I reckon they're looking down, just going thank goodness our stories are being retold the way they should have been told from the beginning," Lauren replied. "I think they're all sitting around a table, having a cup of tea, going, it took people a while, but thank goodness this is happening."
SIX plays at the Sydney Opera House until March 3, Comedy Theatre Melbourne from April 23 and Her Majesty's Theatre Adelaide from June 11 as part of the Adelaide Cabaret Festival, then Wellington, New Zealand from July.
Photographs of the Australian production by James D. Morgan - Getty Images
More Reading