Vale Joan Whalley
The foyer of the Bille Brown Theatre was the venue for an informal afternoon tea funded by Queensland Theatre to honor and celebrate the life and career of Joan Whalley OAM, who passed away on 27 August 2021, at the Glasshouse Views Nursing Home, Beewah, just a couple of months shy of her 94th birthday.
Whalley - an actress, teacher and artistic director of 12th Night Theatre from 1962 – 1976 - was an icon of Brisbane theatre. Her legacy includes being responsible for the Commonwealth Government giving tax concessions for donations to the arts. Amongst the well-known actors she taught were Judith McGrath, Sigrid Thornton, Penny Downie, Rowena Wallace, Russell Kiefel, Michael Caton, Brian Blain, Rex Cramphorne and Carol Burns. She was also responsible for television producer Henry Crawford's move into the Arts, along with Graham Foreman, who built a major career at Crawford's as a senior scriptwriter.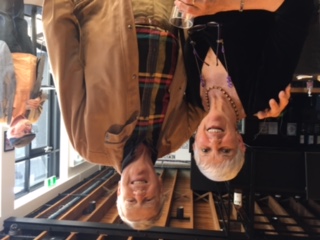 In a room full of industry heavyweights, theatre makers, and former colleagues, joint-hosts Robbie Nason and Judy Evans painted a vivid picture of Whalley's indefatigability.
Born in December 1927 in Charters Towers, Whalley attended Blackheath College where she gained her Queensland Senior Certificate. It was there that visiting examiner in Speech and Drama, Rhoda Felgate, saw Whalley's potential in student college plays and encouraged her to come to Brisbane in 1951. She did and it began a lifelong love and commitment to the theatre.
She began directing and acting in plays at 12th Night before embarking on an 18 month trip to London and Dublin where she studied theatre production at the British Drama League. On her return she introduced Waiting For Godot, The Enchanted and Under Milk Wood (played in a tent), to Brisbane, and placed greater emphasis on Australian playwrights, producing Patrick White's The Ham Funeral and Alex Buzo's Norm and Ahmed.
From 1959 she spent two years at NIDA, teaching speech as part of its foundation staff. Then came her biggest project yet, raising finance and the building of the 12th Night Theatre complex at Bowens Hills. She stayed with the company for six years, until the financial debt became impossible, so she and her husband, actor Stuart Benson, walked away and relocated to Port Douglas where she ran a restaurant with Benson (and later Foreman), before moving to Maleny on the Sunshine Coast.
Whalley sat on the inaugural board of the Queensland Theatre Company, the Theatre Board for the Australian Council for the Arts, the State Board of the ABC, and the Board of the New Moon Theatre Company in Townsville.
She was a formidable woman whose influence touched many. She will be greatly missed. But as host Robbie Nason said, 'she will probably not rest in peace. I imagine she's up there in heaven organizing her next production as we speak.'
Peter Pinne
Images: (top) Joan Whalley.
Patsy McCarthy and Kevin Radbourne, & John O'Toole and Robert Kingham.