The Victorian Drama League 14th Annual Awards Presentation Evening 2010
Last night's Victorian Drama League 14th Annual Awards Presentation Evening was held at Merrimu Receptions, Dandenong Rd, Murrumbeena. Throughout the year three adjudicators attended twenty-four productions around the state and bestowed awards by category as well as a number of individual adjudicator's awards.
Following pre-drinks and networking in the foyer, the evening progressed as a relaxed three-course dinner hosted by Master of Ceremonies, Mr Peter Newling. A past adjudicator for the VDL, Newling is to be commended for the time and effort put into researching every interlude and his at-ease, topical comedy ensured a high level of engagement and interest throughout the evening. Highlights included "6 Degrees of the VDL" that must have connected upwards of ten shows from the past year, and the fictional "Peter Kemp Memorial Award for Best Critic."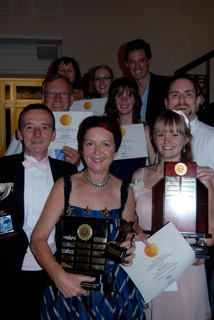 In the end Malvern Theatre Company came out on top with eight nominations and the award for Best Drama Production. The real excitement of the night, however, was the tension of the 'Noises Off stand off.' Catchment Players of Darebin received four nominations and the award for Best Director for their production, and Lilydale Athenaeum Theatre Company had six nominations and collected Best Actress in a Comedy Production. The room was buzzing when both companies were named as nominees for Best Comedy Production and the night ended on a tremendous high when Lilydale was declared the winner.
Following the theatre-style seating at the Music Theatre Guild Awards on Saturday night, the dinner setting and more relaxed pace of the VDL Awards was very welcome. Of course it makes sense to stage the Guilds that way – pure logistics considering the number of productions and you wouldn't expect to see companies performing scenes from their nominated play at the VDL Awards – but the VDL had one very important advantage over the Guilds: a continuously accessible bar. There's nothing better to stir up a crowd (and please a venue) than a limitless bar tab. And you know what? I think the drama people have got it right.
Overall a pleasant evening that appeared to be enjoyed by all present, especially the Geelong Repertory Theatre Company contingent and the table over my right shoulder (if decibels is anything to go by).
A full list of nominations and award recipients (Silver Award in italics and Gold Award in bold) can be found below. Please note there was one Silver Award tie this year.
Ian Nisbet
Images
Top: Geelong Repertory Theatre Company
Lower: Lilydale Athenaeum Theatre Company
December 6, 2010.
The Victorian Drama League
14th Annual Awards
Presentation Evening
December 5, 2010
The 2010 VDL Award for BEST SET DESIGN in a COMEDY or a DRAMA

The Waverley Festival Trophy Donated by The Waverley Festival

Nominee

Play and Author

Theatre Company

Loretta Bishop

Doubt by John Patrick Shanley

Sherbrooke Theatre Company

Nathan Firmin and Rohan Luke

Noises Off by Michael Frayn

Catchment Players of Darebin

Geoff Hickey and Alistair Johnstone

The Subject Was Roses by Frank D.Gilroy

Malvern Theatre Company

Jock Macneish

The Pig Iron People by John Doyle

Warrandyte Theatre Company

John Shelbourn

Noises Off by Michael Frayn

Lilydale Athenaeum Theatre Company

George Tranter

Skylight by David Hare

Williamstown Little Theatre

The 2010 VDL Award for BEST LIGHTING DESIGN in a COMEDY or a DRAMA

The Frank Donahue Perpetual Trophy Donated by The 1812 Theatre

Nominee

Play and Author

Theatre Company

Dietmar Brisker

Doubt by John Patrick Shanley

Sherbrooke Theatre Company

David Earl

The Subject Was Roses by Frank D.Gilroy

Malvern Theatre Company

Angelo Gianchino

Chaim's LOVE SONG by Marvin Chernoff

Mordialloc Theatre Company

Colin Mortley

Noises Off by Michael Frayn

Lilydale Athenaeum Theatre Company

Barry O'Neill, Neil Absolom and Peter Dalwood

Mary Stuart by Peter Oswald

The Basin Theatre Group

Craig Pearcey

Skylight by David Hare

Williamstown Little Theatre

The 2010 VDL Award for BEST SOUND DESIGN in a COMEDY or a DRAMA

The Victorian Drama League Perpetual Trophy Donated by V F Trainor Trophies

Nominee

Play and Author

Theatre Company

Barry O'Neill

Mary Stuart by Peter Oswald

The Basin Theatre Group

Bruce Packard

The Tempest by William Shakespeare

The Hartwell Players

Bruce Parr

The Subject Was Roses by Frank D.Gilroy

Malvern Theatre Company

Chris Procter

Blackbird by David Harrower

The 1812 Theatre

Kris Weber

Speaking in Tongues by Andrew Bovell

Strathmore Theatre Arts Group

The 2010 VDL Award for BEST COSTUME DESIGN in a COMEDY or a DRAMA

The Russell Johnson Perpetual Trophy Donated by Sonia and Eddy Jager

Nominee

Play and Author

Theatre Company

Sylvia Carr and Margaret Bailey

Noises Off by Michael Frayn

Lilydale Athenaeum Theatre Company

Stephanie Ives

A Midsummer Night's Dream by William Shakespeare

Purely Pensive Productions

Bronwyn King

Doubt by John Patrick Shanley

Sherbrooke Theatre Company

Brenda Overton

Mary Stuart by Peter Oswald

The Basin Theatre Group

The 2010 VDL Award for BEST ACTRESS in a MINOR ROLE in a COMEDY or a DRAMA

Nominee

Play and Author

Theatre Company

Philippa Bain as "Rachel" and "Shana Shotsky"

Chaim's LOVE SONG by Marvin Chernoff

Mordialloc Theatre Company

Annie Bieniek as "Theatre Lady", "Matchmaker", "Flight Attendant", "TV Reporter" and "Raizel Bokash"

Chaim's LOVE SONG by Marvin Chernoff

Mordialloc Theatre Company

Roberta Reed Stewart as "Mrs. Muller"

Doubt by John Patrick Shanley

Sherbrooke Theatre Company

Patsy Sanaghan as "Mammy O'Dougal"

The Cripple of Inishmaan by Martin McDonagh

Geelong Repertory Theatre Company

The 2010 VDL Award for BEST ACTOR in a MINOR ROLE in a COMEDY or a DRAMA

Nominee

Play and Author

Theatre Company

David Howell as "Kurt"

The Pig Iron People by John Doyle

Warrandyte Theatre Company

John Jenkins as "Detective Baylen"

Glengarry Glen Ross by David Mamet

Heidelberg Theatre Company

Chris Kirby as "Eugene"

Young Turks by Roy Thompson

Frankston Theatre Group

Robert Lister as "Paul"

Young Turks by Roy Thompson

Frankston Theatre Group

Jon Pedler as "Dr McSharry"

The Cripple of Inishmaan by Martin McDonagh

Geelong Repertory Theatre Company

The 2010 VDL Award for BEST SUPPORTING ACTRESS in a COMEDY

Nominee

Play and Author

Theatre Company

Christine Bridge as "Tzawrah Shotsky"

Chaim's LOVE SONG by Marvin Chernoff

Mordialloc Theatre Company

Catherine Carr as "Stephanie"

Daylight Saving by Nick Enright

Encore Theatre

Emma Cox as "Gertrude Deuter"

The Underpants by Carl Sternheim adapted by Steve Martin

Essendon Theatre Company

Christine Davey as "Aunty Kate"

The Cripple of Inishmaan by Martin McDonagh

Geelong Repertory Theatre Company

Mary Steuten as "Aunty Eileen"

The Cripple of Inishmaan by Martin McDonagh

Geelong Repertory Theatre Company

The 2010 VDL Award for BEST SUPPORTING ACTRESS in a DRAMA

The Yvonne Manley Perpetual Trophy Donated by Sherbrooke Theatre Company

Nominee

Play and Author

Theatre Company

Noelene Cooper as "Rosie"

The Pig Iron People by John Doyle

Warrandyte Theatre Company

Angela Ellis as "Sister James"

Doubt by John Patrick Shanley

Sherbrooke Theatre Company

Marianne McLoughlin as "Allison Reynolds"

The Breakfast Club by John Hughes

The Mount Players

Serah Nathan as "Claire Standish"

The Breakfast Club by John Hughes

The Mount Players

The 2010 VDL Award for BEST SUPPORTING ACTOR in a COMEDY

Nominee

Play and Author

Theatre Company

David Dodd as "Oscar Birnbaum"

Chaim's LOVE SONG by Marvin Chernoff

Mordialloc Theatre Company

Xavier Lee as "Caliban"

The Tempest by William Shakespeare

The Hartwell Players

Morgan Jenkins as "Bartley McCormick"

The Cripple of Inishmaan by Martin McDonagh

Geelong Repertory Theatre Company

James Shaw as "Ferdinand"

The Tempest by William Shakespeare

The Hartwell Players

Joe Dias as "Jason Strutt"

Daylight Saving by Nick Enright

Encore Theatre

The 2010 VDL Award for BEST SUPPORTING ACTOR in a DRAMA

Nominee

Play and Author

Theatre Company

Bill Connolly as "Claude"

The Pig Iron People by John Doyle

Warrandyte Theatre Company

Scott Hasse as "Brian Johnson"

The Breakfast Club by John Hughes

The Mount Players

Nigel Leslie as "Dudley, Earl of Leicester"

Mary Stuart by Peter Oswald

The Basin Theatre Group

Lucas Lineham as "John Bender"

The Breakfast Club by John Hughes

The Mount Players

Ben Starick as "Pete", "Neil" and "John"

Speaking in Tongues by Andrew Bovell

Strathmore Theatre Arts Group

The 2010 VDL Award for BEST ACTRESS in a COMEDY

The Victorian Drama League Perpetual Trophy Donated by Waverley Theatre Company

Nominee

Play and Author

Theatre Company

Christine Andrew as "Jean Horton"

Quartet by Ronald Harwood

Eltham Little Theatre

Madelaine Field as "Helen McCormick"

The Cripple of Inishmaan by Martin McDonagh

Geelong Repertory Theatre Company

Sally Kingsford as "Louise Maske"

The Underpants by Carl Sternheim adapted by Steve Martin

Essendon Theatre Company

Gabrielle O'Brien as "Dotty Otley"

Noises Off by Michael Frayn

Lilydale Athenaeum Theatre Company

The 2010 VDL Award for BEST ACTRESS in a DRAMA

The Victorian Drama League Perpetual Trophy Donated by Waverley Theatre Company

Nominee

Play and Author

Theatre Company

Sharon Courbier as "Elizabeth"

Mary Stuart by Peter Oswald

The Basin Theatre Group

Stephanie Edgerton as "Evelyn"

The Shape of Things by Neil LaBute

Beaumaris Theatre

Becky Lee as "Una"

Blackbird by David Harrower

The 1812 Theatre

Melissa New as "Una"

Blackbird by David Harrower

Brighton Theatre Company

Anne Pagram as "Nettie Cleary"

The Subject Was Roses by Frank D.Gilroy

Malvern Theatre Company

The 2010 VDL Award for BEST ACTOR in a COMEDY

The Max Grant Perpetual Trophy Donated by Mitcham Theatre Group

Nominee

Play and Author

Theatre Company

Bob Bramble as "Reginald Paget"

Quartet by Ronald Harwood

Eltham Little Theatre

Bryan Eaton as "Johnnypateenmike"

The Cripple of Inishmaan by Martin McDonagh

Geelong Repertory Theatre Company

Chris Gaffney as "Wilfred Bond"

Quartet by Ronald Harwood

Eltham Little Theatre

Eric Heyes as "Chaim Shotsky"

Chaim's LOVE SONG by Marvin Chernoff

Mordialloc Theatre Company

Neil McColl as "Tom Finn"

Daylight Saving by Nick Enright

Encore Theatre

Ashley McPherson as "Garry Lejeune"

Noises Off by Michael Frayn

Catchment Players of Darebin

The 2010 VDL Award for BEST ACTOR in a DRAMA

The David Perkins Perpetual Trophy Donated by David Perkins

Nominee

Play and Author

Theatre Company

Keith Hutton as "John Cleary"

The Subject Was Roses by Frank D.Gilroy

Malvern Theatre Company

Barry Lockett as "Tom Sergeant"

Skylight by David Hare

Williamstown Little Theatre

Keith Hutton as "Ray"

Blackbird by David Harrower

The 1812 Theatre

Eoin O'Connell as "Timmy Cleary"

The Subject Was Roses by Frank D.Gilroy

Malvern Theatre Company

Xavier Ryan as "Leon" and "Nick"

Speaking in Tongues by Andrew Bovell

Strathmore Theatre Arts Group

The 2010 VDL Award for BEST DIRECTOR of a DRAMA Production

The Edna Chandler Perpetual Trophy Donated by The Basin Theatre Group

Nominee

Play and Author

Theatre Company

Loretta Bishop

Doubt by John Patrick Shanley

Sherbrooke Theatre Company

Kym Davies

The Laramie Project by Moises Kaufman

Dandenong Theatre Company

Geoff Hickey

The Subject Was Roses by Frank D.Gilroy

Malvern Theatre Company

Shane Ryan

The Shape of Things by Neil LaBute

Beaumaris Theatre

Bernadette Wheatley

Skylight by David Hare

Williamstown Little Theatre

The 2010 VDL Award for BEST DIRECTOR of a COMEDY Production

The Edna (Jones) Bartlett Perpetual Trophy Donated by Gordon Bartlett

Nominee

Play and Author

Theatre Company

Alan Burrows

Noises Off by Michael Frayn

Lilydale Athenaeum Theatre Company

Nathan Firmin

Noises Off by Michael Frayn

Catchment Players of Darebin

Dawn Hinrichsen and John Degabriele

The Underpants by Carl Sternheim adapted by Steve Martin

Essendon Theatre Company

Jon Pedler and Judy Thomson

The Cripple of Inishmaan by Martin McDonagh

Geelong Repertory Theatre Company

Kevin Trask

Daylight Saving by Nick Enright

Encore Theatre

Gareth Wilding-Forbes

Quartet by Ronald Harwood

Eltham Little Theatre

The 2010 VDL Award for BEST DRAMA PRODUCTION

The Victorian Drama League Perpetual Trophy Donated by V F Trainor Trophies

Nominee

Play and Author

Theatre Company

Sherbrooke Theatre Company

Doubt by John Patrick Shanley

Sherbrooke Theatre Company

The Basin Theatre Group

Mary Stuart by Peter Oswald

The Basin Theatre Group

Dandenong Theatre Company

The Laramie Project by Moises Kaufman

Dandenong Theatre Company

Beaumaris Theatre

The Shape of Things by Neil LaBute

Beaumaris Theatre

Malvern Theatre Company

The Subject Was Roses by Frank D.Gilroy

Malvern Theatre Company

The 2010 VDL Award for BEST COMEDY PRODUCTION

The Victorian Drama League Perpetual Trophy Donated by Charles 'Bud' Tingwell

Nominee

Play and Author

Theatre Company

Mordialloc Theatre Company

Chaim's LOVE SONG by Marvin Chernoff

Mordialloc Theatre Company

Encore Theatre

Daylight Saving by Nick Enright

Encore Theatre

Catchment Players of Darebin

Noises Off by Michael Frayn

Catchment Players of Darebin

Lilydale Athenaeum Theatre Company

Noises Off by Michael Frayn

Lilydale Athenaeum Theatre Company

Geelong Repertory Theatre Company

The Cripple of Inishmaan by Martin McDonagh

Geelong Repertory Theatre Company

Eltham Little Theatre

Quartet by Ronald Harwood

Eltham Little Theatre