Waltzing Our Matilda Across Queensland
Queensland Tour – 31 July to 13 August, 2011.
Following its success in Brisbane and on tour throughout Queensland in 2009, Opera Queensland remounts Waltzing Our Matilda by Jason and Leisa Barry-Smith and Narelle French for its 2011 Season, with one Brisbane show followed by a regional tour including performances in Redlands, Roma, Chinchilla, Stanthorpe, Warwick, Gympie, Ipswich, the Gold Coast and Logan.
Waltzing Our Matilda is a theatrical journey through the music and history of Queensland as told by legendary Australian poet Banjo Paterson. Through music, song and dance, Waltzing Our Matilda salutes some of our most celebrated icons.
While Banjo Paterson tries to write what will someday be his most performed and recognised work (Waltzing Matilda), he reflects on the history and characters of our sunburnt country. Audiences will be entertained by classic Australian songs and little-known gems from some of our greatest singers and historical figures such as Dame Nellie Melba, Gladys Moncrieff, Peter Dawson and Donald Smith.
All of the original cast members reprise their roles for the 2011 Season with Jason Barry-Smith as Banjo Paterson, Emily Burke as Australian soprano Nellie Melba, Zoe Taylor as Bundaberg-born musical comedy star Gladys Moncrieff, Guy Booth as bass-baritone Peter Dawson, David Kidd as Queensland tenor Donald Smith and Donna Balson as the piano accompanist and associate musical director. The Brisbane and Redlands performances will also feature guest artist, tenor Robin Donald Smith (son of Donald Smith).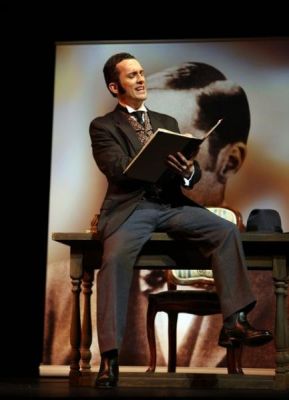 Tour Dates and Venues
Friday, 29 July at 7.30pm
Conservatorium Theatre, QCGU, South Bank. qtix 136 246. Online: www.qtix.com.au
Sunday 31 July (2.00pm)
Concert Hall, Redland Performing Arts Centre. Box Office Ph: 3829 8131 Online: www.rpac.com.au
Tuesday, 2 August (7.30pm)
Roma Bungil Cultural Centre Ph: 4624 0600
Wednesday 3 August (7.30pm)
Chinchilla Cultural Centre. Book through Cunnington's One Hour Photos Ph: 4668 9221
Friday, 5 August (7.30pm)
Stanthorpe Civic Centre. Book through Granite News ph: 4681 1099
Saturday, 6 August (3.00pm)
Warwick Town Hall. Book through Mayfair Casket Agency Ph: 4661 1943 or through Stephanie's Lingerie Ph: 4661 9532
Tuesday, 9 August (7.30pm)
Heritage Theatre, Gympie Civic Centre. Bookings Gympie Bags and Gifts Ph: 5482 6835
Thursday 11 August (7.30pm)
Ipswich Civic Centre. Box Office Ph: 3810 6100 Online: www.ipswichciviccentre.com.au
Friday, 12 August (7.30pm)
The Paradise Showroom, The Arts Centre Gold Coast. Box Office Ph: 5588 4000 Online: www.theartscentregc.com.au
Saturday 13 August (7.30pm)
Logan Entertainment Centre. Box Office Ph: 3412 5626 Online: www.logan.qld.gov.au/lec
This Regional Tour is presented by Opera Queensland and has been supported by the Queensland Government through the Queensland Touring Fund.
Images: Top - (L to R) Emily Burke as Nellie Melba, Guy Booth as Peter Dawson, Jason Barry-Smith as Banjo Paterson, David Kidd as Donald Smith and Zoe Taylor as Gladys Moncrieff. Lower - Jason Barry-Smith as Banjo Paterson.
To keep up with the latest news and reviews, visit Stage Whispers on Facebook and click like, or follow us on Twitter.