WICKED RETURNS TO AUSTRALIA
Latest: Reg Livermore to play the Wizard.
WICKED returns to its original Australian home, the Regent Theatre, Melbourne in 2014, opening on Saturday May 10, 2014 (previews May 7 - 9) for a strictly limited season, before touring to Sydney's Capitol Theatre from September 20 and Brisbane, with a cast led by popular stars from the original Australian tour, Lucy Durack (Glinda), Jemma Rix (Elphaba) and Maggie Kirkpatrick (Madame Morrible).
Cast members arrived in costume at Melbourne's Old Treasury Building steps on a special green WICKED tram for the announcement by Australian Co-Producer John Frost on July 8, 2013. The new Australian production is a part of WICKED's 10th Anniversary world tour.
Lucy Durack will reclaim the role she created in the original Australian production of WICKED, Glinda the Good; pretty, perky, vain and popular but also vulnerable. The list of major roles to Lucy's credit include her current Helpmann Award nominated performance as Elle Woods in the musical Legally Blonde.
With 800 performances across Australia and Asia under her belt, Jemma Rix returns to the role of Elphaba, the misunderstood 'Wicked' Witch born with emerald green skin and a great talent for sorcery.
Behind the Scenes with Wicked prior to the company's departure for New Zealand.
Joining the company from Legally Blonde to play his first musical theatre leading role will be Steve Danielsen as Fiyero, following small roles in film and TV productions including Queen Of The Damned, Offspring and Neighbours, and performingin the musicals Legally Blonde and Xanadu.
Maggie Kirkpatrick will play Madame Morrible, the Head Mistress of Shiz University who takes Elphaba under her wing, training her in sorcery. Maggie originated the role in the Australian production.
Playing Doctor Dillamond will be Glen Hogstrom, who joined the cast in this role during the Asian tour. The role of Nessarose will be played by newcomer Emily Cascarino (Mamma Mia!, Jersey Boys), while Edward Grey (Kiki in Legally Blonde), will play Boq.
It was also announced in Febraury 2014 that Australian musical theatre icon Reg Livermore will play the role of the Wizard in the 2014 Melbourne and Sydney seasons of WICKED.
The members of the WICKED Ensemble will be Justin Anderson, Daniel Assetta, Dion Bilios, Rachel Cole, Danielle Cook, Daniel Downing, Danielle Evrat, Mitch Fistrovic, Tom Handley, Emma Hawthorne, Matt Holly, Angela Lumicisi, Katie McKee, Kassie Martin, John O'Hara, Deanna O'Leary, Joseph O'Sullivan, Justine Puy, Chris Scalzo, Pharic Scott, Ryan Shepard, Ellen Sutton, Monica Swayne and Sophie Wright.
Stage Whispers TV Coverage of the Melbourne Casting Announcement.
"We are very excited for WICKED to return to Melbourne as part of our 10th Anniversary World Tour and trust that audiences will again embrace it as warmly as those in North America, the UK, Japan, Germany and Holland," said WICKED producers Marc Platt and David Stone. "It is a testament to the show's storytelling power that audiences from around the globe continue to embrace its universal themes."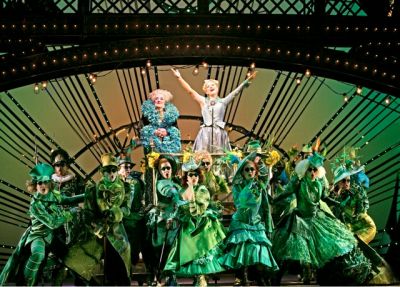 WICKED Australia Co-Producer John Frost said, "Right from the beginning this show has been an overwhelming hit everywhere it has played. WICKED is a phenomenon, the most beloved musical of the past decade, and appeals to everyone from 8 to 80. People love it for so many different reasons – some come for the engrossing story, some for the astonishing sets and costumes, some for the soaring ballads, some for the deeper messages, and some to see the life-affirming friendship between the two girls who grow up to be Glinda the Good and the Wicked Witch of the West.
"We have assembled an extraordinary cast for this 10th Anniversary tour, led by Lucy Durack returning to her favourite role, a role which shot her to stardom. Jemma Rix is again donning the green makeup as Elphaba and is second to none with that huge voice. There's no actress who could touch Maggie Kirkpatrick in her portrayal as Madame Morrible, so I'm very pleased Maggie has agreed to return. After playing Doctor Dillamond during the Asian tour, it's wonderful to introduce Glen Hogstrom to Australian audiences. And it's terrific to welcome three amazingly talented musical theatre performers in their debut lead roles, Steve Danielsen as Fiyero, Emily Cascarino as Nessarose and Edward Grey as Boq.
"I'm thrilled to bring WICKED, in all her emerald beauty and with this stellar cast, back home to the wonderful Regent Theatre, where Australian audiences fell in love with it for the first time," Frost said.
The winner of 35 major awards including a Grammy®, three Tony® Awards and six Helpmann® Awards including Best Musical, WICKEDis the untold story of the witches of Oz. Long before Dorothy drops in, two other girls meet in the Land of Oz, one born with emerald green skin, is smart, fiery and misunderstood. The other is beautiful, ambitious and very popular. WICKED tells the story of their remarkable odyssey, how these two unlikely friends grow to become the Wicked Witch of the West and Glinda the Good.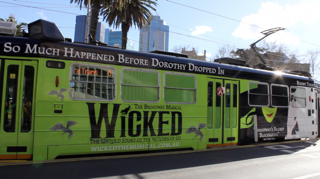 Currently in its 10th year on Broadway, WICKED's North American and International companies have cumulatively grossed over US$2.9 billion and been seen by nearly 36 million people worldwide. Since opening at the Gershwin Theatre on Broadway in October 2003, WICKED has regularly broken box office records, consistently grossing more than $US1.8 million a week.
In the week between Christmas and New Year, 2012, it grossed a chart-topping $2.95 million, the highest grossing week in Broadway history.
In London, WICKED had the highest weekly gross in West End history (a record WICKED also holds on Broadway, as well as a North American weekly touring record in both the United States and Canada), and in Tokyo and Stuttgart it again set new box office records. During its three year tour of Australia, WICKEDwas seen by over 1.5 million people – which is equivalent to more than 1 in 20 Australians.
Based on the novel by Gregory Maguire, WICKED features music and lyrics by Stephen Schwartz (Godspell, Pippin, Academy Award-winner for Pocahontas and The Prince of Egypt) and a book by Winnie Holzman (My So Called Life, Once and Again andthirtysomething). The production features musical staging by Wayne Cilento and is directed by Lisa Leguillou, based on the original direction by Joe Mantello.
WICKED
Regent Theatre, Melbourne
Previews May 7 - 9, 2014
Season From 10 May, 2014
Performance Times Wed–Sat 8.00pm, Wed 1.00pm, Sat 2.00pm,
Sun 1.00pm and 6.30pm
Price Tickets from $69.90*
Bookings ticketmaster.com.au or 1300 111 011
Groups 12+ save 1300 889 278
*An additional transaction fee and/or a credit/debit payment processing fee may apply
Images: Elphaba (Jemma Rix) and Glinda (Lucy Durack) in Popular, Madame Morrible (Maggie Kirkpatrick), Glinda (Lucy Durack) and ensemble in Thank Goodness and Lucy Durack and Jemma Rix check out Stage Whispers while celebrating the 1 millionth audience member during the original Australian tour.
More Reading
Our Earlier interview with Jemma Rix
Our Earlier interview with Lucy Durack