Classical monologues for men.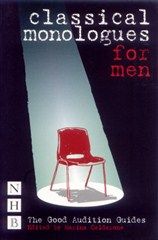 50 monologues drawn from classical plays throughout the ages and ranging across all of Western Theatre:
* Classical Greek and Roman
* Elizabethan and Jacobean
* French and Spanish Golden Age
* Restoration and Eighteenth Century
* Nineteenth and Early Twentieth Centuries
Each volume also carries a user-friendly introduction on the whole process of auditioning. See PDF below.
'sound practical advice for anyone attending an audition... so many of these extracts simply cry out to be performed... a source of inspiration for teachers and students alike... these two volumes are a must' Teaching Drama
Each Good Audition Guide contains a range of fresh monologues, all prefaced with a summary of the vital information you need to place the piece in context and to perform it to maximum effect in your own unique way.
Marina Caldarone sits on the selection board of several leading Drama Schools.
ISBN 978 1854598691
3 in stock