MASQUERADE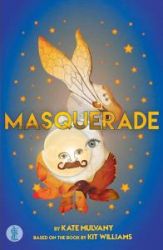 by Kate Mulvany
based on the book by Kit Williams
A gorgeous musical adventure based on a children's classic.
In a wondrous world of riddles and hidden treasure, bumbling Jack Hare is on a race against time to deliver a message of love from the Moon to the Sun. Far, far away in a world just like ours, a mother cheers her son Joe with the tale of Jack Hare's adventure. But when Jack's mission goes topsy-turvy, Joe and his mum must come to the rescue, and the line between the two worlds becomes blurred forever.
Bringing to life Kit Williams' iconic picture book, Masquerade stars a talking fish, a tone-deaf barbershop quartet, a gassy pig, a precious jewel and a few mere mortals. It's a magical adventure that is, at its heart, about the love between a parent and a child.
"With Kit Williams himself as mentor and friend, she has interwoven her own story and the magic that is Masquerade into a beautiful and moving piece of theatre, which, like the book, has universal appeal." Stage Whispers.
"Music by Mikelangelo and the Black Sea Gentlemen is wonderful, and provides a perfectly eclectic underscore of gypsy-classical-rock." Theatre People.
Read the first pages at the attachment below.
ISBN: 9781925005844
Stage Whispers Books Rewards: Buy one book and receive three e-editions. Buy three and receive three print and e-editions. Buy five or more and receive a one year print and electronic subscription. Buy eight or more and receive a two year print and electronic subscription. See details of our latest issue here.
20 in stock
Bulk Orders